By Liam Bird
One of the things I remember most about driving the original Ford Focus ST was that you sat too high in it. No matter how hard you tried, you just couldn't get its Recaro seat to go low enough; it made you feel as though you were perched inside the car rather than actually sat in it. Apart from that and perhaps the whole slightly, hmm… how shall I put this… out-of-town retail park image that goes hand-in-hand with faster Fords, the Focus ST really wasn't that bad at all.
That sounds like faint praise. Honestly, that wasn't my intention.
What reminded me of that particular loftier set driver's seat was a week spent recently driving Ford's new Puma. Funnily enough, the Puma in question came donned in psuedo-sports ST-line trim (for the non-Ford faithful: ST is the sporty one, where ST-line denotes a usually less athletic variant, albeit still with the tracksuit and trainers look). And it just happened to be painted in Ford's Desert Blue, the same colour (or thereabouts) as that aforementioned Focus. You see, the new Ford Puma is an SUV, so inevitably you sit higher up.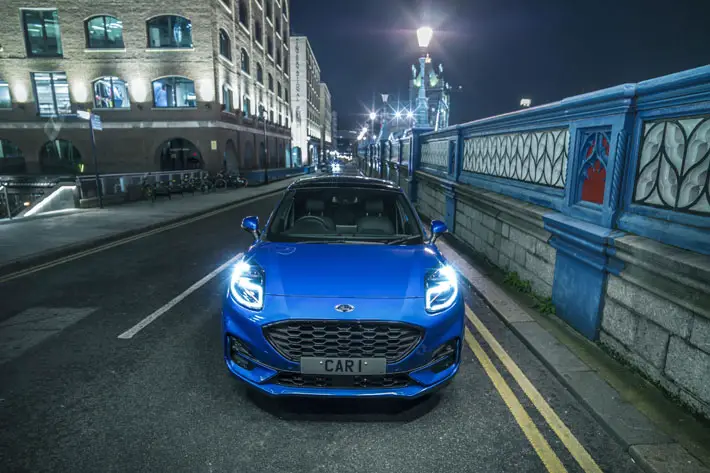 "More than just cosmetic glitter"
If you're old enough to remember the Ford Puma of the early 90s, you'll know that it was a small, 3-door coupe, based on the Fiesta. It was actually quite stylish and, I'm told, not bad to drive either. Well, the new Puma is also based on the Fiesta (the new one, not the one from the '90s), only now – to keep up with modern day fashion – it's a 5-door compact crossover. It's bit like a Nissan Juke, or the Seat Arona.
Usually, that's not a market segment that makes keener drivers queue-up outside the showroom doors – crossovers, compact or otherwise, are rarely involving to drive – nevertheless, Ford, have done their best to sprinkle the Puma with more than just cosmetic glitter. If that is, you buy the right one.
Currently, besides the recently launched Puma ST, which gets a four-cylinder 197bhp 1.5 litre petrol engine, every other petrol-powered Puma gets three-cylinder engine displacing just 999cc. A 1.5 diesel is also an option.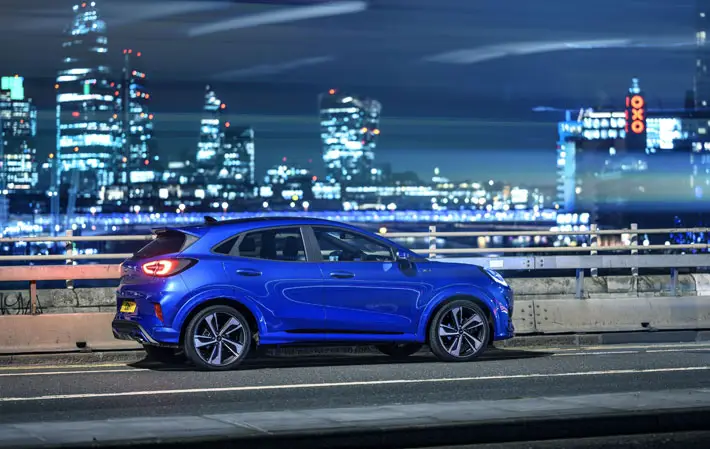 "Spirited"
That little three-pot petrol motor comes with the option of four different power outputs: 94bhp and 123bhp using good-old internal combustion, and 123bhp and 153bhp thanks to the addition of a mild hybrid system.
And it is a mild hybrid system. A 15bhp and 37lb ft boost comes courtesy of an integrated starter/generator that's been added to fill the torque gap while you wait for the Puma's little turbo to spool-up. It also simultaneously lowers CO2 emissions. However, this is not a car that will move by electric power alone, there's no way of plugging anything in, to charge anything up.
Not to worry, Ford's little 3-pot engine is a favourite, and it's no hardship at all to make it work for its living via the six-speed manual gearbox. We sampled the153 bhp variant and although it's not exactly what you'd call a rocket-ship, it provides enough oomph to allow for spirited, if perhaps not speedy, driving.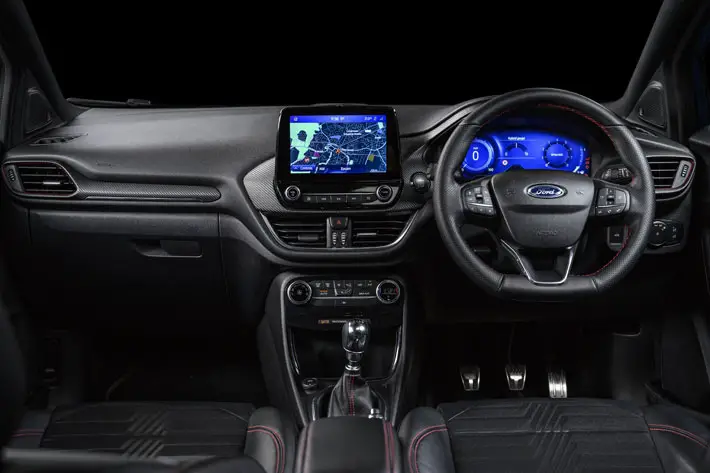 "Enjoyable company"
Let's not forget either, that the Puma gets most of the Fiesta's already very capable underpinnings, plus a wider track to boot too. Throw-in a nicely judged driving positon and the result is an compact cross-over that drives better, is more involving, and is significantly more enjoyable company, that everything else in its class.
The Puma also gets an interior that's big enough to seat four-people quite comfortably, well equipped enough to keep everyone entertained – or at least charge-up any entertainment – and a boot, that at a push, is big enough to swallow everyone's overnight bag. There's a even a big recess in the boot floor, complete with a plughole, for keeping your muddy-boots in. Or is that where Ford might fit a battery should the Puma go electric? No doubt time will tell.
It's a shame they couldn't find space to fit a spare wheel though. Still, at least you get Apple Carplay at no extra cost, and the build and materials are up to Ford's usual mid-quality standards (No one ever bought a Ford thinking it was a luxury item, did they?).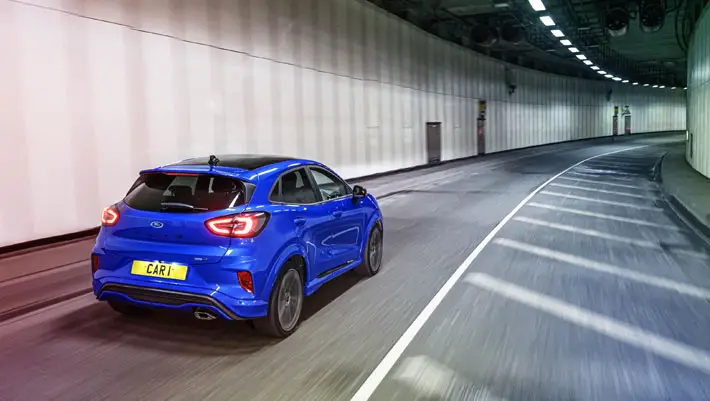 "More room"
So, all in all then the Puma is a very likeable little (ish) car. So good, in fact that it's recently won a host of awards.
But, so too is the Fiesta, upon which the Puma based. Does the Puma really offer anything the Fiesta doesn't – a tad more room and ride-height notwithstanding?
I'm not sure it does.
If you want the best driving small SUV currently available, look no further. However, as with nearly all small SUVs, the cheaper, almost as practical, and nicer to drive, car upon which it's based – is really the one you should buy.
Ford Puma ST-Line X 1.0L Ecoboost Hybrid (mHEV) 155PS
Engine: 999cc cc 3Cyl Petrol, turbo.
Power: 155 bhp @ 5,000rpm
Torque: 177 lbft @ 2,500rpm
Transmission: 6-speed manual, Front-wheel drive
Performance: 0-62mph in 8.9 sec
Max Speed: 124 mph
MPG: 50.4 (WLTP Combined).
CO2: 101g/km
Price: From £24,820 (As driven, £29,170)