Ford Fiesta 1.0i – Review
By Liam Bird
The Ford Fiesta first hit the tarmac here in Blighty in 1976 and ever since then it's been instantly familiar. It was the car that many moons ago I passed my test in, and in XR2 guise was the first proper hot-hatch I ever drove. (I "borrowed" my cousin's C-reg example one evening). I've even raced one, albeit briefly and against the clock; a red ST at the now defunct Cholmondeley Pageant of Power. Just recently the Fiesta took Sebastian Ogier to his fifth World Rally Championship whilst simultaneously bagging M-Sport the World Constructors title too. It's a best seller year-on-year. It feels like it's always been around.
And yet strangely for someone who cut his driving teeth on front-wheel drive hatchbacks I've never owned one myself. Well, not until last week that is. The truth is I didn't actually part with my own money in order to get very well-acquainted with Ford's latest incarnation of their much-loved supermini. But, Ford did lend me a Fiesta 1.0i Titanium Ecoboost for a week. I did drive every day; I did commute in it; I did take it my mum shopping in it. I even washed it, by hand, myself. Chamoised it dry too. I know certain people who've owned cars for years and never done that. The scruffy…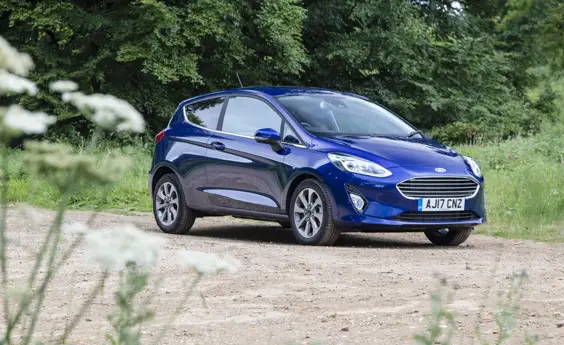 "Overall layout is cleaner"
Anyway, back to the Fiesta. Like all of us conceived in the '70s the Fiesta is now larger and somewhat sturdier than it once was, and yet still remains instantly recognisable. It sits on a longer wheelbase, and a wider track, and at a push it'll just about seat five. At 290 litres the boot is now bigger too, although you have to lift your luggage over a high load-lip to access it and the rear seats don't fold fully flat either. Niggles I know, but it's a Fiesta, a supermini, practicality here is key. At least the door-pockets are a good size so there's space enough for your daily oddments.
In fact it's inside where the biggest transformation has taken place. The overall layout is cleaner, and more intuitive. A very clear touchscreen (an 8 inch in "my" Titanium X, size is dependent on spec) sits atop the dashboard and now takes care of most of the navigational and infotainment duties whilst also, and significantly, reducing the button count.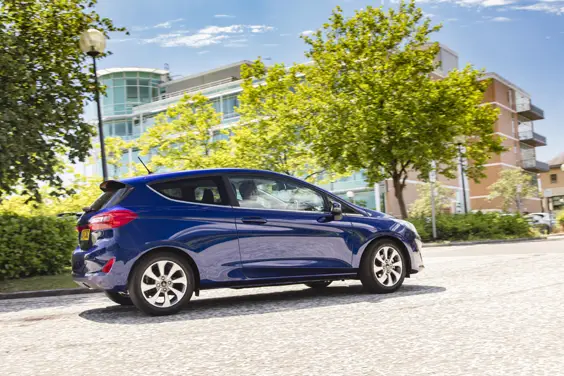 "You sit strangely high"
Fortunately though Ford have resisted the urge to let the air-con go digital too. A set of simple switches and dials to prevent you from either freezing or boiling are to be found low-down in the dash – they're always infinitely preferable to a sub menu or a swipe. The heated "quick-clear" wind-screen proved a boon on a frosty morning, (why don't other manufacturers fit those?) and the upgraded Bang and Olufsen sound-system made the daily commute far more bearable.
You sit strangely high in the Fiesta, in seats that to me at least feel as though they're sloping slightly forward. They're by no means uncomfortable, just… well… they could be better, at supporting you. Still, at least the visibility and the overall driving position are good, plus the sensors, and this case the rear-view camera, make parking a doddle.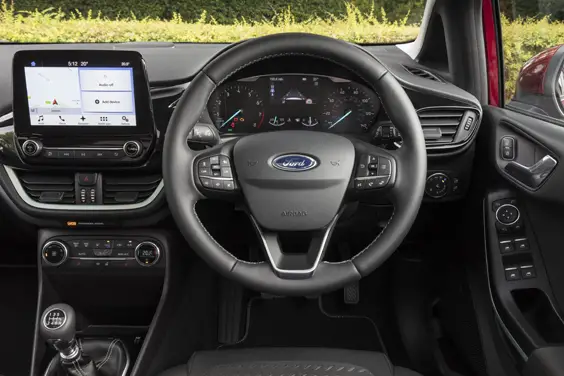 "Fewer hollow-feeling materials"
All the bits you touch regularly feel good too; the steering wheel, the gear-knob and the majority of the switches. The door-handles and the glovebox lid however don't, and if I'm being really picky neither do the column stalks. Alas, there's evidence that Ford are still using too many bargain-basement type plastics and building things down to price. Don't get me wrong, everything feels well screwed together, if only they'd used fewer hollow-feeling materials…
What can't be argued about though is just how good the Fiesta still feels to drive. It has lost a little of its predecessor's sparkle, but it still rides really well, and it's a hoot on a twisty road. The steering feels alive with feedback, the front end is nicely grippy and a mid-corner throttle lift serves only to tighten your line. It really does feel agile.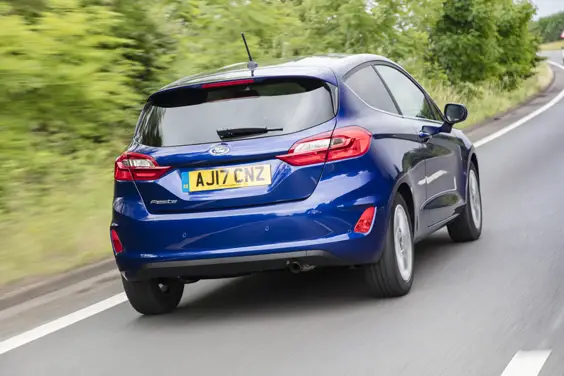 "Wonderfully thrummy"
And let's not forget I sampled the 1.0litre ecoboost in its mildest (99bhp) form. It's a wonderfully thrummy three-cylinder that provides a good dose of torque from low-revs and punches way higher than its diminutive displacement would have you believe. In something this size it's really all the engine you'll ever need. You might not get the promised 65.7 MPG though; out here in the sticks I got just two-thirds of that. Was I enjoying things a little too much?
And that more or less sums up the new Fiesta: It's enjoyable. It may not be the most premium supermini you can buy and it may not be the quickest, or indeed the most spacious or in fact the cheapest (beware on which spec you go for). But, the Fiesta remains one of the easiest to live with day to-day, and it's certainly one of the most entertaining, involving, and at the risk of repeating myself, downright enjoyable to drive.
The Fiesta is a best-seller for a reason, and even though there's a new one, ultimately nothing's changed.
Ford FIESTA 1.0i TITANIUM ECOBOOST 5DR S/S 100PS 6Speed
Engine: 999cc 3 cylinder 12V Petrol turbo.
Power: 99 BHP @ 6,500rpm
Torque: 125 lbft @ 1,500 rpm
Transmission: 6 speed manual, Front-wheel drive
Performance: 0-62mph in 10.5 sec
Max Speed: 113 mph
MPG: 65.7 Combined.
CO2: 97 g/km
Price: From £17,545 (car driven £19,350)