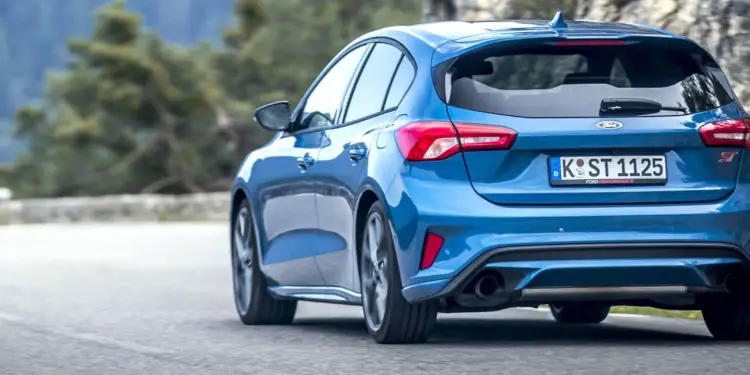 By Liam Bird
Bang! There's one. Bang! Sorry, there's another. Oof! That was close. Look out for the next one…
I'm paraphrasing, but that's pretty close to how a recent conversation played-out whilst driving the new Ford Focus ST. Pot holes are not its friend. And sadly, the B-roads that criss-cross the Shropshire/Welsh border, the very roads upon which a fast Ford should shine, are littered with them. If you're reading this in the Ford press garage, please accept my apologies.
That's not to say that the Focus ST is uncomfortable in any way – far from it in fact. It's taut, yes, even its Comfort setting – one of four selectable driving modes, the others being Eco, Sport, and Track – but that perhaps was to be expected. No one wants a soggy hot-hatch after all.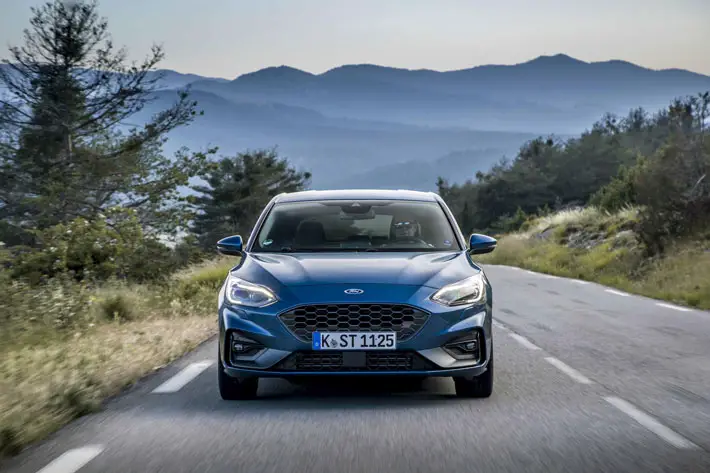 "Perfect driving position"
The Focus ST, or should I say the 5 door ECO boost Focus ST (there's a diesel, and an estate too), sits 10mm lower than a lesser Focus, as a result of having been fitted with what Ford call Continuously Controlled Damping (CCD) – that's adaptive suspension to the likes of you and me. It also gets 19 inch alloy wheels wearing little more than a smear of low profile Michelin Pilot Sport tyres. So no wonder the ride's a little firm on what passes for Tarmac out here in the sticks.
The slight bumpiness is offset by a near perfect driving position. I once criticised Ford's Focus RS for making you sit too high; that's not the case here. The ST's partial leather Recaro seats have been mounted much lower and thus offer far less of a perch for both driver and passenger alike. They also hug and support you in all the right places and are heated too. Pull the tick-rimmed steering wheel – also heated – in nice and close and it's easy to get comfy.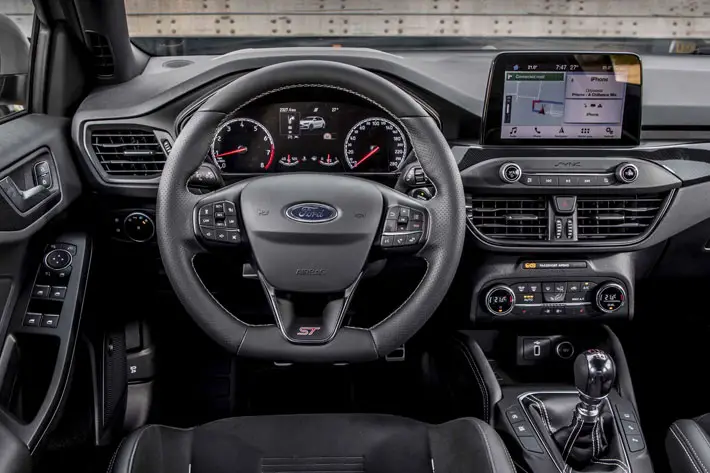 "Powerful engine"
Everything else you need falls nicely to hand too, from metal pedals to a chunky gear-knob with its shorter, meatier feeling. It could be said that apart from those aforementioned "sporty" additions the Focus ST's interior differs little from other Focuses. The dials for instance are direct from the parts-bin; they wouldn't look out of place in a Transit van, so too the indicator stalks and minor switch gear for that matter. But it's roomy enough for five people (at a push), there's ISOfix for the little ones… And besides, the important money has been spent elsewhere.
And that immediately comes apparent when on the move. Under the bonnet lies the most powerful engine ever fitted to a Focus ST – all 2.3 litres and 276 bhp of it; it's actually a detuned version of the engine that went into the Focus RS. Anti-lag technology makes the throttle response almost instant and the mid-range torque is, well, shall we say more than ample. 0-62 mph takes just 5.7 seconds.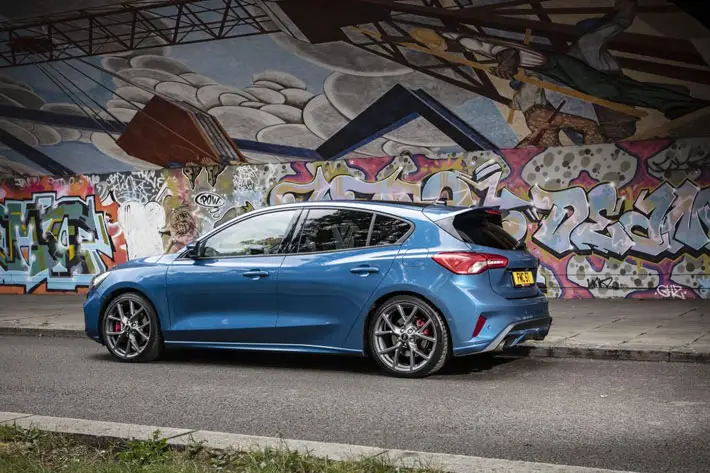 "Can't help but be impressed"
But, it's the way this car handles the bendy bits that's the real eye-opener. Those fancy dampers and sticky tyres, together with the fitment of an electronic, torque-vectoring limited slip differential mean there's huge mid-corner grip. The ST also gains stiffer anti-roll bars front and rear, so there's virtually no body roll at all. On a smooth surface – if you can find one – you catapult yourself from one bend to the next with ease. As a track day car the Focus ST really would take some beating. You can't help but be impressed.
Ford have done an excellent job with the new Focus ST. It is everything you'd expect a fast Ford to be. However, when you consider that its rivals (Hyundai's I30N, and the Renault Sport Meganne) offer nearly everything the ST does for less cash, and that Ford's reputation was built on offering more for less in the first place, it remains hard to totally convince yourself that that the ST is everything you'd expect circa £35,000 to be.
Ford Focus ST 5 door 2.3 Ecoboost
Engine: 2,261cc cc 4Cyl Petrol, turbo.
Power: 276 bhp @ 5,500rpm
Torque: 310 lbft @ 3,000 – 4,000 rpm
Transmission: 6 speed manual, Front-wheel drive
Performance: 0-62mph in 5.7 sec
Max Speed: 155 mph
MPG: 35.7 Combined.
CO2: 179g/km
Price: From £32,495 (As driven, £35,440)