Porsche 911 Carrera 4GTS Review
By Liam Bird
As if I needed an excuse…
Porsche, the Stuttgart-based maker o, many-a Le Mans winner, Paris Dakar Rally winner, World Sports Car Championship winner, Monte Carlo Rally winner, Daytona 24 Hour Winner, Pikes Peak record holder, Nurburgring record holder, the list goes on. Not to mention maker of many-a tractor – usually red; many a 1980's yuppie annual bonus blow-out purchase – usually red; a surprising number of Formula 1 World Championship engines – usually badged TAG and sat behind Niki Lauda – usually wearing red. As well as myriad bedroom wall poster-cars – more often than not purchased in Athena (perhaps I am showing my age too), celebrated their 75th anniversary this year.
What's more, Porsche's flat-six rear-engined icon, the 911, probably one of the most instantly recognisable and most coveted sports coupes of all-time, has also just turned 60.
So surely, it would have been rude of me not to have marked the occasion in some way or another?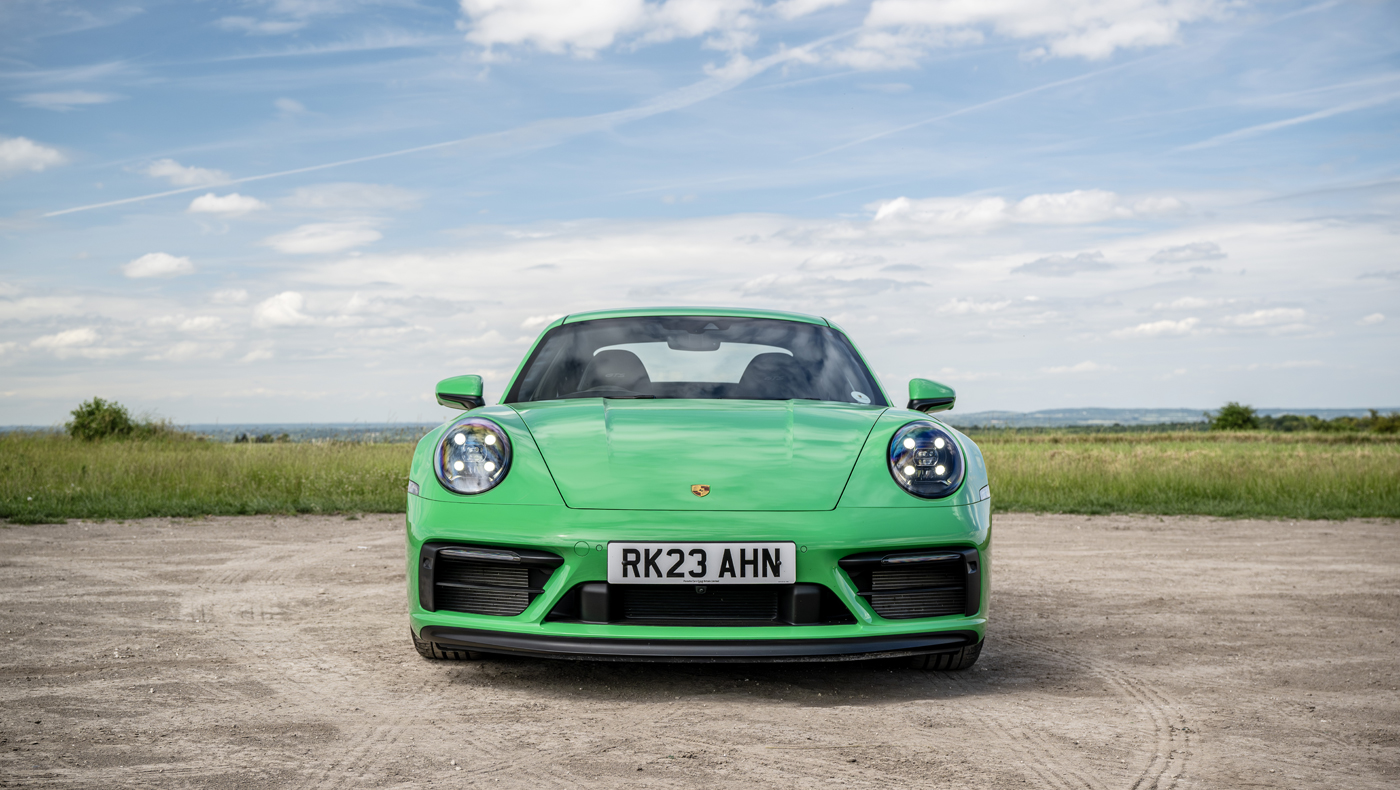 "Modern day equivalent"
Having been lucky enough to all-too-briefly sample a mid-eighties 911 3.2 Carrera earlier in the year; rear-wheel drive, manual gearbox, wind-up windows, no power steering, and air cooled of course, I asked Porsche GB if they'd be willing to lead me its modern day equivalent. I've yet to drive a 21st century entry-level 911. I also knew that Porsche's UK press office used to run a guards red 992-generation 911 Carrera with the registration plate A 911. I saw it last time I was there.
I'm sure you can see what I was angling at. I sent a polite email. Soon after, I received a reply.
"I'm afraid A911 is currently not on our press fleet. We do however have A911FWD… Do let us know if and when you'd like to borrow it". Soon enough, I was back at Porsche GB's HQ.
Now, I am sure I'm not the only one who finds Porsche's 911 model nomenclature all-but unfathomable, nevertheless the Carrera 4 badge is enough tell most that this particular neun-elfer is four-wheel drive (it would have been an embarrassing day for whomever fixed the A911 FWD number plates on otherwise!). As for the rest of the 911 Carrera 4 GTS's spec, here goes…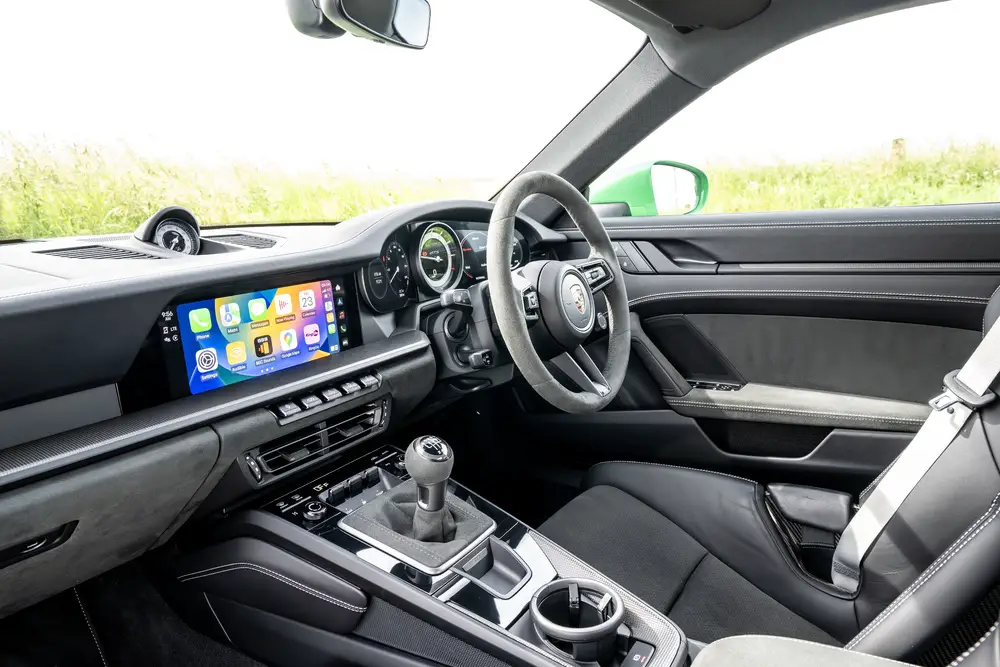 "Fancy"
Taking a regular Carrera 4 S as our starting point: The GTS sits 10mm lower on 20- and 21-inch Turbo S centre locking wheels. The chassis is effectively that of the Turbo fettled a little to suit the lighter demands of the GTS, but the braking system is lifted wholesale – 408mm discs at the front, 380mm rear – and the GTS retains the Turbo's 'helper' spring at the rear which keeps the main springs constantly under tension for better rebound performance. PASM – that's Porsche fancy active suspension system – is standard, while options include rear-axle steering, PCCB ceramic composite brakes, and a lift system that raises the nose slightly, so you don't scratch it on speed humps.
The GTS has also been treated to an extra 30bhp (473bhp total) and 15lbft of torque (420lbft total) from its 3.0-litre flat-six, which is up 29bhp over a Carrera S, but perhaps more interestingly just 30bhp shy of the simply superb GT3. Opt for the all-wheel drive, 8–speed PDK equipped Carrera 4 GTS – as per A911 FWD – and 0-62mph takes just 3.3 seconds. In addition, should you be able to find somewhere empty enough (and where such things are legal), and if you are brave (or stupid?) enough to do it, full chat is in excess of 190mph.
Not that I got anywhere near such speeds during my time with Porsche's press car. Instead, I was just happy to use the Carrera 4 GTS as my daily driver for a few days.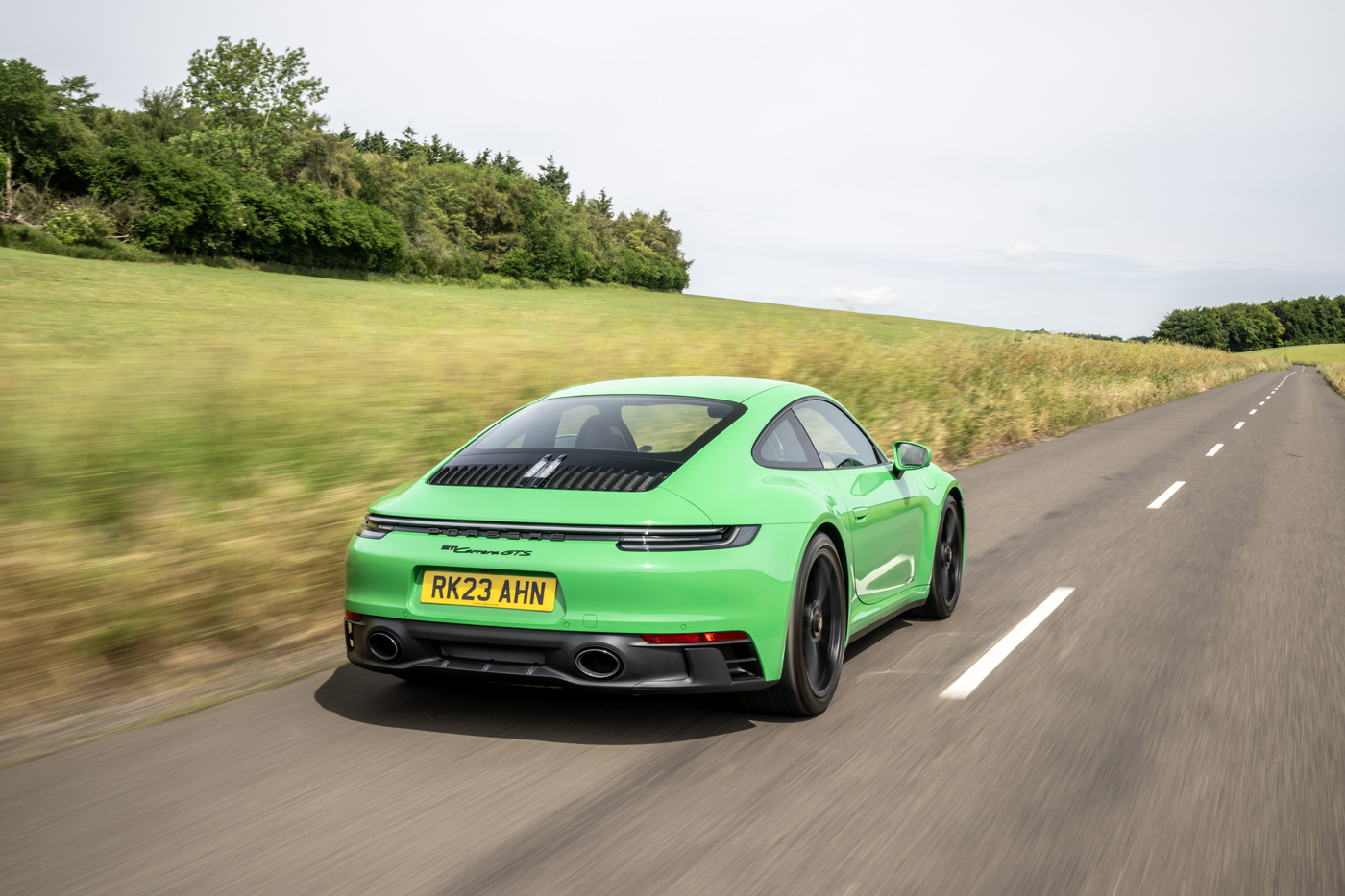 "Superior"
A modern day 911 might serve-up supercar performance, but as per Ferry Porsche's original brief, it is still very usable, and surprisingly practical. I drove my mum to the butchers in it; I folded the rear seats down and collected a camping fridge from my sister-in-law's in it. The truth is, I was happy just to bimble about in it.
I also speared across country in it, for hour-after-hour, 6Music on the radio, heated seat gently warming my back and bum, an average of 33mpg showing on the trip computer. A modern-day 911 can play the GT role as expertly as it can the racer. Granted, the ride is a little taut, and the road noise on certain surfaces is only just this side of tolerable – 911s have always been loud, it's those big round rear wings – but visibility is far superior to nearly every other 170mph+ 2 seater you can think of. Build quality is far superior to nearly every other 170mph+ 2 seater you can think of too. Yes, I know the 911 is technically a 2+2, but no one over the age of six will ever thank you for making them sit in the back of one.
I should also perhaps admit to being slightly biased. I have always said that should I, one day, be able to afford such things, a 911 is what I'd buy. Nevertheless, would I buy a 911 Carrera 4 GTS? Perhaps when I do get the opportunity to finally sample an entry-level 911 Carrera – what Porsche themselves have always claimed to be "driving in its purest form" – I'll be much better informed to let you know.
Porsche 911 Carrera 4GTS
Engine: 2,981 cc horizontally opposed (flat) 6-Cyl 24V petrol
Transmission: 8-Speed Porsche Doppelkupplung PDK. All wheel drive.
Power: 473 bhp @ 8,400 rpm
Torque: 420 lbft @ 2,300 – 5,000 rpm
0 – 62 MPH: 3.3 Sec
Max Speed: 192 mph
CO2: 221 g/km
MPG: 29.1 (combined)
Price: from £116,960 (as driven £123,024)