The Top Ten Bars to Visit Before a Gig at The Piece Hall in Halifax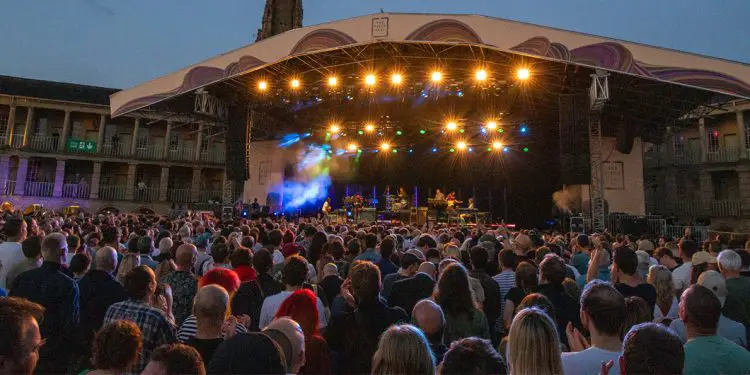 By Steve Crabtree, June 2023
Going to one of the fantastic outdoor music gigs at The Piece Hall in Halifax this summer?  If so, you're in for a treat.
But did you know that Live At The Piece Hall nights come with a vibe and a feeling that starts off in Halifax town centre hours before the doors open up at 6pm? There's a brilliant offering of independent bars, each within a few minutes walk of the iconic venue, and all of them give gig-goers something unique and memorable when they're enjoying their pre-show pints.
As a bit of a regular in the Piece Hall when it comes to their music events, I always get into town a bit early for a couple of drinks with a few friends. So, here's my pick of some of the best independent bars in Halifax that you must check out before you go to a gig….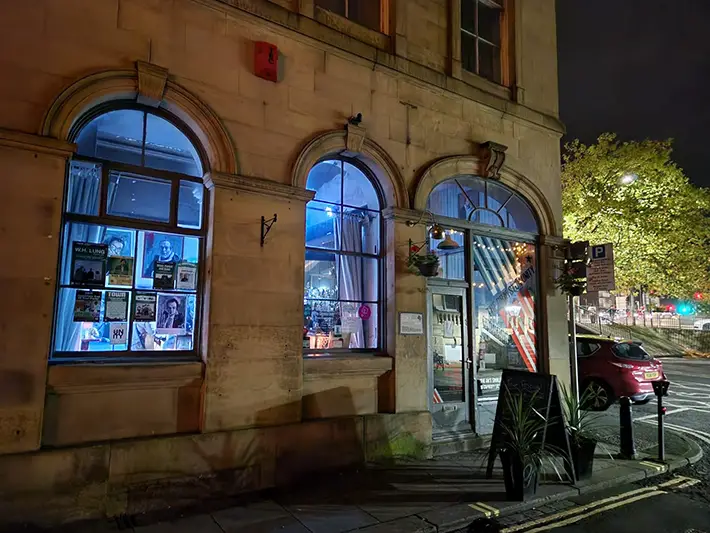 The Grayston Unity – 1-3 Wesley Ct, Halifax HX1 1UH
Tucked away on a quaint corner of Halifax, and across from the Town Hall, The Grayston Unity is a well-known but hidden gem that oozes character and charm. This independent bar & music venue prides itself on its exceptional selection of alcoholic spirits and craft beers.. Step inside, and you'll be greeted by a warm and inviting atmosphere, complete with rustic wooden furnishings and vintage decor. The staff are great, and always ready to recommend a unique and appetising drink tailored to your tastebuds Don't forget to check out their summer cocktails too!. Catch it before it closes on 27 August and relocates to Horton Street in the autumn. @graystonunity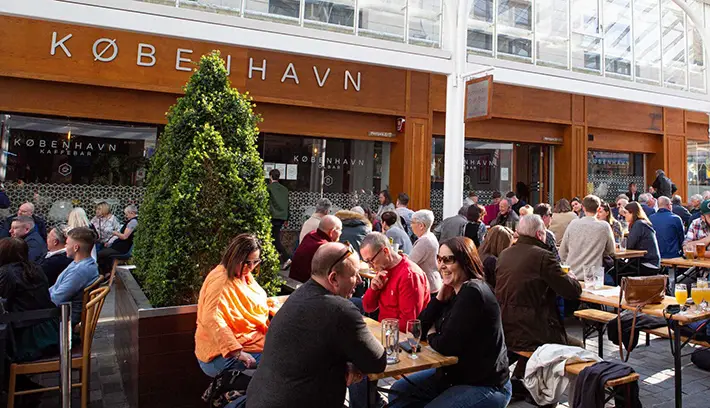 KØBENHAVN Bar – 6 Westgate Arcade, Halifax HX1 1DJ
Make sure to stop by KØBENHAVN when you're making your way down to The Piece Hall. An incredible bar located in the heart of the Halifax, KØBENHAVN offers an exceptional independent craft beer experience. Nestled under the glass roof of the Westgate Arcade, you're less than one minute away from The Piece Hall. And with 24 beers on tap and 6 modern hand-pulled ales, this place is a haven for beer enthusiasts, and those craving an unbeat pre-gig atmosphere. Whether you prefer sour beers, fruit beers, lagers, or classic pale ales and IPAs, their diverse selection will impress you. Highly Commended in the CAMRA Halifax and Calderdale Pub of the Year Competition 2022, it's a must-visit pre-gig destination. @kobenhavncraftbeer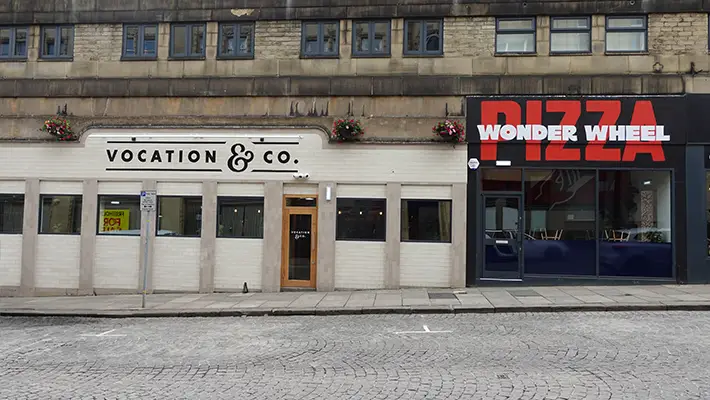 Vocation – 13-17 Alexandra St, Halifax HX1 1BS
Vocation Bar is just a short distance from The Piece Hall in Halifax, and an absolute gem for gig-goers seeking a memorable pre-show experience. It's a cool establishment, and offers an impressive range of drinks, including craft beers brewed by themselves in Hebden Bridge, innovative cocktails, and carefully curated spirits. The quality of their drinks and service is fantastic, as is their roof terrace – perfect for when you want to catch some rays before heading down for some great music. But get this…feel hungry? There's Wonder Wheel Pizza attached to Vocation Bar, serving freshly made 12 or 18 inch pizzas, or just by the slice, meaning Vocation is a top choice for concert attendees looking to start their evening on a high note. @vocationandcohalifax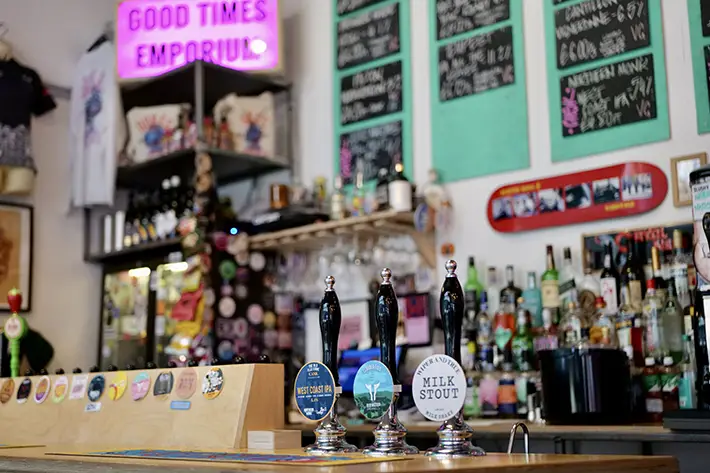 Dukes – 16-18 Market St, Russel St, Halifax HX1 1NX
When you're looking for a truly unique spot to wet your whistle before catching a gig at the Piece Hall, Dukes is the place you're looking for. This cool establishment is spread across two levels, and it's oozing with character. With an impressive selection of craft ales and beers that will satisfy even the most discerning connoisseurs, Dukes pub is a haven for beer enthusiasts. Whether you prefer hoppy IPAs, rich stouts, or refreshing lagers, they have it all. Admire the walls laden with artwork and skateboards, or check out the shelves containing some of the UK's best hot sauce producers. Dukes serves up cold beer and natural wine with lashings of punk rock.  @dukes.halifax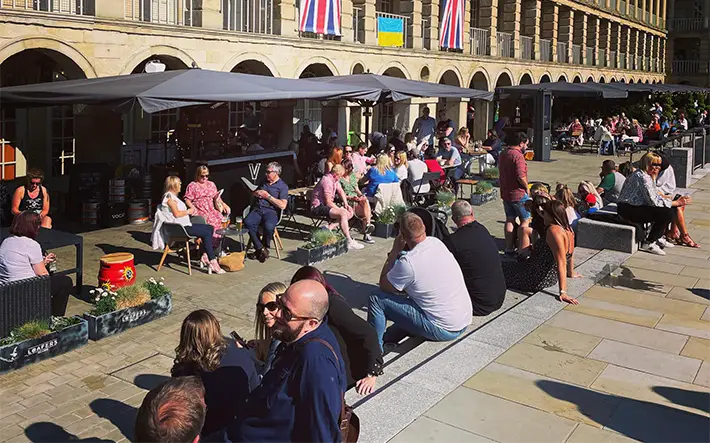 Loafers – The Piece Hall, Halifax HX1 1RE
Nestled within the historic Piece Hall itself, Loafers is the ideal place to kick back and enjoy a refreshing beverage. AND you get to visit here before a show, and during a show too…kind of! Before 4pm, sip on delicious coffees while grooving to their selection of great music or sit in the courtyard and watch the world go by. Then, when you come back for a gig after you can enjoy a range of locally brewed beers, sip some spirits, and enjoy the artist you've come to see. Loafers is one of my favourite places in Halifax, and provides something important towards Halifax's vibrant music scene. @loafersvinyl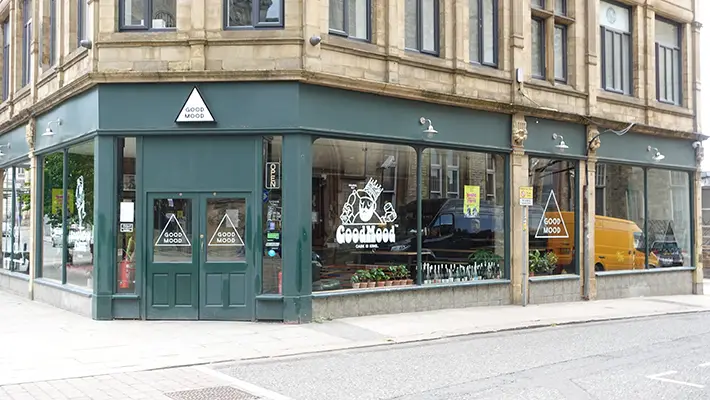 Good Mood – 24-26 Commercial St, Halifax HX1 1TA
Located across the road from the bottom of George's Square, and less than a five minute from The Piece Hall, Good Mood bar is a brilliant spot to take in a few drinks before watching a band. With its lively and welcoming atmosphere, this bar offers a wide range of delicious drinks that are sure to lift your spirits. The friendly, effortlessly attentive service adds to the overall experience, making you feel right at home. When it comes to convenience and quality, Good Mood bar ticks all the boxes, making it a top choice for gig-goers looking to start their evening off right before heading to The Piece Hall. @goodmoodhfx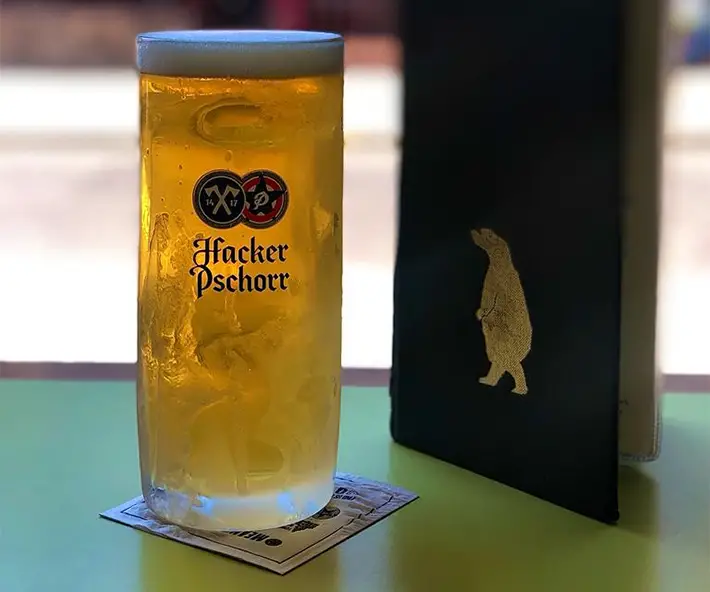 Meandering Bear – 21-23 Union St, Halifax HX1 1PR
Meandering Bear (sister bar to the Grayston Unity) is is seriously close the Piece Hall, and if you don't visit earlier it's a definite spot to go for your final drink before heading into a show. Inspired a little by Berlin, this award winning is well loved by the people of Halifax, and serves cask and keg beers/lagers, cocktails, and offer a quality wine selection too. You can pair your drinks with foodie options like meat and cheese boards or toasted sandwiches, containing locally sourced ingredients from Calderdale. Always a good vibe in here for music lovers. @meandering_bear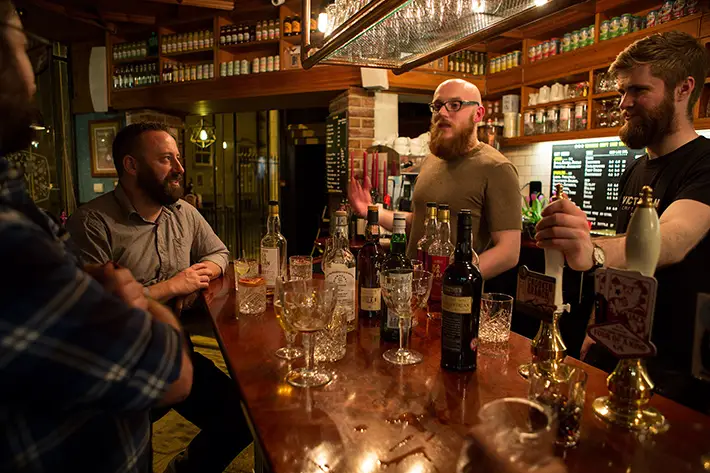 The Victorian Craft Beer Café – 18-22 Powell St, Halifax HX1 1LN
A little futher towards the top of Halifax, but still only 6 minutes walk away, The Victorian Craft Beer Café mixes great drinks and cosy, victorian ambiance alike. Located on Powell Street, it's a really charming establishment combines a relaxed atmosphere with an hugely extensive selection of craft beers on tap. With an ever-rotating line-up of local and international brews, there's usually something new to discover. Pair your chosen brew with one of their delicious homemade pies, and you have a winning combination that will leave you fully satisfied, and ready to take in a night of music at The Piece Hall. @victoriancraftbeercafe

The Hourglass – 2 Albion St, Halifax HX1 1DU
Swinging by The Hourglass, which is just off the Westgate Arcade will be a worthy stop-off on gig nights. Space inside and out, with a large selection of lagers, ales, spirits and cocktails, lots of people choose to meet up here, either at the beginning of their night, or for a final tipple before they head into The Piece Hall.  And, with it being less than a one minute walk to the venue, you should add this one to your list of drinking spots in Halifax. @hourglassbar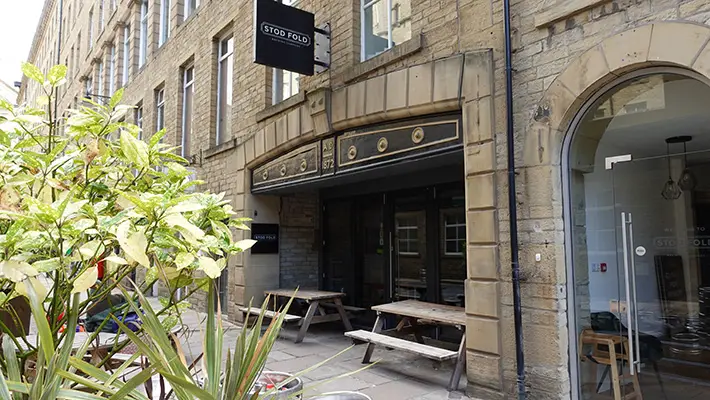 Stod Fold – D Mill, Dean Clough Mills, Halifax HX3 5AX
Just slightly further away than the others at Dean Clough sits Stod Fold, a cosy and vibrant spot with a wide selection of craft beers and delicious bites to fuel up before a show. From Yorkshire tapas dishes to 'pub planks' and tempting vegetarian options, they've got something for everyone. And who knows, you might get lucky and see a bit of live music going on here too. Ten minutes by foot from The Piece Hall, heading to Stod Fold before heading to a gig would be a great call. @stodfolddeanclough
So, there you have it. Proof, if it were needed, that Halifax, West Yorkshire offers a vibrant bar scene that caters to all tastes and preferences. Whether you're a fan of craft beers, cocktails, or traditional pub vibes, these independent bars, and many other bars and pubs in Halifax provide an unforgettable experience. So, gather your friends, explore the hidden gems, and immerse yourself in the lively atmosphere that Halifax's finest establishments have to offer. Then get yourself down to The Piece Hall, and have the night of your life.
Main Image: Cuffe & Taylor/The Piece Hall – Other Images used with permission from owners.