Manic Street Preachers – Live Review – The Piece Hall, Halifax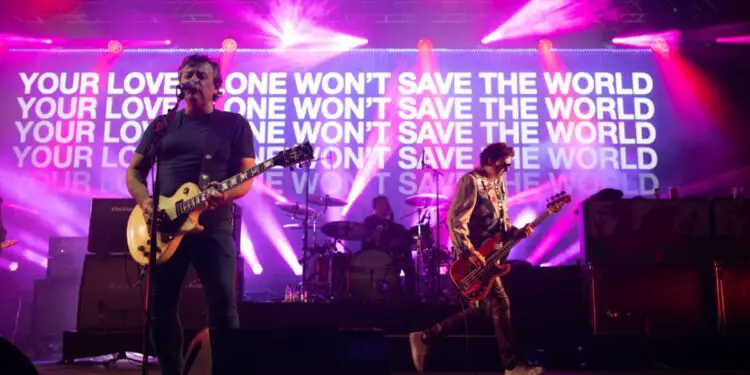 By Steve Crabtree, September 2021
Manic Street Preachers frontman James Dean Bradfield said Halifax and The Piece Hall was mega. And wondered why they'd never played here before. My band. In my town. If I was asked to arrange one music gig this year, this would be it.
Prior to tonight, I'd seen Manic Street Preachers 21 times. In tiny intimate venues, massive arenas, outside in the sunshine and outside in the rain.  But they've never been to Halifax and I've been waiting for this moment for over 25 years.  And to headline The Piece Hall of all places… this had the makings of a perfect musical evening for me.
We'd got the sun, and we'd got thousands into this amazing place. Lots of feather boas around the place, and lots of eye-liner. Lots of friends dotted around the place, and I loved taking all this in.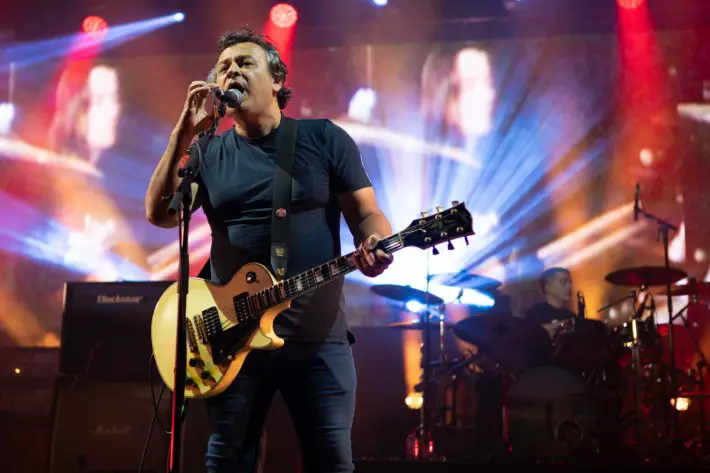 "The town loved the Manics"
It was around 9.15pm when the band came on to the stage, and there was a near sell-out crowd that couldn't wait for things to get started.  And as the intro to 'Motorcycle Emptiness' kicked in, this writer was in his element.  But so was everyone else, so it seemed. A bouncing front crowd, with plenty of head-bobbing at the back – it was a fantastic way to begin their 17 song set.
They brought out new album The Ultra Vivid Lament on the same day as the gig, and new track 'Orwellian' from that album sounded special live. Perhaps the most crowd-pleasing tune of the night was their 1999 number 5 hit  'You Stole The Sun From My Heart'. I say crowd-pleasing, if there was a roof on The Piece Hall, it could have come off. Plenty of throats will have been tested on that one, and the output of an already noisy Piece Hall could possibly have trebled in decibels.
With a 30 year back catalogue, there's no way Manic Street Preachers can fit all the hits in to one gig. But there was a nice mix of the well known stuff, with the not so well known and a couple of covers for good measure. 'Everything Must Go' was brilliant. 'Your Love Alone Is Not Enough' even better. I'm not a fan of 'International Blue' but loved it live tonight, and 'Ocean Spray' took the tempo down a notch when that came on.  And I was very happy to hear 'You Love Us' blasting out over Halifax too.  There was no hiding the fact that the town loved the Manics too. 

"Waltzing and scissor-kicking"
They whizzed through their set. They chat between songs, but give us meaningful stuff. They'll never be a "Hello to the left and hello to the right" kind of band. No messing about, get on with it and they were only up there for about an hour and a quarter. No encore, as usual, and finishing on a high with 'A Design For Life'.
Throughout the night we had slogans, lyrics and video and artwork dropping into the video wall behind the band. Complemented by great lighting, things looked amazing. Manic Street Preachers sounded great too. They were tight and they were full of that raucous energy that they've always had. Even if they're grown-ups nowadays, and aren't doing the kind of stage stuff they were doing in their early to mid-20s.
Bassist Nicky Wire was scissor-kicking and waltzing throughout everything. This was up there as one of the best Manics gigs I've been to. Possibly up there at number one, but then again – the occasion of this one might be affecting my bias somewhat.
What a band. What a venue. And what a gig. I could go on and on and eulogise about everything tonight, but the final word goes to Nicky Wire as he remarked of The Piece Hall being "…the last great secret of amazing venues to gig at." 
He's right. He's very right. But Manics absolutely blew Halifax away tonight, and they simply can't leave it so long before they hit Halifax again.
Images: Frank Ralph