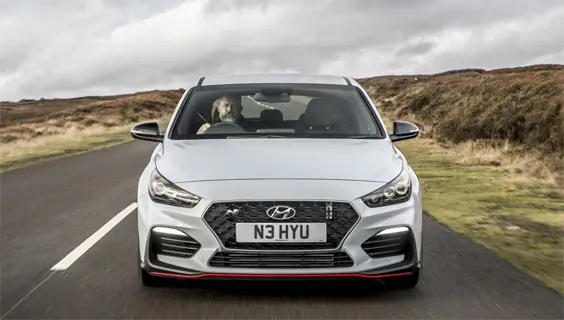 By Liam Bird
Park Hyundai's i30 N next to a VW Golf GTi and it's easy to see where the Korean manufacturer has firmly set its sights. The Golf has long been the go-to hatchback bench-mark, and it's not stretching the imagination too far to say that, even in their respective milder forms, both the i30 and the definitive people's car share certain similarities: Size for starters, plus the ability to seat five, a decent boot, conservative European styling, solid build, sensible running costs, a range of both petrol and diesel engine options, mild-mannered handling.
To be fair the same could be said for many-a hatch. But in their sportier guises such things become ever-more apparent.
The i30N is Hyundai's first attempt at building a proper hot-hatch and there's no doubt about it, they've done a sterling job. The i30N gets a 2.0 litre 4-cylinder turbo-charged petrol engine (just like a Golf GTi). It's manual-only and thus gets a six-speed gearbox and front-wheel drive (like a lot of Golf GTis – though some, granted, are DSGs).
It sits on 19" multi-spoke alloys that don't fully hide up-rated brakes and racy red callipers (like a Golf GTi) – they're shod with specially developed Pirelli P-Zero tyres incidentally. There's a rear diffuser, deeper, chunkier front and rear bumpers, wider arches, various different driving modes to choose from (you've guessed it…). And there's something that's known as an e-diff, to help you get through the twisty bits, quickly.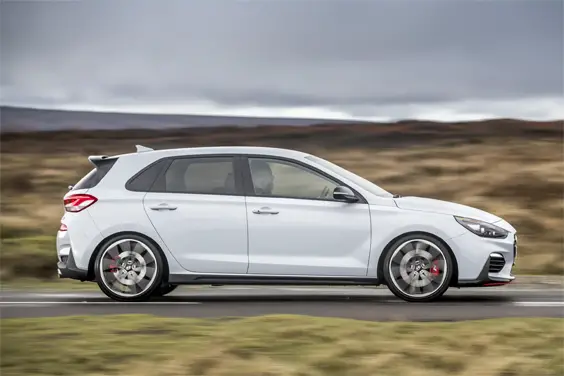 "Familiar mix"
In fact you should have no problems at all going quickly. The N bit in the name stands for both Namyang – where Hyundai say the i30 N was "born", and Nürburgring – the legendary circuit where it was "honed", apparently.
It's also the first Hyundai to be built under the guidance of ex BMW M-Sport engineer extraordinaire Albert Biermann. 0-62mph takes just 6.1 seconds (if you opt for the performance pack which adds an extra 30 bhp or so, launch control, and those aforementioned 19" wheels), and top-speed is electronically limited to 155mph. How very German!
Inside there's a similarly familiar mix of solid feeling switch-gear, brilliantly clear dashboard dials, virtually black everything, an almost comically chunky steering wheel, and some superbly supportive sports seats; the driving position is spot-on. Some of the plastics used may not be quite to Bavarian standards, and the final ergonomics aren't quite fully resolved either. But this is a sub-£30K car, certain things can easily be forgiven.
And especially so when warmed-up and out it the open.
"Grips like the proverbial"
The i30N is unashamedly noisy thanks to an exhaust system that's be tuned especially to be so – it burbles and pops like Thierry Nueville's I20 WRC car. And when you change down, electronic rev-matching makes you sound like a heel-and toe pro. You can switch it off, but for a while at least it's actually a lot of fun. That's not something that's usually said about driving a Hyundai.
What's also a lot fun is just how early you can apply power during cornering. The i30N grips like the proverbial to a woolly blanket (well, in the dry at least). Throw precise and accurate steering into the mix, and as your confidence in the i30 N's excellent chassis builds you really can cover a lot of ground in not a lot of time.
If, that is, you've remembered to select the Comfort setting on the dampers. Hyundai's all-uncompromising N mode makes things far too stiff for a British B-road. The mid-level Sport setting is too hard for my tastes too. Still at least there's a myriad options of how to personalise how the i30 N feels. To each their own, as the saying goes.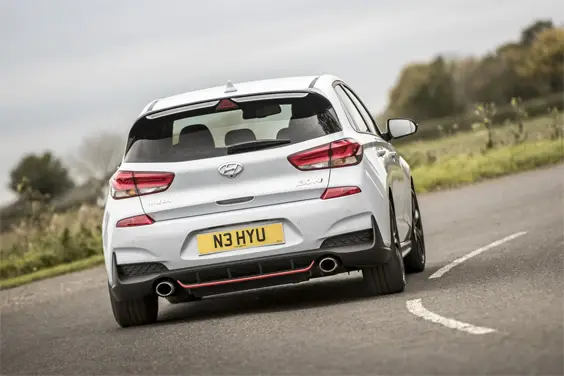 "Fast and involving"
Being a Hyundai, regardless of how stiff you like your steering and springs, you still get a generous standard kit list. LED headlights, adaptive cruise control, and an 8-inch touchscreen sat-nav all put in an appearance, whilst autonomous braking, lane keep assist and road sign recognition are carried over from the regular i30. You also get a five-year warranty. That's not bad at all for £27,995, and that includes the all-important performance pack.
But, should you buy one?
If you like your hot-hatches a little "rough around the edges" then, yes, without a doubt. That's not to say there's anything rough about the i30 N I hasten to add – it's fast, involving, well-equipped, good-looking, and overall a somewhat very likeable car. But, it is a first attempt, and in places it shows.
The i30 N faces competition from the likes of Ford's Focus RS, Honda's Civic Type R and Peugeot's 308 GTi, all of which have been around for ages. And then there's the Golf – a product so polished and honed you wonder if anyone will ever steal its crown. In such illustrious company the i30 N feels a little lost.
Nevertheless you can't help but admire Hyundai for what they've done here.
Hyundai i30N Performance
Engine: 1,998cc, 4Cyl, 16V DOHC petrol with twin-scroll turbo-charger
Transmission: 6 speed. Manual Front-wheel Drive
Power: 271 bhp @ 6,000 rpm
Torque: 260 – 279 lbft @ 1,500 – 4,700 rpm
0-62mph: 6.1 sec
Max Speed: 155 mph (limited)
MPG: 39.8 combined.
CO2: 163 g/km
Price: £27,995 (as driven)