By Liam Bird
If you're in the market for a premium or luxury SUV these days you're not exactly stuck for choice. The Range Rover probably remains the first one that springs to mind – it was perhaps the first luxury SUV of them all – nevertheless, the likes of Audi, BMW, Maserati, Mercedes, Porsche, and Volvo, all now produce high-riding, rugged(ish) looking, family wagons that promise the ability to go almost anywhere but will probably never stray more than a grass verge's width away from the tarmac.
From Urus and Bentaygas, via Levantes and Macans, to Q7s, X7s, and XC90s, the choice is yours. Even Rolls Royce are in on it; they'll sell you their Cullinan should your budget stretch to such things. And despite once protesting that they'd never make one, Ferrari are currently developing an SUV of their own.
And it is into this fiercely fought-out suburban four-wheel drive fray, that Genesis have recently launched their GV80.
Hang on! Who? And they've launched a what?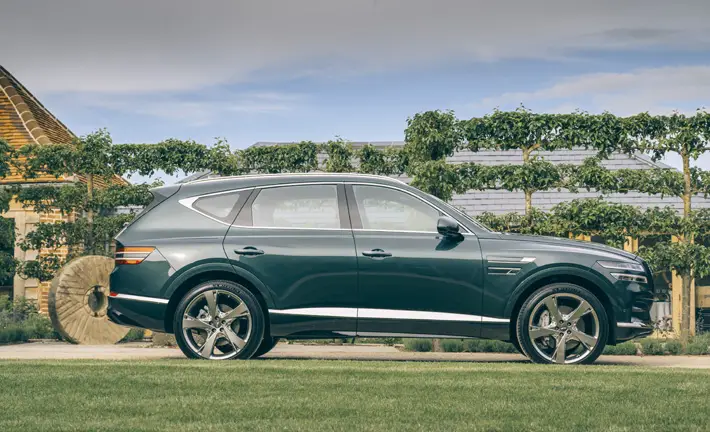 "Real wood trim"
Fair enough, the chances are you've probably not heard of Genesis. Well, not the motor manufacturer anyway. I'm sure you're already quite well-versed in both the New Testament. And of course one or two verses according to Peter, Phil, Mike, Steve, and Tony – or a combination thereof. Jesus, he knows them, apparently – well, at least three of them, I heard.
I digress… Genesis are to Hyundai, what Lexus are to Toyota, Acura are to Honda (albeit in certain markets), Infiniti are to Nissan, and what Citroen hope DS Automobiles will become: Genesis is Hyundai's premium brand. Think thick, quilted nappa leathers, premium infotainment systems with 14.5 inch touchscreens, solidly engineered soft-shut doors that close with an almost Germanic feeling clunk, beautifully digital dials, knurled aluminium knobs, and real wood trim. There's a self-parking system, and even the rear seats are heated. Honestly, funky blind-spot warning camera systems aside, the Genesis GV80, and the also recently launched Genesis G80 saloon, are about as far removed from a Hyundai i10 hatchback as it's possible to get.
Genesis's plan is to launch seven new models over the next 12 months, three of which will be all-electric. However, for now at least, your choice of power plant behind that unashamedly Bentley-esque chrome front grille is either a 3.0-litre diesel or a 2.5-litre petrol. It's the latter, coupled to an 8-speed automatic gearbox that was fitted to the GV80 Genesis were kind enough to lend me – in luxury, seven-seater spec no less. Prices start at £59,600.
"Major on comfort"
It's clear from the outset that Genesis have set this particular Sports Utility Vehicle up to major on comfort rather than anything remotely approaching sporting. The steering is light, and not exactly what you'd call brimming with feedback, and the throttle response feels a tad spongey at when pootling along in traffic – or is that the hesitancy of the gearbox?
The GV80 is equipped with a camera system that scans the road surface and adjusts the dampers to suit. On smoother surfaces and at higher speeds it works quite well. But again, it's at more modest velocities where the GV80 feels as if it's not quite the fully polished product it's so desperately aspiring to be. Tick the box that buys you the blingy 22 inch rims, and the low speed ride is distinctly more fidget than float.
And that, in a roundabout way perhaps, brings us on to the whole Genesis buying experience. It's all done online, or via Genesis 'Studios' that you'll find in upmarket shopping centres rather than amongst the other car dealers in out of town retail parks.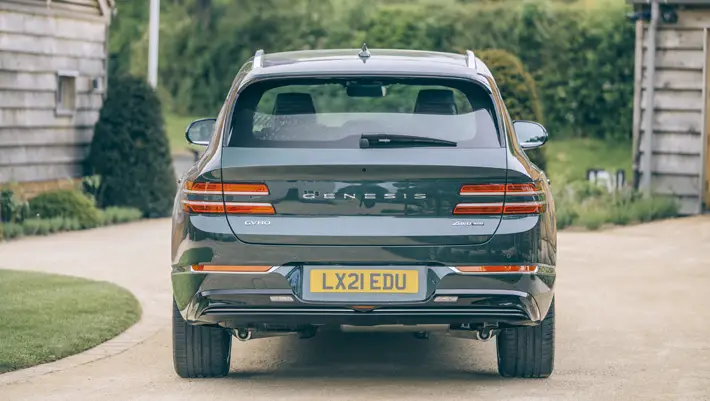 "Well built"
'Service over sales' is the Genesis mantra. A Genesis personal assistant will take you through the whole process from test drive to delivery, and on to after-care, too. Your PA is salaried not on commission like a car salesperson, so (supposedly) there's no hard sell.
Every Genesis comes with a five-year care plan covering warranty (with no mileage limitation), servicing (only up to 50,000 miles), roadside assistance, courtesy cars and map and over-the-air software updates. And if you're still struggling to figure out how to make everything work after you've taken delivery, the very same Genesis personal assistant that set-up the initial sale will come to you, again and again, until you're fully (ahem!) up to speed.
But what you really want to know is should you buy a Genesis GV80 instead of a more established premium SUV.
That's genuinely not easy to answer. Ride aside, the GV80 does everything a premium SUV should, and it feels every bit as well built as one should too. As an unknown brand (in the UK at least) it's hard to know how residual values will fare, and as there's no hybrid or fully-electric option yet it's hard to recommend a GV80 to someone looking for a new company car. Only time will tell if Genesis becomes a revelation.
Genesis GV80 – 2.5T + 8AT / 7 Seater
Engine: 2,497cc, 4Cyl, 16V turbocharged petrol
Transmission: 8-speed. Automatic with manual mode. All-wheel Drive
Power: 300 bhp @ 5,800 rpm
Torque: 311 lbft @ 1,650 – 4,000 rpm
0-62mph: 6.9 sec
Max Speed: 147 mph
MPG: 27.4 – 28.2 (NEDC combined).
CO2: 220 g/km
Price: From £ 59,600 OTR (Luxury Line Spec.)