Bentley Bentayga Hybrid – Review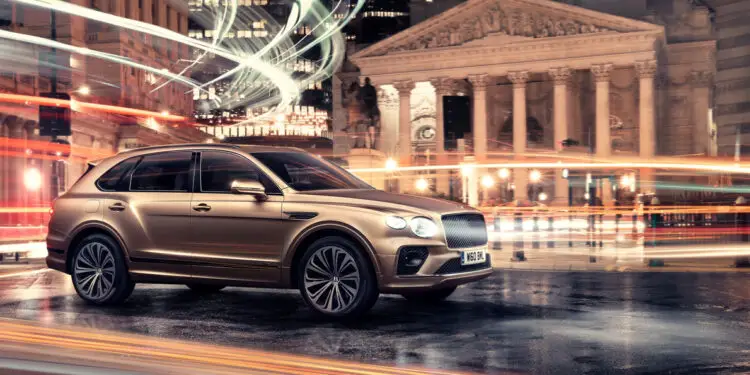 By Liam Bird
Bentley is perhaps not the first brand that springs to mind when you think about possible ways to save the planet. Big, usually heavy cars, with big, usually heavy engines, more often than not mean big fuel bills, not to mention the heavy CO2 emissions that go with them.
Recently however, the Crewe-based manufacturer of what are arguably some of the finest luxury motor cars currently on the market, announced the recertification of its headquarters and operations to PAS 2060 Carbon Neutral specification, by the internationally-recognised Carbon Trust.
Long-term investment and forward planning have ensured that 100% of the electricity and gas used by Bentley is now renewable – most of it being generated by the 7.7.MW solar array on site in Crewe, or bought in as 100% Renewable Energy. Bentley have also installed 130 charging points around their Pyms Lane site, which, they say, is "helping to power colleagues'" journeys with a range of zero emissions and hybrid vehicles now available through the company car scheme.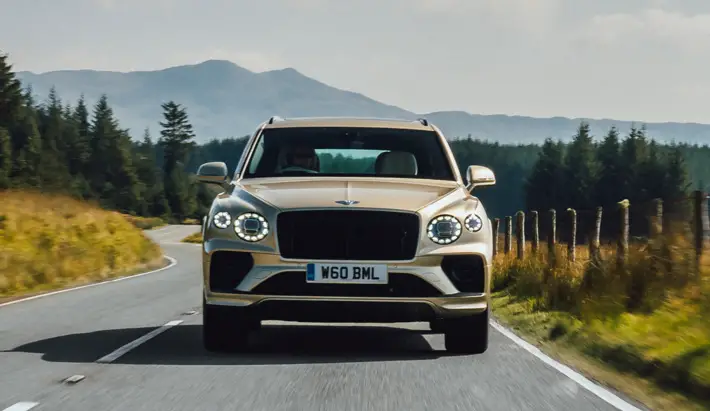 "Near silence"
Quite whether or not as one of Bentley's colleagues that scheme runs to allowing you to have one of their Bentayga Hybrids as a company car, I'm not sure. But should you be in a such a fortunate position, you might be happy to find that the Bentayga Hybrid falls into the 20% BIK band, rather than the significantly higher 37% rate that's applied to the other engines Bentley fit under the Bentayga's super-formed aluminium, high-rise bonnet.
Does such a saving matter to someone who has the means to splash-out £155,500 – before options that is – on a 2.7 tonne four-wheel drive, five-seater SUV and, no doubt, has another five, perhaps six, or more equally opulent modes of transport tucked-up in the garage? Who knows? Nevertheless, Bentley have built the Bentayga Hybrid with the more eco-conscious owner in mind. They even claim it'll do 83.1 Mpg while emitting just 82g/km of CO2.
Theoretically, that might be the case. With its 17.3kWh battery fully charged, (it takes about four hours to do so) the electric-only range is approximately 25 miles; just enough to cope with the daily commute. Do owners of Bentaygas have a daily commute? More likely they mean travel from one side of a congestion zone to the other. That run to Fortnum's for instance, it might just be doable, and in near silence and on electrons alone.
"Clever"
However, in the real world, it's far more likely that you'll find yourself using the Bentayga's petrol engine in conjunction with the motor. Programme your destination into the sat-nav and the software will utilize both power sources in the most efficient way it can. Should you need a little extra boost of torque from the motor on an uphill section, it's available; alternatively, if the last few miles of your trip are through a clean air zone, the system will hold back the charge so it's there when you need it. It's clever stuff.
What perhaps isn't so clever is the Bentayga Hybrid's petrol engine. In any other large SUV with Wolfsburg DNA, Volkswagen's 335bhp turbocharged V6 would no-doubt be seen as a welcome addition; it's smooth, it's torquey. But, this a Bentley and heavy one at that – the batteries add another 200kgs to the Bentayga's already not inconsiderable kerb weight – so when you plant your foot deep into the lambswool carpet, that familiar surge of acceleration and the usual mellifluous multi-cylindered engine note accompaniment are sadly all-too notable by their absence.
With a 0-62 time of 5.2 seconds, the Betayga Hybrid is by no means slow, but neither does it feel as swift as its less complicatedly powered brethren. Add in the fact that the dual-fuel Bentayga goes without Bentley's 48V active anti-roll bar system, and thus rolls more when required to change direction, the overall feel is one of a car that's been somewhat hobbled by technology rather than helped by it.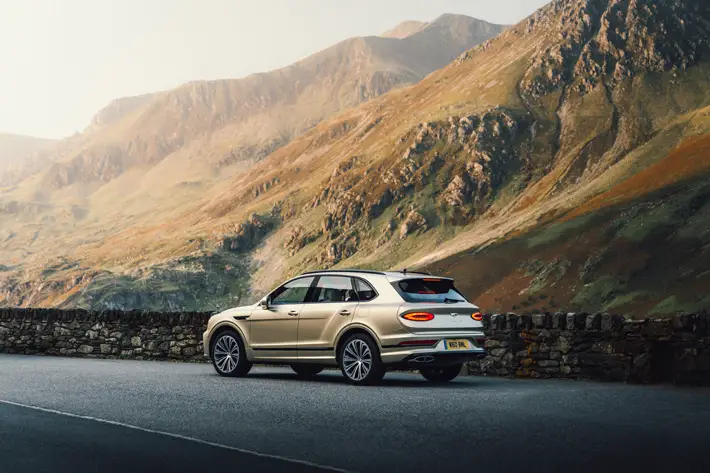 "Such luxury"
It does though, still provide very much a fine place in which to munch the miles. Bentley interiors are simply in a different league to all other manufacturers (and that in my opinion, also includes another, former, Crewe resident). The leathers are beautifully thick and soft, the marquetry is simply first class, and those trademark organ stops for the air vents move with such smoothness you'd swear your valet oiled them just seconds before you got in. Such luxury inevitably doesn't come cheap, nevertheless, you can certainly see where your money goes.
So, should you spend your hard earned on a Bentayga Hybrid?
Well, that all depends on how you're intending to use it. If you like to waft around in unrivalled luxury, in near silence, and thinking you're doing your bit to help save the planet, there's currently little else like it. However, if you prefer your Bentley to feel both effortless and entertaining from behind its handstitched steering wheel, the Bentayga Hybrid might not be quite the Bentley you thought it was going to be.
Bentley Bentayga Hybrid
Engine: 2,995cc V6 TFSi with 126bhp electric motor-generator
Induction: one single-scroll turbo-charger, inside the V
Power: 443 bhp
Engine Only: 335bhp
E-Motor: 126bhp
Torque: 516 lb.ft
Transmission: ZF 8-speed automatic with Manual Mode & permanent all-wheel drive
Battery: 17.3 kWh 168 cell lithium ion
0-62 Mph: 5.2 sec
Max Speed: 158 mph
MPG: 83.1 do (WLTP Combined)
CO2: 82 g/km
Driving Range: 431 Miles
E-Range: 24.85 Miles
Energy Consumption: 258Wh/km
Charging Time: 2.5 hours on a fast charger. Domestic charging times vary.
Price: from £55,500 (as driven £190,709)