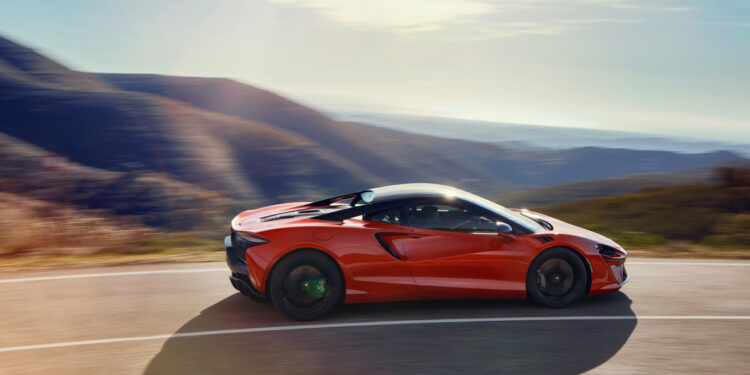 By Liam Bird
A few things have become apparent recently regarding my driving of new McLarens. First: It always seems to rain. Apart from when I got to drive both the 570S and 570S around Tenerife – the Island of Eternal Spring – the downpours have been near biblical. I once drove a 570GT around the coast of Wales on what was the only wet weekend of a near-tropical summer; I barely got to fold the roof down on a 720S spider that was here for a few days; and on the day I drove a 650S to Brighton and back… Well, cats and dogs aren't the words.
The second thing I've noticed is, that recently, every time McLaren hand me a set of their keys they want them back again even sooner than they did last time I was trusted with them. I hasten to add, that's got nothing to do with anything I've done to either them or one their cars – or at least I hope it isn't.
As I said, I've been loaned McLarens for long weekends; I've circumnavigated whole countries in them! Alas, this time around my driving time would be limited to just an hour.
Such is the demand from motor-noters like me to sample McLaren's new Artura that their press and PR people thought it a good idea to gather a load of us together at the petrol-head's favourite pit-stop that is Caffeine and Machine, near Stratford upon Avon, in order to let us sample their latest supercar. What follows then is not so-much a full review of the Woking-based manufacturer of all-things speedy's latest member of the bedroom wall poster-car club, but more a first impression.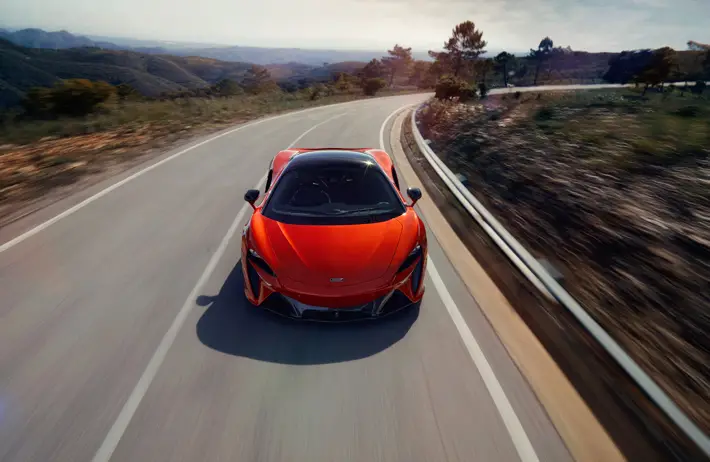 "Falling into it"
Needless to say, it rained. Damp roads and 680bhp make for a heady-mix.
On first acquaintance the Artura may not look like a new McLaren, its styling is so instantly familiar, so reminiscent of what's gone before that it couldn't be anything but the work of McLaren. Nevertheless, new is exactly what it is.
Beneath the sharper edged super-formed aluminium panels – the huge rear deck is formed as a single piece to help save weight and also reduce associated bracketry – sits a new carbon fibre monocoque that not only forms the base of the Artura but will go on to form the base of many a McLaren to come. Said chassis is called McLaren Carbon Lightweight Architecture, or MCLA for short. It's built in McLaren's new Sheffield facility and features new aluminium crumple zones at the front, and a new aluminium sub-frame at the rear that houses the engine, the gearbox, and in between them, an axial flux electric motor: The Artura is McLaren's first full production hybrid. In an industry-first application, the Artura also gets Ethernet cabling rather than a more traditional wiring loom. Again, this saves weight, An Ethernet system is also said to speed-up connectivity whilst being less susceptible to problems caused by rapid temperature change or electromagnetic interference. How very McLaren.
Very McLaren is exactly how it feels when you first get in. You don't so much as enter an Artura, it's more a case of gently falling into it. The heavily scooped dihedral door rises vertically, taking with it most of the sill. With your head bowed slightly to avoid bumping it on said elevated door/sill combo, you aim your left leg in, under the steering column; your bum and right leg follow with as much grace as you can muster. It's not perhaps the most elegant of ingresses, but believe me it's worth the effort.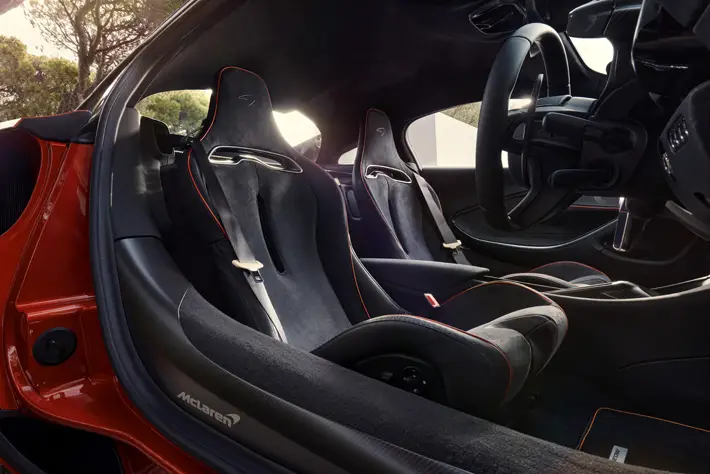 "Swift and smooth"
Once inside you're cupped in new (optional) snug-fitting Club-Sport seats that feel as if they were moulded specifically for you. Bizarrely, in the near £190,000 before options supercar the seats are manually adjustable; lift the lever, slide either back or forth. The alcantara wrapped steering wheel on the other hand is electronically adjustable and can be pulled-in nice and close; it's complexly button-less, it's only function being to alter the Artura's course. Good old-fashioned column stalks control lights, indicators, and wipers.
Ahead of all of that that there's a new brilliantly clear 10inch HD-TFT screen providing all the primary dashboard duties. It's flanked either side by the finger-tip controls that alter the suspension and powertrain modes. Adjust the steering wheel for reach or rake, and both the screen and mode switches move with it. A little bit of fiddling is all it takes to get your driving position absolutely spot-on, visibility in almost all directions is remarkably clear, and the tops of the Artura's vented front wings help frame the road ahead.
Press the start button – it's on the centre console – and all is quiet. The E-motor means Artura moves away on electric power alone. Fully charged the electric only range is a claimed 31km – enough to get you across a congestion zone or back home quietly perhaps. Reverse is all-electric too. Let's hope the days of waking the neighbours with your noisy supercar aren't completely over – surely, that's part of the fun? Joking aside, it's surprising how swift and smooth a getaway the 90bhp motor provides.
As for when the engine does kick-in…
McLaren's new twin-turbo "hot V" 3.0 litre V6 has the ability to shove the Artura towards the horizon at a rate that requires the recalibration of your senses: 0-62 mph: 3.0 seconds. 0-124 mph: 8.3 seconds. Where possible: 0-186 mph: 21.5 seconds. Should you want it to be, the Artura is phenomenally quick. But perhaps more amazing is its ability to pootle amongst the day-to-day traffic without complaint. Yes, you can make it bark and pop when you shift down through the 8-speed gearbox – it'll make you sound like a heel-and-toeing pro – but in town it's smoother than many a shopping car.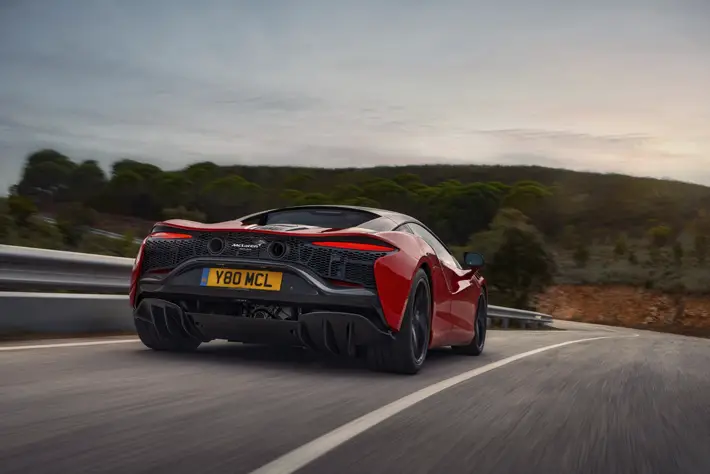 "Multi-faceted"
There's zero slack in everything you touch; the steering is beautifully weighted. OK, so the ride is a touch firm (as perhaps expected) but it's forgiving too. McLaren, maker of many an F1 champion, were never going to build boneshaker now were they? Only the brake pedal, gives cause for concern. At first it seems set way over to the left (You should be using my left foot instead, like the racing drivers do!) however, further acclimatisation reveals the carbon discs are capable of making McLaren's latest stop like its dropped anchor.
So multi-faceted is the the Artura that an hour behind its wheel was never going to be long enough to explore its true capabilities, or indeed its foibles. Does, for instance, relocating the subwoofer inside the chassis tub make for a better bass sound? Is the trunk big enough for a weekend away's luggage? Is that new infotainment intuitive to use? Will the Atura really do 31 km on electric power alone? What does that sports exhaust system sound like at 7,000 rpm, in a road tunnel, in North Wales?
Further acclimatisation is clearly what's really required here.
I'm free in August. Let's see now…
Dear McLaren…
McLaren Artura
Engine: 2,993cc twin-turbocharged V6 with Axial Flux E-motor
Transmission: 8-speed automatic with auto mode, rear wheel drive.
Power: 671bhp @7,500rpm (90bhp from E-Motor)
Torque: 531lb ft @ 2,250rpm (166lbft from E-Motor)
Max Speed: 205 mph
CO2: 104 g/km (combined EU WLTP)
MPG: 61.5 (combined EU WLTP)
Price: From £189,200 (as driven £214,300)