Maserati MC20 and MC20 Cielo – Review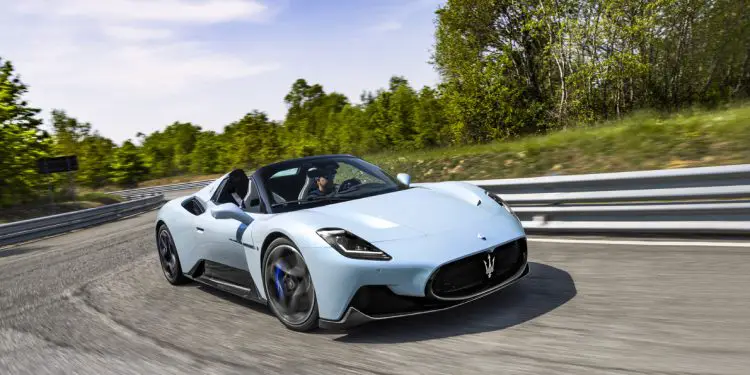 By Liam Bird
You spend nearly two years, (or was it longer?) emailing Maserati's UK press office, gently nagging them to let you drive their MC20, and just when you think any hope you might have had is all-but lost, they ask you join them at a very nice hotel in Hampton in Arden to, time permitting, drive their entire press fleet, MC20 and MC20 Cielo – that's the convertible version – included.
Well, it wasn't as if I had a more pressing invitation… And it was June 13th; my 50th birthday. They were even offering lunch. Besides, I'm such a sucker for a supercar, especially-so when it wears one of the most evocative badges in motorsport, née, automotive history. I wasn't as if I needed asking twice.–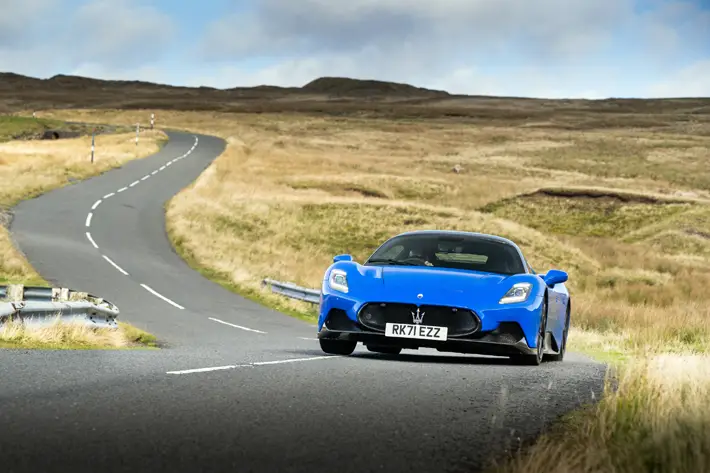 "Glamourous"
Before Enzo Ferrari left Alfa Romeo to set-up on his own, and long before he upset a tractor manufacturer by the name of Ferruccio Lamborghini, Maserati, were the Italian car maker. Maserati won the Targa Florio in 1926, they scored back-to-back wins in the Indianapolis 500 in 1939 and 1940 – making them the only Italian manufacturer ever to do so – and in 1957 their gorgeous 250F won the Formula 1 world championship in the hands of non-other than Juan Manuel Fangio. Their trademark Trident badge, designed by Mario Maserati, is based on the Fountain of Neptune in Bologna, Maserati's original home. It was considered particularly appropriate for a sports car company due to the fact that Neptune represents strength and vigour.
Maserati retired from factory racing participation following Alfonso de Portago's fatal accident in the 1957 Mille Miglia, (de Portago was driving a Ferrari. 12 people died), although they did continue to build cars for privateer racers. Gradually their focus switched to the manufacture of road cars and glamourous grand tourers.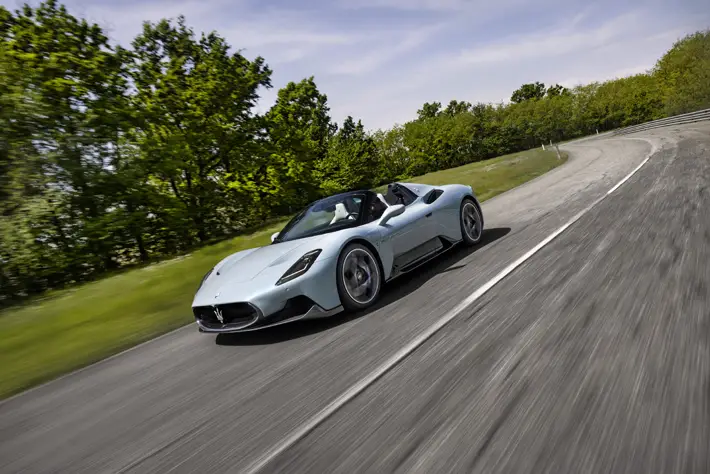 "Confidence"
Fast forward to today, and after many famous and infamous financial woes and changes of ownership, Maserati finds itself now part of the mighty Stellanatis Group (along with Alfa Romeo FIAT, JEEP, Chrysler Peugeot/Citroen and their associated spin-offs, Lancia, Vauxhall/Opel… And that's to name but a few). And to think, Citroen once owned Maserati… Now, with such a strong backing, it's perhaps no wonder that there now appears to be a renewed confidence about this so-evocative brand.
It's that newfound confidence (and no-doubt significantly more secure budget too) that has allowed Maserati to make the MC20, a genuine bonafide head-turner of a 2-seater mid-engined supercar, the kind of which hasn't rolled forth from the now Modena based manufacturer's gates since they launched the Bora, in 1971!
The MC20, and the rather delicious MC20 Cielo, both sit on a carbon fibre tub that was co-developed with race car specialist Dallara (Google them, they're people whose back catalogue includes the Lamborghini Muira's chassis, amongst others). Power comes courtesy of a twin-spark, twin-turbo charged 3.0 litre V6 – all 621bhp of it. There's no electrical assistance, or any hybrid-drive nonsense; there's an 8-speed gearbox; the MC20 is rear wheel drive. Mama Mia!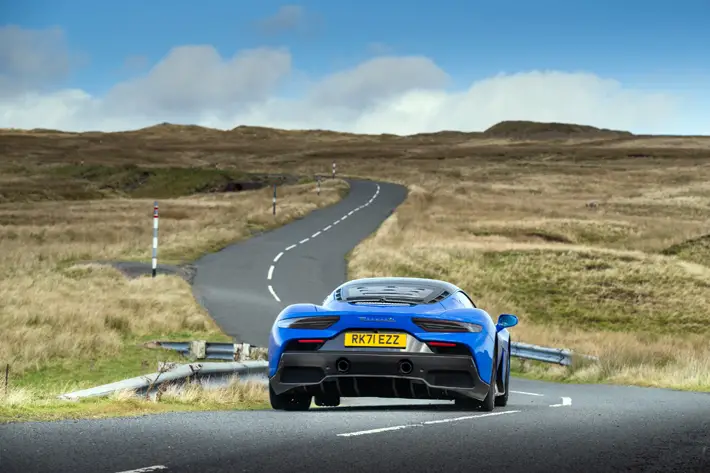 "Revelation"
And then there's the styling. Low nose, cab-forward driving position, duct and vents aplenty, butterfly doors… all the stuff the cars in the posters on your bedroom wall had. Only these day it's all made from composites; everything fits properly, and the panel gaps match. Even the brakes are carbon fibre.
The real revelation though comes when you actually get to drive the MC20. Yes, the driving position is very much that of modern supercar – low slung, your bum lower than your knees – and rearward visibility is dismal. However, the MC20, and the MC20 Cielo, ride with a compliance you just don't expect a car looking like this to possess. The MC20 glides over bumps, the steering is light and beautifully direct. There's an agility here that's lacking in so many other supercars. Somehow, despite it's potential near time-warping performance, the MC20, whether hard-top or convertible, feels delicate, graceful even.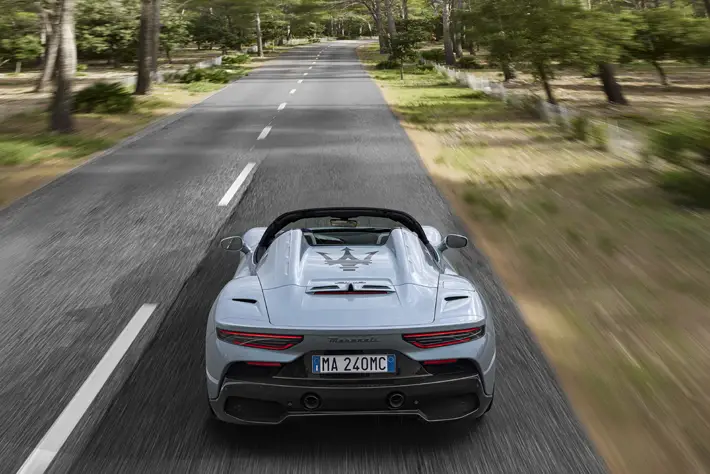 "Velocities"
There's a price to pay for such things, of course. In modern traffic and in modern oh-so speed sensitive times, driving the MC20 can often feel as if you can never really let it off its leash. A simple tap of your toe on the accelerator and you're soon approaching license losing velocities. You'll never ever slip-by unnoticed in a brightly coloured Italian wedge that's constantly accompanied by a wailing and whooshing soundtrack either. And then there's the actual asking price: £204,290 for a hardtop before options. The Cielo starts at £230,290.
I often get asked if cars such as this are worth their asking price. I suppose if you can afford such things, only then will you actually find the answer. What I do know though is, if you ever get the chance to drive an MC20, however long it takes, it'll certainly be worth the wait.
Maserati MC20 / MC20 Cielo
Engine: 2,992cc. V6 twin turbo, petrol
Transmission: 8 speed dual clutch automatic rear-wheel drive
Power: 621bhp @ 7500rpm.
Torque: 539lb ft @ 3000rpm
0-62mph: 2.9 sec
Max Speed: 202 mph
Mpg: 24.4 (combined)
CO2: 262 g/km
MC20 Price: £204,290 (as driven £282,565)
MC20 Cielo Price: £230,290 (as driven £305,795)