Lamborghini Huracán STO – Review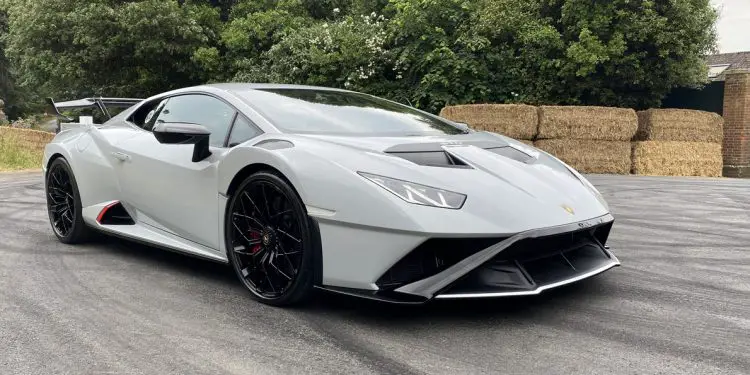 By Liam Bird
If you are going to celebrate the impending passing of the petrol-engine supercar you might as well do it in style. So where better then, to literally take the bull by its horns, than at the 2022 Goodwood Festival of Speed?
A few days before Rebecca and I set our usual mid-summer course for Sussex, Lamborghini, quite out of the blue, were kind enough to send me an email: Was I, they asked, available to drive their Huracán STO, up the Duke of Richmond's driveway on Thursday afternoon, the opening day of what surely has become the pinnacle event in any self-respecting petrolhead's calendar.
Such invitations, believe-you-me, are still very much the stuff of dreams; my bedroom walls were covered in Countachs – the Huracán's equally wild and wedgy forbear – when I was a teenager. So let's just say if I wasn't available, I very soon would be. My reply, simply read what time do you need me? I then set about clearing my diary, rearranging airbnb check-ins, and reading up on exactly what it was Lamborghini were asking me to drive.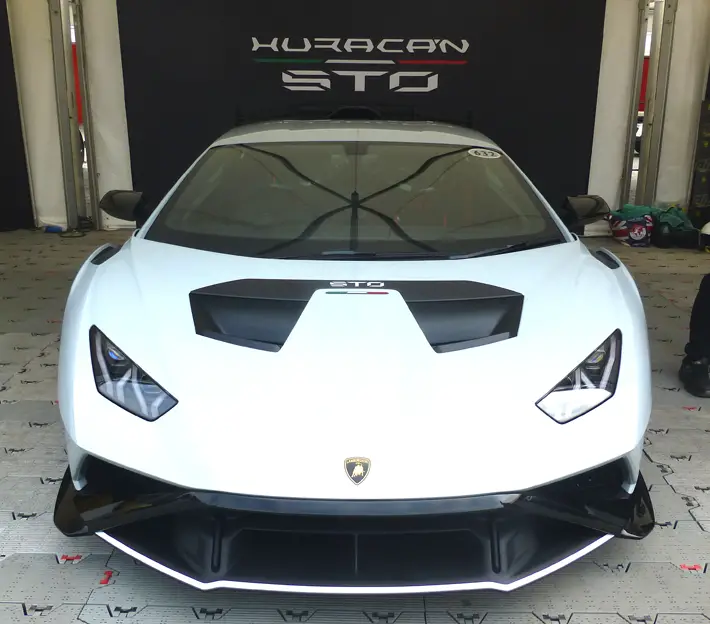 "Dramatic"
The Huracán STO was conceived to "combine the fun and 'emotion' of the Super Trofeo one-make racecar and the competitive spirit of the GT3 racer into a hardcore road-legal package", apparently. STO stands for Super Trofeo Omologato and it is, to put things in layman's terms, the Huracán in its lightest, most focussed – purest, if-you-will – and most aggressive form. It's louder than an F1 car, rear-wheel drive only, and capable of 193mph and 0-62mph in 3 seconds dead. The body is made almost entirely from composite, the glass is thinner to reduce weight, and the magnesium wheels are shod with bespoke Bridgestone Potenza tyres in either Sport or Race configurations. The adolescent me would've definitely had wall space for one of these!
Behind the compact alcantara trimmed two-seater cockpit sits a naturally aspirated – no turbos; no hybrid drive systems or electric motors – 5.2 litre V10 petrol engine that produces 631bhp at 8,000rpm, and 417lbft of torque at 6,500rpm. Behind that, there's an enormous adjustable rear wing that wouldn't look out of place on an aircraft; it's said to produce a whopping 420kg of downforce – at 174mph! And as if that wasn't quite enough, the STO also gets much deeper side skirts and spoilers to up its already dramatic presence ever further.
To all intents and purposes the Huracán STO is a street legal version of Lamborghini's highly successful GT3 racer. Fuel consumption is hideous, so too CO2 emissions (read 16.9 mpg, and 331g/km respectively). The price? From £260,012 upwards. The first year's production is already sold out.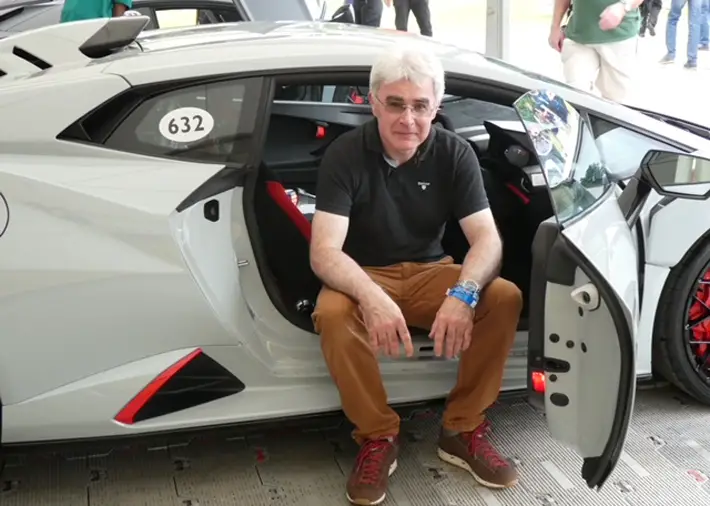 "Altogether sharper"
It's no wonder then that as I ease the Huracán STO out of the supercar paddock and into the Festival of Speed's capacity crowd, its exhaust grumbling like some pent-up caged animal, faces are agog and camera phones aplenty are instantly snapped into action.
I've driven a Huracán before, but even from this briefest of encounters it is clear the STO is an altogether different beast. The low-slung driving positon and questionable visibility (the front wing tips are barely visible from the driver's seat, and the STO's roll-bar and extra bracing fill the internal rear view mirror) are perhaps vaguely familiar. However, even picking my way through the afternoon's spectators on my way to the start line, everything – suspension, steering, and brakes, – feels stiffer, tauter, and altogether sharper still. So too the accelerator.
I think my breathing was getting shorter by this point too…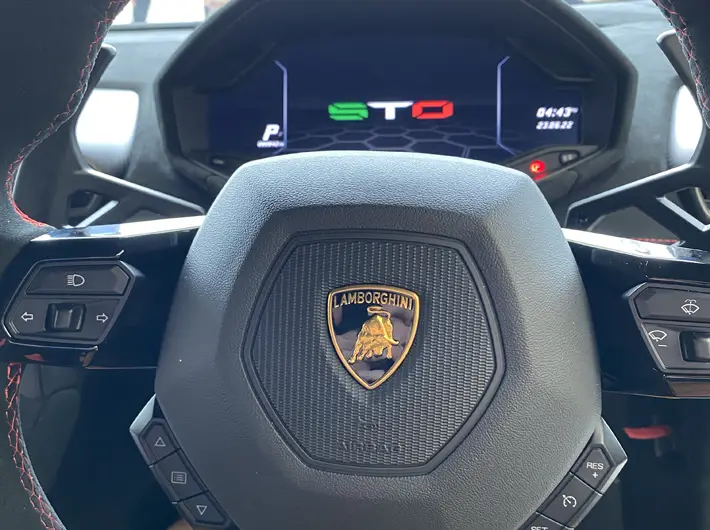 "Peel away"
Out on to the hallowed tarmac and there's just time to make a few final adjustments to my seat, my helmet strap, and STO's driving modes before lining up for my run. Ahead of me sits the most expensive traffic jam I'll probably ever sit in; more Lamborghinis, a brace of Aston Martins, two Porsche 911s reimagined by Singer, Paganis, Bugattis, Maseratis, a Rimac, the Mercedes AMG One… Name a supercar, it's here. At the front there's the new Gordon Murray Automotive T50, it's being driven by three-time Indy 500 winner Dario Franchitti. Blimey! Imagine rear-ending that lot. You'd instantly lose your no claims bonus!
One by one they peel away, cameras flashing from behind the trackside straw bales, expensive tire smoke left hanging in the air.
And then it's my turn.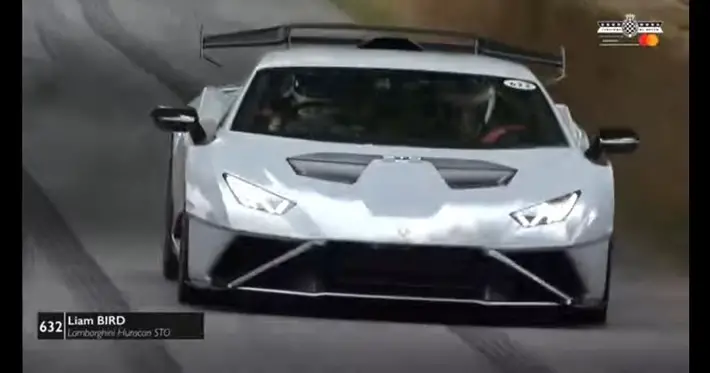 "Blistering"
As the marshal drops the flag, I push the Huracán STO's accelerator deep into the floor. There's a slight squirm at the rear, and a chirp from the tyres as they struggle for grip. Then grip they do. 631bhp launches me up an avenue of trees as if I've been released from a gigantic catapult. Second gear, third gear. I'm in fourth before braking hard, and back down to second again before the first right-hander. Then it's hard on the throttle again, clip the apex of the next right hander, past the front doors of Goodwood House, and up through the gears before clicking the paddle-shifters down again for the tricky off-camber Molecombe corner. Another blast before lifting for the tight right-left kink at the flint wall and then it's hard on the power for the last dash to the finish line.
Or at least that's how it felt inside. That mighty V10's roar and some automatic throttle blipping probably made everything feel much faster than it actually was. I doubt my probably pedestrian recorded time up the 1.16 mile hill climb will be troubling any professional racing drivers any time soon.
On the following Saturday, former F1 star Max Chilton set a blistering new record of 39.08 seconds in the 1000bhp McMurtry Spéirling. It's the kind of stuff we'll be talking about for years. Few will ever mention my run again. Nevertheless, I'll remember my all-too short Lamborghini Huracán STO drive at the 2022 Goodwood Festival of Speed for a very long time.
Lamborghini Huracán STO
Engine: 5.2 litre V10 Petrol
Transmission: 7-speed, dual-clutch auto with paddle shift. Rear wheel drive
Power: 631 bhp @ 8,000 rpm
Torque: 417 lbft @ 6,500 rpm
0-62 MPH: 3.0 Sec
Max Speed: 193 mph
CO2: 331 g/km
MPG: 16.9 (combined)
Price: from £260,012 OTR
images: Rebecca Thomas