Aston Martin DBX707 – Review
By Liam Bird
Thursday morning and I'm deep in the Cotwolds, sitting in traffic on the High Street, in Burford. Just as a gap appears and I contemplate moving forward, a Volvo XC90 hurriedly fills the space. Clearly the driver, well-dressed and of "a certain age", is in far more of a hurry than I am. Or are they just more important? I sit back, happy to watch them try to manoeuvre a seven-seat SUV in to space that's just been vacated by an aged Honda Jazz as Pink Floyd's 'Us and Them' begins to play on the radio; it seems appropriate given my surroundings.
My vantage point, if you'll pardon the pun, is from the snug-fitting sports seat of the new Aston Martin DBX 707. I'm supremely comfy, Ken Bruce is playing one of my favourite tunes, and the air-con is keeping everything nice and cool. Aston Martin have even said they'll buy me lunch. What's the hurry?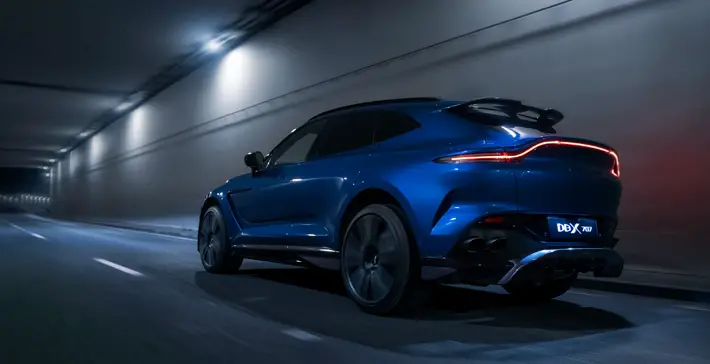 "Leather-lined luxury"
Also, I've got 697bhp – that's 707PS in new money, hence the DBX707 moniker – to play with, just as soon as Audrey Forbes-Hamilton has finished mishandling her Swedish land yacht. Making-up any lost time shouldn't prove a problem.
The Aston Martin DBX 707 is, in Europe at least, the most powerful SUV old, or new, money can buy. It will carry five-people, their luggage, and the labradors in leather-lined luxury. It's four-wheel drive; it weighs just over 2.2 tonnes; it's capable of 0-62mph in 3.3 seconds.
To help it cope with an extra 115bhp and an 147lbft of torque over a standard DBX (that's like adding an extra VW Up! GTi), Aston Martin's engineers have bestowed the DBX707 with a 30% larger front grille – it looks like one from a Zagato – the side vents have been altered and the daytime running lights moved to help cool feed double-stacked coolers for oil and air, and there are new brake cooling ducts to help cool larger carbon ceramic discs.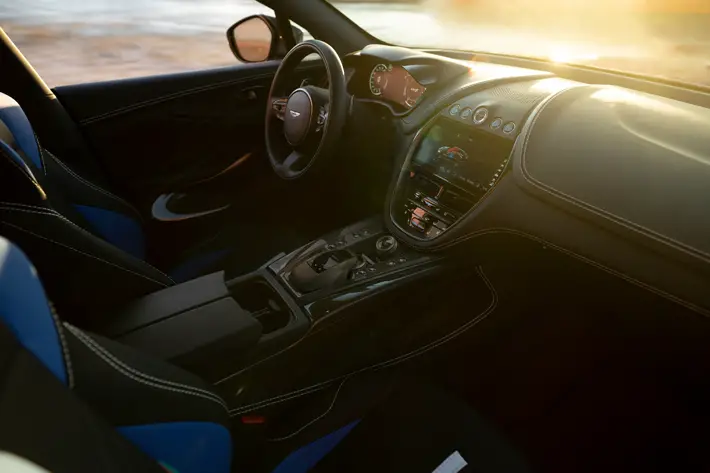 "Assertive look"
Usually more air-flow means more drag, but the Gaydon boffins have been busy ensuring the DBX707 cuts through the air as efficiently as the lesser (?) DBX. There's a new rear diffuser housing quad tail-pipes, a 5mm drop in ride height, and, should your budget permit, whoppingly wide 23-inch alloy rims and tyres; 22s are standard.
The DBX707 has a more assertive look, so says chief designer Marek Reichman. Don't call it aggressive, he doesn't like aggressive.
It certainly feels assertive once the road ahead is clear. And I say the AMG Mercedes Benz-sourced twin-turbo V8 sounds pretty aggressive too, if you bury the throttle. That said, the DBX707 feels brisk rather than break-neck fast when you do finally get chance to open the taps. It'll deal with the dawdlers with ease – of course it will – but ultimately, nearly 700bhp in something weighing as much as this means things happen fast rather than being frightening.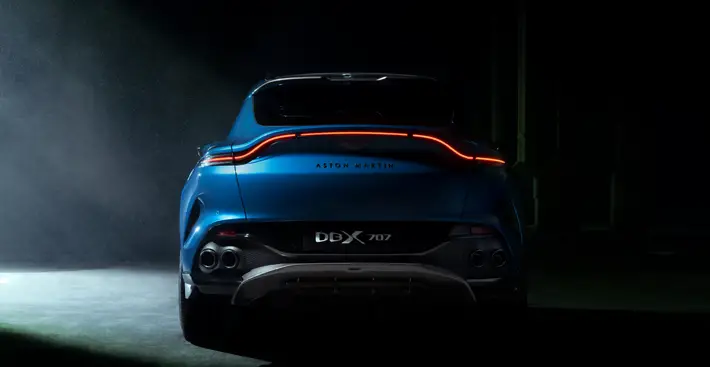 "Taut but never jarring"
What can't be quibbled over however, is the way the DBX707 gets around the corners. The steering is excellent; weighty, direct, and full of feel. And to help keep things level and reduce roll, there's electric anti-roll bars, and 50% stiffer top mounts for the suspension. The ride is taut, but never jarring; the DBX707 flows over undulations with aplomb. It feels every bit like an Aston Martin should, hoovering-up long distances like a grand-tourer, oversteering – should you twist the new manettino switch around to Sport Mode and provoke the rear – out of roundabouts and hairpins like a sports car. Across country it's genuinely a lot of fun.
And yet, should you want it to, it'll play the limo roll equally as well. Plus, it'll tow 2.7 tonnes of horsebox, boat, or classic Aston Martin racing car – a retractable tow bar is just one of a host of bespoke options.
It's pricey – a DBX707 is £190,000 before you start picking the colour of the stitching, the piping, the carpets and the paintwork. Nevertheless, if you want the badge, the brawn, and the bragging rights, there's currently nothing else to match it.
Aston Martin DBX 707
Engine: 3,982cc 32V Twin-turbo V8. Petrol
Transmission: 9-Speed, paddle-shift auto, e diff, all-wheel drive
Power: 697 bhp @ 6,000 rpm
Torque: 663 lbft @ 2,600 – 5,000 rpm
0-62 MPH: 3.3 Sec
Max Speed: 193 mph
Weight: 2,245 kg
CO2: 323 g/km (NEDC)
MPG: 19.8 (combined)
Price: from £190,000