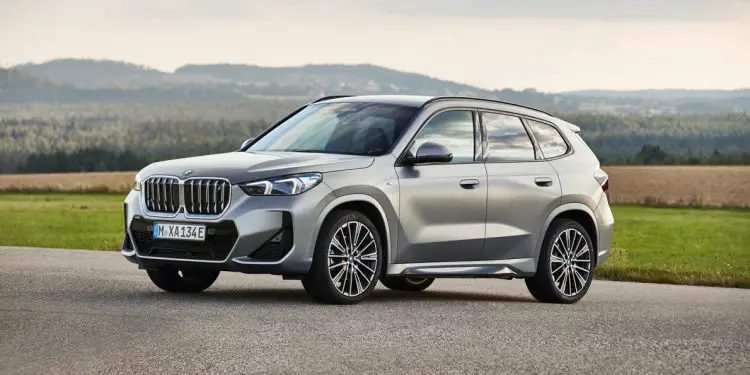 By Liam Bird
You're not exactly stuck for choice if you fancy a small (well, smallish) premium SUV. Jaguar will try to sell you the E-Pace, Land Rover an Evoque. Audi will try to tempt with a either a Q2 or Q3, and Mercedes Benz will do the same with their GLA. Volvo offer their very Scandi-chic XC40, whereas Mazda – which these days are as equally well-built, if not better – may surprise you with their CX30.
Should your budget run to such things, and you like your sports utility vehicle to actually live-up to its promise of being sporty, Porsche have the Macan. And of course, there are various VW Group offerings: the T-ROC and Tiguan, the Skoda Karoq, SEAT's Ateca, and the Cupra Ateca. You pays your money; you takes your choice.
You could also have a BMW X1.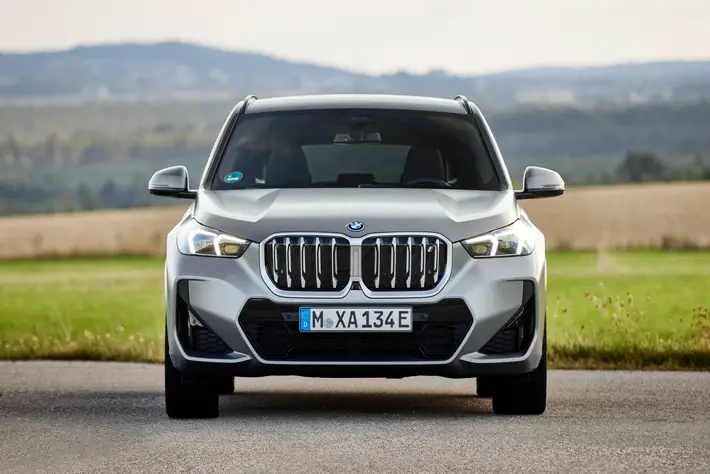 "Very handsome"
Originally, BMW's X1 looked more like a little estate car on stilts that it did a premium SUV. Reviews of it around the time of its 2009 launch commented that its lacklustre interior and dreary diesel engines certainly weren't of the calibre buyers had come to expect – certainly from a brand that took pride in making 'The Ultimate Driving Machine'. BMW soon saw the error of their ways. Fortunately, the first generation X1 was replaced by an all-new model in 2016 which immediately felt more premium and thankfully, was much better to drive. Seven years on again, and there's another new X1.
Now in its 3rd generation, the new X1 – the U11 to give it its official model number – looks altogether better than what's gone before. Where once the X1 looked awkward, it's now rather attractive. It's now nearly as big as the original X3 once was and boasts a bluffer front end with bigger grilles and smaller lights – how very modern BMW – as well as flush door handles and slimmer LED lights at the rear. Entry level X1s are distinguished by more chrome highlights, plastic wheel arches and smaller wheels, however M Sport cars with the M Sport Pro pack (as per the one driven here) get a black grille and door trims, and beefier looks thanks to more aggressive bumpers and 20in wheels. Throw in a Frozen Grey paint job like the one Munich applied to BMW UK's press demo car and the result is a very handsome car.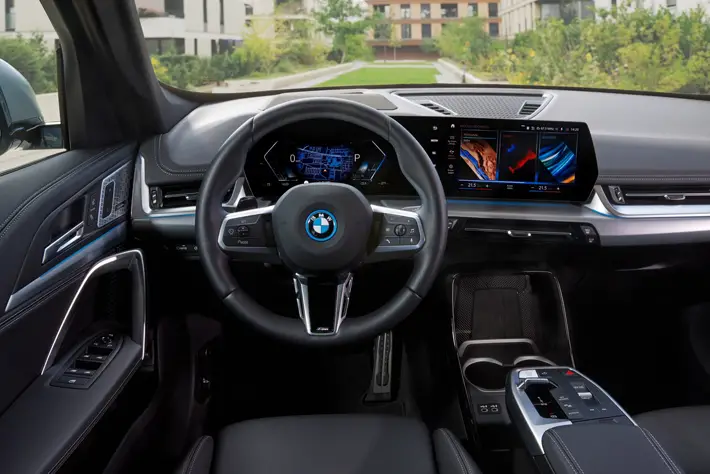 "Tech niggles"
The interior too, is very attractive. Typically for BMW, everything you touch feels as chunky and as well-built as the X1 now looks; the steering wheel rim, albeit clad in beautifully soft leather, is almost comedically thick. Elsewhere aluminium (not a plasticky look-a-like) shares space with soft-touch materials, solid feeling switchgear, and finely machined metal speaker grilles. The driving position and seats are superb, and the drive selector sits in a central armrest beneath which there are charging points and storage for your day-to day sundries.
If there's a bug-bear, like so many other manufacturers at the moment, BMW, once the leaders in car interior ergonomics, have chosen to hide so many functions – heating and ventilation, radio, heated seats, driver assist systems… you name it, deep within the touchscreen. You have to take your eyes of the road to complete what could be argued are trivial tasks and scroll through screen and submenu after screen and submenu to do so. Why BMW, did you do away with your I-Drive rotary controller? And why, despite a week of trying to find it, can I not find where the average mpg is displayed?
Tech niggles aside, at least the X1 can boast the biggest boot in its class, plus, its rear seat can be slid forwards to free-up yet more space. Storage therefore shouldn't be a problem.
The question any potential BMW X1 owner really wants answering however – or should at least show more than just a passing interest in – is, does the X1 feel like BMW to drive?
Well, yes, and no.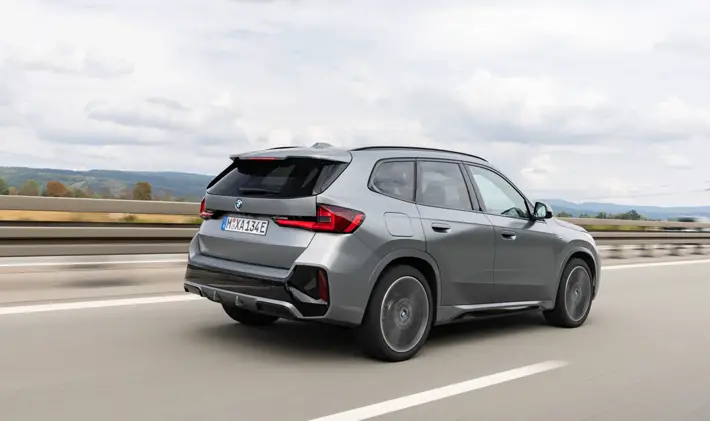 "Feels precise"
Inevitably, how the X1 feels depends upon which engine and spec you choose – there are diesels, petrols, hybrids, and at some point soon, a fully electric variant too; I'm reliably informed the range-topping xDrive30e plug-in hybrid is "seriously rapid for a family car". And, if you like your BMWs to come with a typically Germanic taut ride, the M-Sport 20 inch alloy rims and stiffened dampers will provide exactly that, not to mention the accompanying road-rumble on broken British B-roads. Nevertheless, the X1 always feels precise. You sit higher up, there's not too much body roll, and there's plenty of grip. Performance in the mid-range xDrive 23i M Sport we drove was pleasingly swift too – a little sport in your Sports Utility vehicle I'd say is never a bad thing.
It's pity then that the seven speed gearbox sometimes struggles to keep-up. On open roads it feels quite competent, smooth and unobtrusive but it's hesitant in traffic and there is no 'park' setting, just a button that will also apply the parking brake whether you want it or not. Slow speed manoeuvring is thus more difficult that it should be, and bizarrely, in order to make the driving experience in any way engaging you have to drive the X1 harder than you really should a family orientated SUV. Still, if you're on your own…
Overall, there's a lot to like about the X1; the build quality, the practicality, the driving position, the performance. And of course, it wears the right badge. That said, if it were on my shortlist of sporty SUVs I was considering as my next car, I'd make a point of driving as many of its competitors first before I signed anything.
BMW X1 xDrive 23i M Sport
Engine: 1,998cc, 4-Cyl, 16V, turbo, petrol, with 48V mild-hybrid assistance
Transmission: 7-speed auto, all-wheel drive.
Power: 204 bhp @ 5,000 – 6,500 rpm
Torque: 236 lbft @ 1,500 – 4,000 rpm
0-62 mph: 7.1 Sec
Max Speed: 144 mph
CO2: 150 – 156 g/km
MPG: 42.2 – 40.9 (combined)
Price: from £42,445 OTR (as tested £48,999)