Volkswagen Tiguan vs SEAT Ateca – Compare Review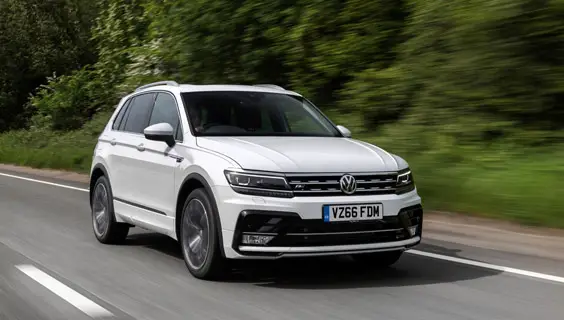 By Liam Bird
The pages of many motoring journals are playing host to their fair-share of so called twin-tests. This is where one manufacturer's latest offering compares to what is, up until to that point at least, the bench-mark of a particular market sector. Be it a super-mini, or a super-car, sooner or later it is compared to its closest rival in a bid to see which can be considered the better.
"Interiors that are instantly recognisable"
Rarely though are the two contestants quite as similar as the Volkswagen Tiguan, and the all-new SEAT Ateca. Both are SUVs, the latter the Spanish manufacturer's first. Both are based upon Volkswagen's incredibly diverse MQB platform. This is the same one you'll see under everything from a Golf, a Skoda Superb, an Audi TT and nearly everything else VAG in-between. Both use the same oily bits: engines, gearboxes, suspension. Both seat five, are available as petrol or diesel, manual or DSG automatic and two or four-wheel drive.
The fact that SEAT select to launch the Ateca in the middle of the now very metropolitan Manchester speaks volumes about how they envisage the majority of buyers will use it. "It's an urban SUV," I am told by the lovely SEAT PR lady. Never once did any of her carefully planned test-routes stray from the tarmac.
The Tiguan's destiny too, one suspects, will be spent circling suburbia. In range-topping R-line spec (as tested) its lowered suspension and a body kit that comprises of side-skirts and deeper front and rear bumpers all-but render its extra SUV ground-clearance superfluous. The standard fit 20 inch alloy wheels, complete with what first appear as mere smears of rubber in place of its tyres, do little to enhance any faith you might have in its cross-country abilities too. They are very attractive, there's no doubting that – as is the now lower roof-lined Tiguan as a whole. But they serve only to enhance the Tiguan's appearance, rather than its on or off-road ride.
"A little more noise and vibration"
The equally sharped-creased Ateca on the other hand does without such wheel-arch filling fripperies and, as a result, feels more comfortable. Granted it lacks the Tiguan R-line's firmer, sportier dampers. But without them it doesn't crash over pot-holes so readily or thump-thump-thump over motorway expansion gaps. The Ateca's seats also feel more supportive. They're not as flat or as wide perhaps as those of the Tiguan, however they do lack the latter car's leather trim.
That's not to say that either of these SUV's are uncomfortable. Both the SEAT and the VW get interiors that will instantly be recognisable to anyone who has driven a recent Volkswagen-Audi Group offering. The column stalks and assorted minor switchgear are identical in both. The Ateca's dashboard echoes that of its Leon sibling, as does the majority of its interior and exterior trapezoidal styling. Whereas the Tiguan gets a cockpit closer to that of a Passat.
Both feel beautifully intuitive to use and as though they've been built to outlast the apocalypse. Even though higher spec Tiguans get the full electronic TFT sat-nav-map-between-the dials treatment as first seen on sister-brand Audi's TT, the Ateca's 8 inch centrally-mounted navigational aids still do a sterling – and a virtually identical – job of getting you to your final destination. There's also a host of apps and connectivity options available for both cars, including those for both Apple and Android devices. Personally though, I'd rather drive a car I order to escape the office for a little while, rather than surf the web in it, or check my emails.
"Driven back-to-back over the same roads"
Performance-wise neither the German nor the Spaniard, is what you'd call a fire-cracker. The 0-60 benchmark dash takes approximately the same time (around 9 seconds) in either, overtaking thanks in part to generous torque levels in both cases is a breeze. Similar terminal velocities are available where conditions allow. The diesel engines where fitted do make their presence felt by means of a little more noise and vibration. But they make up for their lack in refinement by means of their claimed MPG when compared against the quieter and smoother petrol-powered alternatives.
All of that comparing business brings us nicely around to pricing. Initially the Ateca looks like the cheapest of the pair and can be yours for less than the price of a Qashqai, a Kuga, a Kadjar… But, get busy with the options list and the SEAT will soon start to cost VW money. Pick a few niceties to go on your Tiguan however – of which there are many – and you'll find yourself having to dig even deeper still.
Having driven both the SEAT and the VW back-to back and over the same roads on the same day. I'll concede that it's the Tiguan that feels like a more premium product (with the caveat that VW did lend me a fully loaded one). Nevertheless I'd have been more than happy to take the Ateca home, as it's by no means the lesser urban SUV.
Volkswagen Tiguan R-Line 2.0 TDI SCR 4Motion
Engine: 1,968cc 4Cyl 16V turbo-diesel
Transmission: 7 speed DSG Automatic with 4Motion Four-Wheel Drive
Power: 150 bhp @ 3,500 – 4,000 rpm
Torque: 251 lbft @ 1,750 – 3,250 rpm
0-62MPH: 9.3 Sec
Max Speed: 124 mph
CO2: 149 g/km
MPG: 49.6 combined
Price: from £35,125 (as tested £36,865)
SEAT Ateca 2.0 TDI 150 PS DSG XCELLENCE
Engine: 1,968cc 4Cyl 16V turbo-diesel
Transmission: 7 speed DSG Automatic front-wheel drive
Power: 150 bhp @ 3,500 – 4,000 rpm
Torque: 251 lbft @ 1,750 – 3,250 rpm
0-62MPH: 8.5 Sec
Max Speed: 125 mph
CO2: 122 g/km
MPG: 62.8 combined
Price: from £27,110