Curmudgeons (2016) – Film Review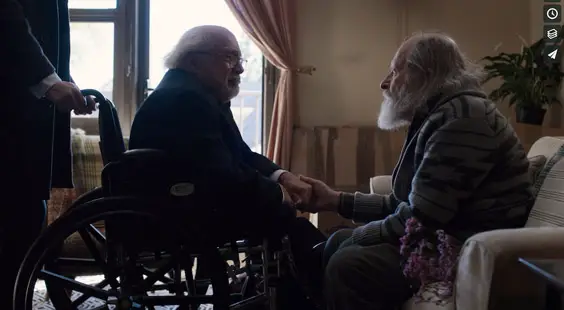 Director: Danny DeVito
Cast: David Margulies, Danny DeVito, Lucy DeVito
by Jen Grimble
In a world where visual mediums compete for our attention, it's understandable that film premieres are next to take to the virtual marketplace. As digital boxsets and new online platforms vie for our attention, digital video host, Vimeo, introduces weekly Staff Pick Premieres. Here, the company's in-house movie-buffs select a film to debut on their website, creating a simulated cinema for the masses.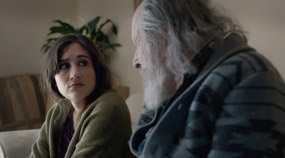 Danny DeVito's 16-minute short, Curmudgeons, is the first film to air on the channel. Fresh from glowing reviews at the 2016 Tribeca Film Festival, the short is an apt choice to launch the platform, since its themes focus on modernity and the significance of a changing world.
DeVito stars in, produces and directs, while Joshua Conkel transforms his play into a script for his screen-writing debut. A far-cry from DeVito's horror-short venture, The Blood Factory, Curmudgeons features simple social observations and humorous every-day conversation. With a cast of just five, including DeVito's two children and lifelong friend, David Margulies, there is a certain familiarity to the tale.
"An individual, anti-Hollywood tone"
It opens with artistic shots of elderly friends in conversation. The camera slowly pans over Robin (Lucy DeVito), a single 30-something, vaping her anxiety away outside a residential home. Robin is about to visit her 80-year-old grandfather, Ralph (David Margulies). He is a hard-faced New Yorker with a potty mouth and a deep disdain for house plants. What Ralph doesn't know, however, is that his mood is about to be lifted, when old friend Jackie (Danny DeVito) is wheeled through the door.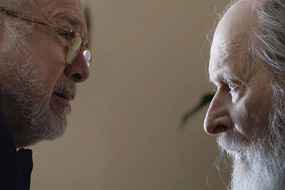 In just 16 minutes, we come to understand the lives of the two central characters, Ralph and Jackie. We connect with them and learn from them. Conkel creates a beautiful short about modern social norms and the importance of relationships. DeVito lovingly moulds the tale into an indie movie with a British-comedy feel. The short has that individual, anti-Hollywood tone. There's an unsophisticated finish, which removes any gloss or social masquerade.
Curmudgeons is simplistic in its styling but candidly insightful in its observations of human interactions. Like its central character, the film is headstrong and proud, in a truly likeable way. DeVito and Conkel hit on the difficulties of ageing and the effects of loneliness from both a youthful and aged angle. They do so in a way that is intuitive and deeply relate-able. Curmudgeons can make you laugh, move you and seduce you in less than 20 minutes. And that is not something you can say about many films.
7/10
Watch 'Curmudgeons' now on vimeo.com