Kubo and the Two Strings (2016) – Film Review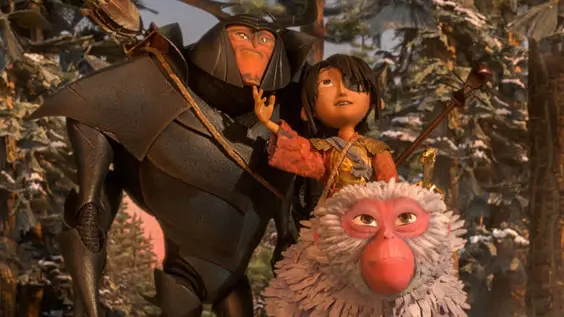 Director: Travis Knight
Voice Cast: Charlize Theron, Art Parkinson, Matthew McConaughey
Certificate: PG

by Anel Blazevic
Oregon's Laika Studios have already made their name with a trio of exquisite, ground-breaking stop-motion animation movies in Coraline, ParaNorman and The Box Trolls. But first time director Travis Knight raises a high bar even higher with the sublime Kubo and the Two Strings.
He artfully weaves Japanese folklore, origami, melancholy and humour with a dreamlike sense of beauty and adventure to create a film that is not just a visual triumph, but a cracking piece of original storytelling too.
Technically, it almost defies imagination. The studio has re-invented stop-motion. No longer is it cute but clunky. Now, it is seamless, inventive and, through some extraordinary and time-consuming green screen frame capture, capable of realising full-on battle scenes, action sequences and facial emotions. Just imagine capturing, editing and sequencing every single frame in a 101-minute movie.
Even if the film is done at 60 frames per second, that is a mind-boggling 363,000 frames to set-up, shoot and perfect. The film took three years to develop – it's a wonder it didn't take a lifetime. Still, if it all adds up to a load of nothing much then us hardened critics would be the first to complain. Thankfully, Kubo and the Two Strings is not just an exercise in artistic indulgence – it's pure cinema magic.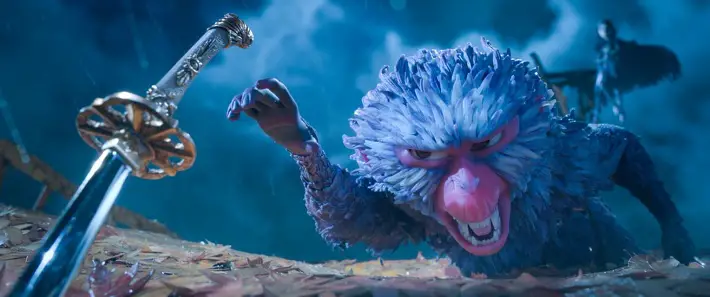 "Like looking at moving sculptures"
Kubo, raised in a cave by his forlorn mother, must always make it home before nightfall lest his evil grandfather The Moon King, murderer of Kubo's own father, hunts him down. But one night, Kubo overindulges his gift for storytelling in the village and is left stranded. He is captured by his witch-like aunts, The Moon King's minions. In a desperate act, Kubo's mother manages one last piece of magic and transports Kubo to a wintry wilderness. Here, Kubo works out what he needs to do to return to his mother and, with help from a snow monkey and a beetle, sets out to vanquish the Moon King.
The film's success hinges on the three-way relationship between Kubo and his new-found friends. The monkey (voiced by Charlize Theron) is blunt and smart. The beetle (voiced by Matthew McConaughey) is dumb but fun. As a trio they complement each other. The viewer's emotional investment in the burgeoning relationship is worthwhile. The humour, tragedy and horror that follow is successfully balanced.
Still, after everything, it is the visual extravagance that will stay with you. At times it is like looking at moving sculptures. One scene at a Japanese paper lantern festival will leave you drooling. Origami figures gently fold and materialise into Kubo's story. Sometimes, so dreamlike and ethereal are the scenes and transitions, that you wonder if you're actually watching a journey into a young boy's psyche.
As Kubo says at the start of the film: "If you must blink, do it now." After all, who can say what wonders you might miss if you look away.
9/10