Fast and Furious 8 (2017) – Film Review
Director: F Gary Gray
Cast: Vin Diesel, Dwayne Johnson, Charlize Theron
Certificate: 18

by Roger Crow
I had zero expectations going into the seventh sequel to 2001's surprise blockbuster remake The Fast and the Furious. That movie was a fun spin on the Point Break formula of 'undercover cop infiltrates bad guys', and though some of the sequels looked like they had drained the inspiration tank, once (Vin) Diesel was re-injected into the mix, Universal bosses sat back and watched the money flood in.
Like a restarted engine, the last couple of 'Fast' movies saw our heroes not only stretch credibility to breaking point, but also defy the laws of gravity at times. Obviously the untimely death of Diesel's main co-star Paul Walker gave the saga a new degree of depth. His passing was so sensitively dealt with at the end of Fast 7, it became a billion dollar success story and pushed the series into new territory. Could the now very high profile saga survive without Walker and Diesel's bromance?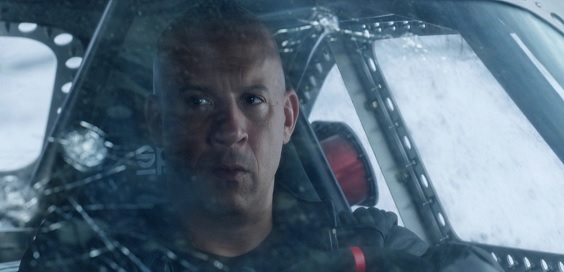 The answer is yes, though the eighth movie pretty much exhausts whatever the idea of the original film was after a hugely enjoyable opening street race in Cuba. 'Fast 8' is now an unofficial mash-up of a Bond adventure and an Expendables flick.
The story involves Dominic Toretto (Diesel) betraying his old gang when femme fatale Cipher (Charlize Theron) threatens him with something on her phone which eventually becomes clear. So while partner Letty (Michelle Rodriguez) tries to figure out why her fella has gone rogue, Cipher proceeds to carry out her nefarious plans on a global scale.
"I do wonder how much bigger these films can get"
With Dwayne Johnson, Jason Statham and Kurt Russell among the returning characters, there's no shortage of continuity. Scott Eastwood joins the fold as an obvious replacement for Walker, and, as ever, the stunts are jaw-droppingly outrageous.
The movie has so many standout set pieces, I wonder how they're going to top the last one. I'll just say a John Woo/Hard Boiled-style scene involving a returning character and a young sidekick; a submarine, our heroes in a variety of vehicles, and a flashback involving a beloved actress leaves me grinning like the Cheshire cat for a good half an hour.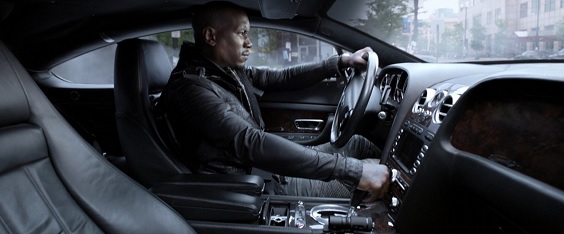 Though the screening is soured by one cinemagoer who thinks it's fine to merrily surf the 'net next to me, Fast and Furious 8 is a terrific roller coaster ride which at times looks like the natural successor to director F Gary Gray's enjoyable Italian Job remake. That also featured Theron, Statham and some superb car stunts.
With at least two more Fast movies in the pipeline, I do wonder how much bigger these films can get. But with more than half a billion in the bank after three days worldwide, it's unlikely Universal will be tightening the purse strings as Fast 9 goes into production and eventually arrives in April 2019.
For now, go and see it on the biggest screen possible, leave your brain in neutral and enjoy.
8/10 (obviously)