Tammy and the T-Rex (1994) – Film Review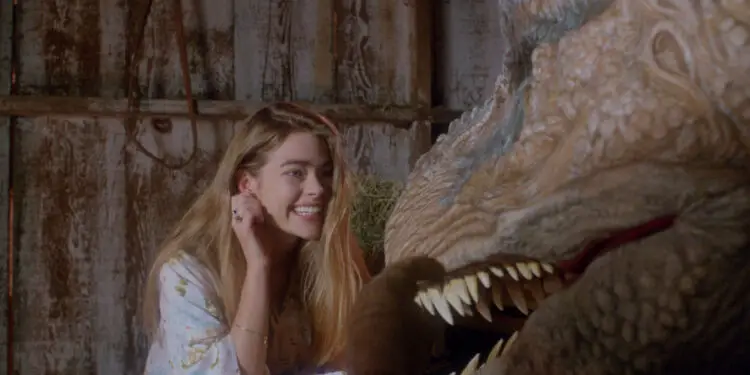 Director: Stewart Raffill
Cast: Denise Richards, Paul Walker, Ellen Dubin
Certificate: 15
by @Roger Crow
Imagine a cross between Buffy the Vampire Slayer and The Rocky Horror Show. Add a touch of Jurassic Park and Frankenstein, and you get an idea of Tammy and the T-Rex, one of the nuttiest horror comedies of the 1990s.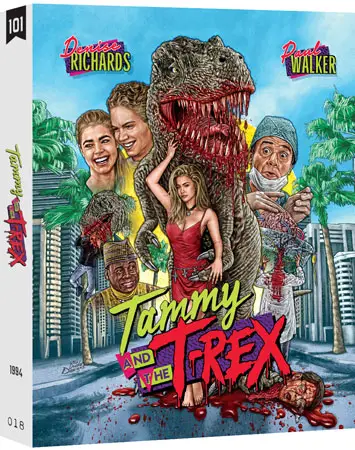 It's a reworking of King Kong and Beauty and the Beast, though really it's just a showcase for John Carl Buechler's prosthetic effects. The biggest of which is of course a huge T-Rex which shudders around like a cast-off from a Jurassic Park ride.
The film's greatest (human) asset is Denise Richards, a superstar in waiting, years before she helped prop up Wild Things, Starship Troopers and The World is Not Enough.
"Extracts his brain"
She plays Tammy, a popular high school cheerleader whose new boyfriend, Michael, might be the love of her life. However, jealous psycho ex Billy and his idiot friends kidnap Michael, leaving him to be mauled by a lion in a wildlife reserve.
Michael's body is stolen from the hospital by mad scientist Dr Wachenstein, who extracts his brain and implants it into a giant robotic T-Rex. Like you do.
Michael escapes from the doc's lab and begins killing his former bullies. Meanwhile, Tammy and her camp friend Byron search for a suitable human corpse in which to re-transplant Michael's brain.
So, typical schlock horror, which could have been as good as The Man With Two Brains or Rocky Horror, but wound up at the other end of the quality spectrum.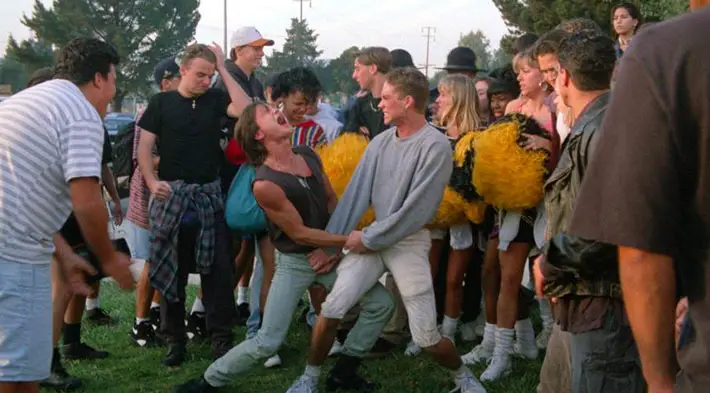 "Sheer stupidity"
The effects are rubbish; gags fall flat; the script is dreadful; the cast are so-so, and a couple of homophobic cops are depressingly offensive.
Only one scene involving a testicle-gripping stand-off (yes, really) raised anything close to a smile because of its sheer stupidity. Oh, and Ellen Dubin is splendid as Helga, a femme fatale. (She went on to lend her vocals to no end of video games).
So yes, it's dreadful; the gory scenes are neither funny or scary, and for obvious reasons Walker fans may want to avoid certain moments. In fact they might be better missing the whole movie.
It's fast, furious, and aside from Ms Richards' star-making turn, utterly pointless.
Special Features:
• Limited edition booklet: Includes 'A Teen-Rex Romance' by Liam Hathaway and 'Making Monsters: Masters
of Animatronics' by Barry Forshaw
• Scanned & restored in 4k from its 35mm original camera negative
• Audio commentary with director Stewart Raffill and producer Diane Kirman
• Blood, Brains and a Teenage T-Rex - an interview with director Stewart Raffill
• A Blast from the Past - an interview with actress Denise Richards
• Having the Guts - an interview with actor Sean Whalen
• A Testicular Stand-Off - an interview with actor George Pilgrim
• Full length PG-13 cut of Tammy and the T-Rex (SD)
Tammy and the T-Rex is released on Blu-ray by 101 Films, £15