Buffy Revamped – Review – York Theatre Royal
By Roger Crow, April 2023
It's more than 30 years since the film Buffy the Vampire Slayer flopped at the box office. Audiences just didn't warm to the fang-in-cheek comedy adventure and that, it seemed, was that. So when creator Joss Whedon was given a chance to reboot the saga, Hollywood bosses thought he was crazy. But, as the first series of Blackadder proved, shows and films can be like the first pancake: They don't always work. The second attempt can be a charm, and that was certainly the case with the TV version of Buffy, which turned jobbing UK actor Anthony Stewart Head into a cult superstar, as it did with the rest of the cast, including Sarah Michelle Gellar as the eponymous lead, and James Marsters as love/hate vampire beau Spike.
Though I've seen every episode at least once, the musical instalment, Once More With Feeling gets an airing as much as possible. And yes, I bought the soundtrack album, which is a work of genius. Of course since then, Whedon has gone on to helm the first two Avengers movies, and the rest of the Buffy team continued with assorted projects.
When offered the chance to review Buffy Revamped, a one-man show, I jump at the opportunity, but think I'll be one of a handful of folks at York's Theatre Royal for the one-night only performance. Thankfully it's packed to the rafters. Punters of all ages have come to witness a condensed version of seven seasons of the hit TV series, and what an experience it is.
Though performed by a pretty good Spike lookalike, who sounds at times like Jason Statham, our host does quick changes into many of the major characters, including Buffy, Willow, Giles, Angel (sort of thanks to a big leather coat), Dru, Xander, and others.
"Take you to another world"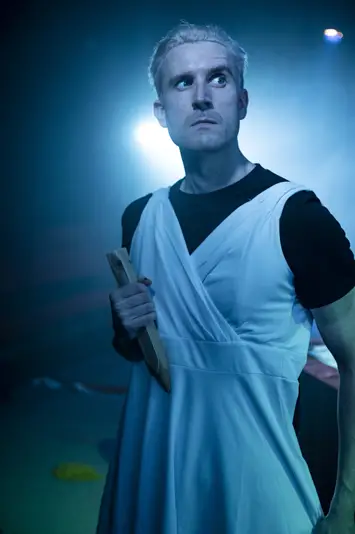 At around 70 minutes it's the perfect length. The first half hour is a joy as Brendan Murphy, who also wrote the show, does his thing with a simple set, including blood-red school lockers and a bookshelf. Oh, and there's also a screen, which is handy for some laugh-out-loud slides. But obviously as this is an under-the-radar, "Please don't sue me Joss Whedon"-style production, no clips of the show.
Those going in cold who had no idea about Buffy or her friends and enemies, may have been super confused, and as it's 20 years since I've seen many of the eps, I needed a little refresher myself. But what an experience.
There's an inevitable lull after half an hour, which there usually is with many of the best comedy shows. But things soon pick up again with the odd musical interlude, a spot of rapping, and a singalong finale beautifully adapted from an REM classic.
I'm not surprised the show went down a storm at the Edinburgh Festival, or that the packed audience embraced the production with open arms. A shame it was just a one-night-only experience, and that there are so few dates left on the rest of the UK tour. However, if you are a Buffy fan and get the chance to attend, I highly recommend it. Even if you're not, go along anyway and then watch the TV show. It's proof of how one man, some clever lighting, great direction (by Hamish MacDougall) and a terrific script can take you to another world and leave you under its spell for the duration. The only way it could have been any better was with a five-minute breakdown of key scenes and songs in Once More with Feeling, but I'm guessing its exclusion was also a copyright thing, though there are a couple of subtle references.
Fabulous entertainment, as long as you don't mind a lot of swearing, which is neither big or clever. Unlike the show, which is both.
For more info visit: buffyrevamped.co.uk