Fast and Furious Presents: Hobbs and Shaw (2019) – Film Review
Director: David Leitch
Cast: Dwayne Johnson, Jason Statham, Idris Elba
Certificate: 18
by Roger Crow / @RogerCrow
The latest chapter in the Fast and the Furious franchise is something of a sidequel or one of those standalone films like Star Wars' Rogue One.
It opens in London with alluring Hattie Shaw and her team of MI6 agents trying to retrieve a programmable supervirus dubbed "Snowflake" from terrorist organization Eteon. Brixton Lore, an Eteon operative with cybernetic implants, kills all the agents except Hattie, who injects Snowflake into herself before escaping (a bit like Mission Impossible 2).
After Brixton frames Hattie for killing her team and stealing Snowflake, she goes on the run; joins forces with her brother, Deckard Shaw and man mountain Luke Hobbs. Cue carnage, car chases and lots of bloodless killing.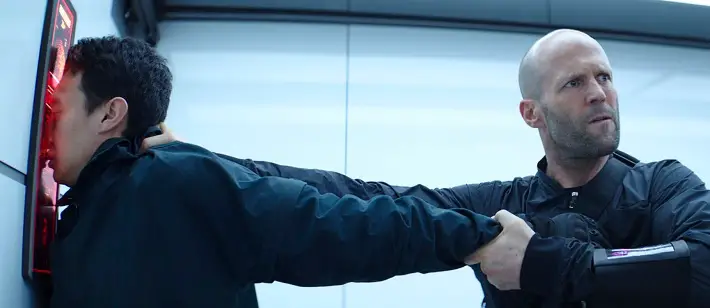 "Hard stares"
It's essentially a heterosexual love story between two alpha males who are having such a tough time coming to terms with their male pattern baldness that they decide to destroy half of London and Ukraine, while giving each other hard stares and the sort of threats that made White Men Can't Jump so enjoyable all those years ago.
Dwayne Johnson and Jason Statham play this whole thing with the right degree of deadpan seriousness, never quite winking at the camera, but they might as well do.
It helps that they are supported by some of the best stunt teams in the world, while the presence of Vanessa Kirby, Ryan Reynolds and Rob Delaney (from Catastrophe and Deadpool 2) help deliver a degree of levity in all the right places.
An uncredited cameo from Kevin Hart is pointless, but no doubt was shoehorned in as he and Johnson work so well together.
Every good action thriller needs a great villain, and Idris Elba has a terrific time as Brixton, who looks like an action figure made flesh. He has the ability to seemingly defy gravity; rides a bike that looks like it's escaped from the set of Tron Legacy, and has a heads-up display that would leave Tony Stark envious.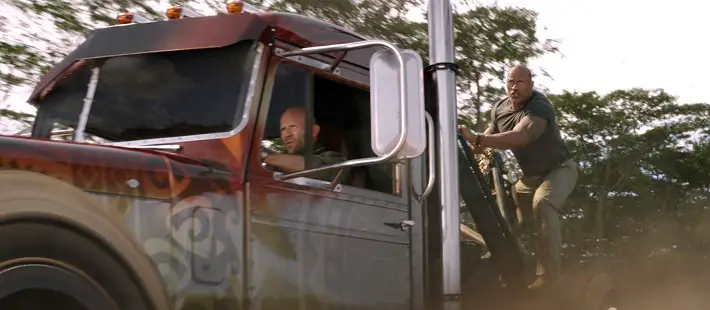 "A lot of fun"
With solid support from Helen Mirren and Eddie Marsan, I can only imagine how much fun they had on set. Perhaps what's most remarkable is the fact part of it was shot at Eggborough power station. (I was itching to get a look at the film set in the autumn of 2018).
It's a slick slice of escapism that may as well be a video game. The whole thing is about as credible as a six-pound note, but that doesn't mean it's not a lot of fun. Beautifully orchestrated by a cast and crew at the top of their game, this is one of those films where you slip your brain into neutral, settle back and enjoy the ride.
With Fast and Furious 9 now in post production, it will be fascinating to see how events here slot into that chapter of the franchise.Obviously those seeking a complex plot may come away feeling short changed, but as popcorn entertainment goes this is a lot of high octane fun.
Fast and Furious Presents: Hobbs and Shaw is in cinemas now