What's New Pussycat? (1965) – Film Review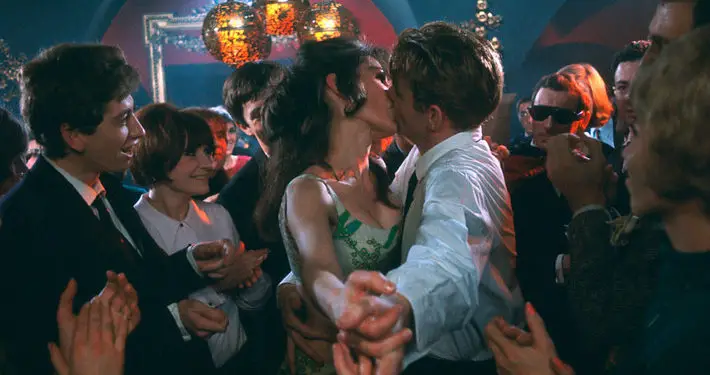 Director: Clive Donner
Cast: Peter Sellers, Peter O'Toole, Woody Allen
Certificate: 15
by Sarah Morgan
Mention What's New Pussycat? and many people may reply with the refrain "woah uh-oh-uh-oh oh ooooohhhhh". Or at least those I know would anyway.
That's because these days, the phrase is best remembered as the title of a Burt Bacharach and Hal David song performed by the mighty Tom Jones. It's a karaoke favourite, although I'm guessing few members of the public can make it sound quite as saucy as the Welsh wonder does.
It's a fun song, very much of its era, and fits perfectly with the film that shares its name.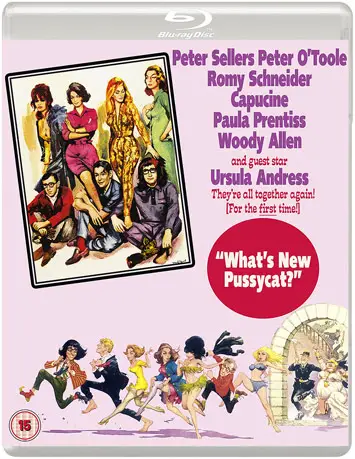 As many film fans will probably already be aware, it reputedly comes from Warren Beatty – it was his opening line to his female acquaintances (presumably it got around the need for him to remember all their names). It was also Beatty's idea to make a movie about a sex addict and his therapist, but when Woody Allen came in to write the script and began penning a role for himself that was bigger than Beatty's own, he dropped out of the project.
"Fantastic dialogue"
Peter O'Toole took over and persuaded the producers to ditch Groucho Marx in favour of Peter Sellers as the psychiatrist. Ironically, Allen's part was then degraded to that of a supporting role, but it's his trademark one-liners that make the film worthwhile.
O'Toole plays Michael James, a womaniser working for a women's fashion magazine in Paris who wants to put a stop to his wandering eye and settle down with his fiancée Carole. Sellers is the eccentric Dr Fassbender who tries to help, but is in fact enamoured of his client's lifestyle.
The movie opens brilliantly with a hilarious scene in which Fassbender is chased around his house by his wife, who is fully aware of his lustful nature. It's packed full of fantastic dialogue. Indeed, there are many truly inspired and hilarious moments, but they're let down by others that have not stood the test of time.
"Curiosity piece"
Also, O'Toole's hard drinking was already starting to show on his face, so it's difficult to imagine him as a lothario about town – Beatty would have been better in that respect, if he could carry off the comedy.
Sellers is at his best, while the supporting cast is to die for – Romy Schneider, Capucine, Paula Prentiss and Ursula Andress all appear, while there's a delightful uncredited cameo from Richard Burton in which he and O'Toole's real-life affection for each other is apparent.
What's New Pussycat is a curiosity piece, a time capsule of the mid-Sixties that fans of its stars and era will enjoy, but few others will find appealing.
Presented in 1080p from a high-definition digital restoration
Optional English subtitles for the deaf and hard-of-hearing
Uncompressed LPCM 2.0 audio
Brand new and exclusive audio commentary by film critics Emma Westwood and Sally Christie
Original theatrical trailer
A collector's booklet featuring a new essay by Simon Ward
What's New Pussycat? is released on Blu-ray by Eureka, £15.99