Walk on the Wild Side (1962) – Film Review
Director: Edward Dmytryk
Cast: Laurence Harvey, Capucine, Jane Fonda
Certificate: 15
By Sarah Morgan
Mention 'Walk on the Wild Side' and thoughts immediately drift to Lou Reed's 1972 song and that wondrous sliding bass by Herbie Flowers.
However, a full decade prior to that came director Edward Dmytryk's film of the same name, adapted from a 1956 novel by Nelson Algren.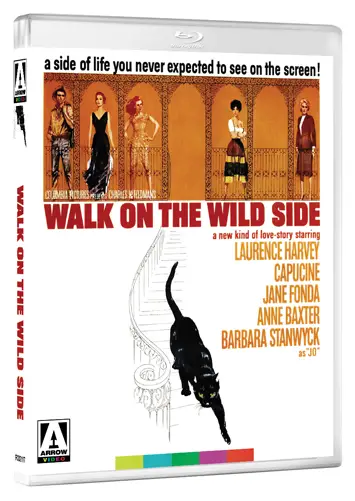 It's a hot, sweaty melodrama, and the wild side we're walking on is in New Orleans' seedy red light district during the 1930s. Texan Dove Linkhorn is heading for the city in search of Hallie, his long-lost love.
"Bizarre, offbeat characters"
He eventually finds her working at The Doll House, an upmarket brothel, but his efforts to spirit her away are constantly ruined by the establishment's possessive madam Jo, who appears to have designs on Hallie herself.
Also thrown into the mix are a variety of bizarre, offbeat characters, including Jo's emasculated husband and carefree adventurer Kitty Twist, who accompanies Dove after they meet on the road.
Kitty is also eventually employed at The Doll House. Jo also uses her in an attempt to persuade Dove to leave town – she threatens to tell the police he illegally transported the under age Kitty across state lines unless he moves on.
Dove, of course, isn't happy about this turn of events, leading to horror and tragedy.
The film was not a success on its cinema release, and yet there is much to applaud about it. Jane Fonda, in one of her earliest screen roles, is a standout as Kitty. She is manipulative yet sexy, devious but with a heart of gold.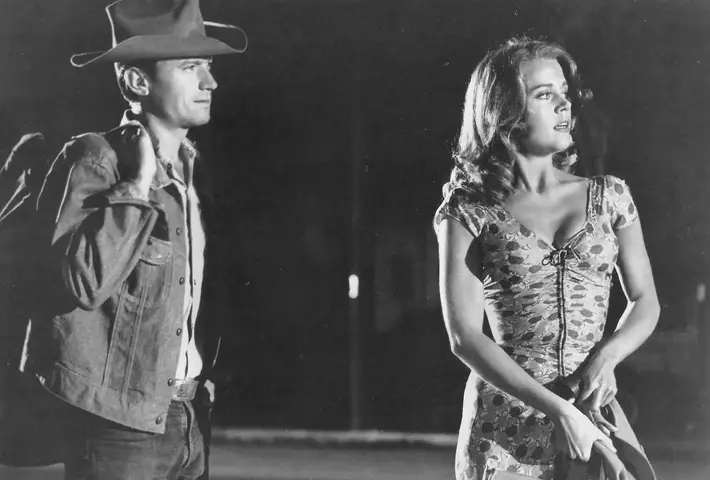 "Compelling tale"
Barbara Stanwyck delivers a typically forceful and charismatic performance as Jo, while a number of impressive character actors pop up in memorable if small roles.
The main problem is the casting of Laurence Harvey and Capucine as Dove and Hallie. Harvey was at the peak of his fame, but he never convinces as a lovelorn Texan, while Capucine looks like the French fashion model she was, not someone turning tricks for punters to make ends meet.
If you can ignore how badly miscast they are, then Dmytryk's film is well worth a look; he has otherwise crafted a compelling tale with noirish overtones.
Special mention should go to the incredible opening titles created by Saul Bass and his wife Elaine, featuring a black tom cat on the prowl over a great opening theme from Elmer Bernstein. A documentary about their creation is included on the disc.
SPECIAL EDITION CONTENTS:
● High Definition Blu-ray (1080p) presentation of a brand new 4K restoration from Sony Pictures
● Original lossless mono audio
● Optional English subtitles for the deaf and hard of hearing
● Brand new commentary by critics Kat Ellinger and Samm Deighan
● Brand new interview with historian and critic Richard Dyer
● Brand new interview with Pat Kirkham, co-author of Saul Bass: A Life in Film and Design
● Archival interview with director Edward Dmytryk
● Still Gallery
● Reversible sleeve featuring original and newly commissioned artwork by Scott Saslow
Walk on the Wild Side is released on Blu-ray by Arrow, £15.99