The Woman in Black – Review – York Grand Opera House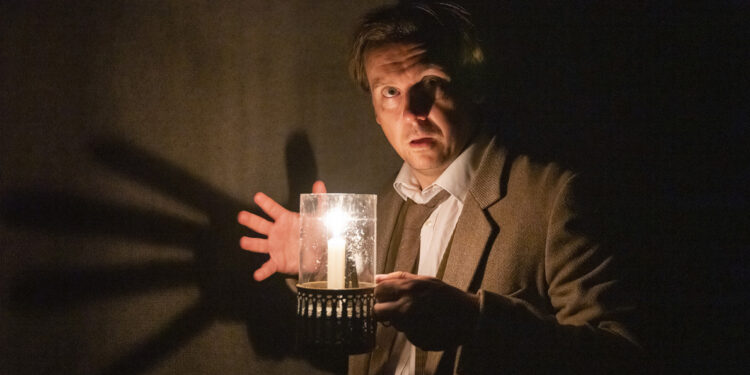 By @Roger Crow, September 2021
Settling back into the Grand Opera House, York is like finding a beloved pair of shoes you lost 18 months ago. It's like we'd never been away, though like many, I wondered if we'd ever be here again.
And that first show is quite an event. My knowledge of this beloved ghost story stretched to the fact it inspired a hit Daniel Radcliffe movie, and a follow up, and that's about it.
After the lights go down and latecomers are still settling into their seats, the seasoned guy on stage looks like he lost his way. He's mumbling lines from a book like someone from an am dram performance who is meant to be backstage during rehearsal but got caught in the spotlight.
The feeling is universal. 'This is going to be a long night if we are straining to hear his lines,' I think. But fear not as it's all part of the staging.
He is Arthur Kipps, the traumatised protagonist who relates his story to a flamboyant actor in the 1950s in our very theatre. How very meta.
(The fact the GOH Theatre itself dates from 1902 gives the production a much needed sense of authenticity compared to a newer build).
"Darkest memories"
There is confusion between the two men. The thespian thinks this confused chap wants to be the next Olivier, while he wants nothing of the sort. This preamble goes on a little too long, but it's a great way of easing us into the play with comedic moments.
To sum it up more formally, Stephen Mallatratt's adaptation of Susan Hill's best-selling novel centres on a lawyer obsessed with a curse that he believes has been cast over his family by the spectre of a 'Woman in Black'.
He engages the actor to help him tell his story and exorcise the fear that grips his soul.
Though it begins innocently enough, as they delve further into his darkest memories, the borders between make-believe and reality begin to blur.
Robert Goodale plays Kipps, as I find out later, though for the first act I couldn't figure out if it was John Middleton (Ashley) from Emmerdale.
Antony Eden (associate director of the engaging saga) plays the actor who commands every scene he's in.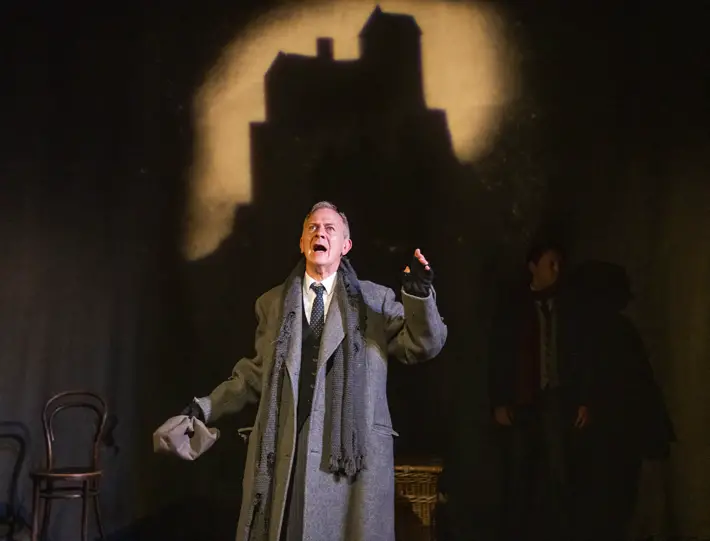 "Sensory deprivation"
The set is beautifully simple for the most part. Stripped-down floorboards; a hamper basket; a chair; a sheet strung across the back of the theatre. But when things start to happen, it's the lighting which really comes into its own. Take a bow Lighting Designer Kevin Sleep.
Sensory deprivation is of course one of the greatest assets of any theatre production, no matter how lavish. I once went to Alien War, an interactive recreation of Aliens in Bournemouth, which was hugely successful thanks to a mix of clever strobe lighting, smoke and the power of suggestion. The same thing works here, though nothing as controversial as strobes. Or a guy running past your legs with a welly, as effective as that was.
Back to The Woman In Black, and as our eyes adjust to the gloom, did we see a shadow move? Was that the eponymous woman or not? Sometimes yes, sometimes no.
I do know that not everyone will be terrified; the spooky shenanigans failed to register on my fellow theatregoer, while I was gripped by that beautifully created atmosphere. It did make me wonder if horror was like comedy: some people get the gag, and others wonder what all the fuss was about.
The first act is basically a lot of exposition for that event-heavy concluding section. And when those scares come, they really have an effect on most of the audience. One woman behind me took about five minutes to compose herself after a terrific shock. Nervous laughter obviously eases the tension, but after a while I was tempted to turn round and tell her to "Get a grip".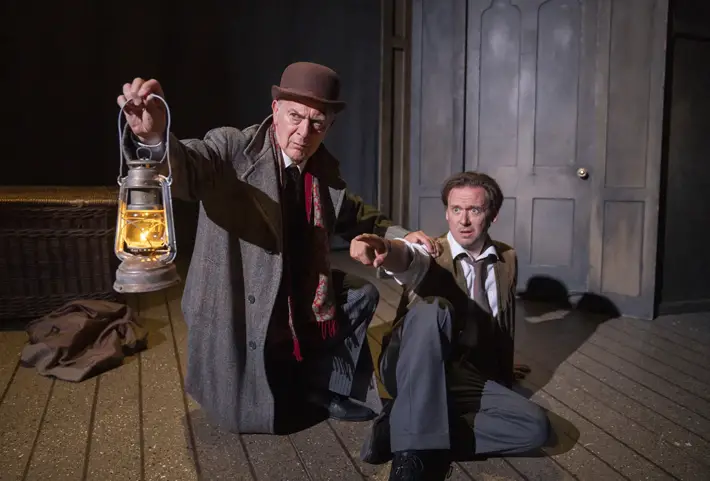 "Huge success"
The power of great lighting and killer sound is so basic and yet works more effectively than elaborate special effects every time.
There were times when the sound of the smoke machine and ageing Kipps rattling through his narration got lost for some of us up in the Dress Circle. But as the story unfolded, for the most part it was a huge success.
Yes, some of the lines were lost in the chaos, but this is the age of Chris Nolan films like Tenet, when he happily drowns out his lead actors with peripheral noise, so maybe it was intentional.
Director Robin Herford does a great job with a fine story, and I can see why the show has attracted such a solid following over the years.
It's great to see and hear things going bump in the night, especially at one of my favourite theatres after such a long time. And while I shifted in my seat for that first act, it's testament to the second part's success that I barely moved a muscle.
images: Tristram Kenton