The Good Die Young (1953) – Film Review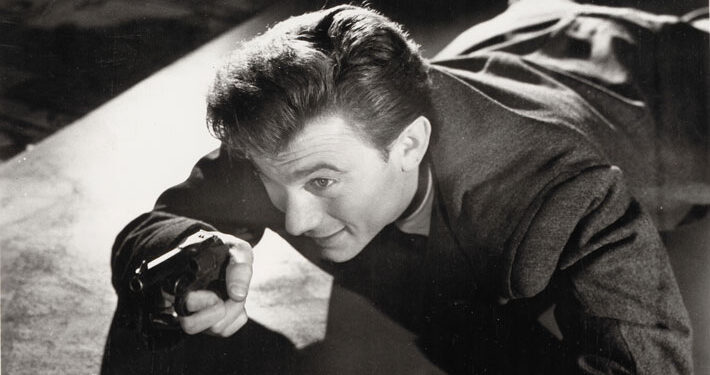 Director: Lewis Gilbert
Cast: Laurence Harvey, Stanley Baker, Joan Collins
Certificate: PG
by Sarah Morgan
Film noir – it's an American idiom, right? Well, not really. The most famous entries in the genre may hail from that nation but, here in Blighty, we produced our fair share of movies that could stand alongside the likes of The Big Heat, Out of the Past or Touch of Evil.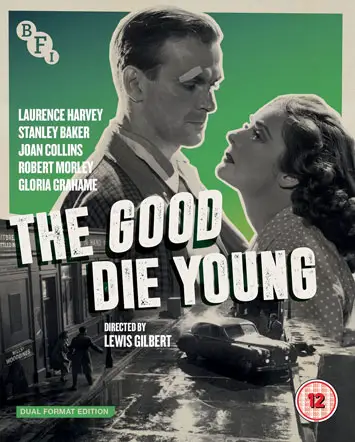 These British offerings may have had smaller budgets, but they had atmosphere in spades; there is nothing spookier or more mysterious than the London fog and bombsites that permeate so many such films.
Among the top echelon is The Good Die Young, director Lewis Gilbert's 1954 adaptation of Richard Macaulay's novel of the same name. The source text was set in the US, but Gilbert, who co-wrote the screenplay with his regular collaborator Vernon Harris, moved it to the UK.
"Crazy scheme"
He did, however, cast several American stars: John Ireland and Richard Basehart appear, while Gloria Grahame, who appeared in her fair share of US films noir, also has a supporting role as Ireland's duplicitous wife.
Ireland and Basehart, along with Stanley Baker, play three seemingly ordinary, law-abiding guys who get mixed up in a crazy scheme cooked up by the brilliantly named Rave Ravenscourt, a slimy playboy portrayed with relish by Laurence Harvey.
All of them have money worries and need to get their hands on some cash quickly, so when Rave suggests knocking off a post office van, they agree – albeit with little enthusiasm; they are far from hardened criminals.
Rave, however, turns out to be a gun-toting maniac, and so the heist soon gets out of hand. Police officers are murdered, and the quartet go on the run ahead of a showdown at an oddly deserted Heathrow Airport.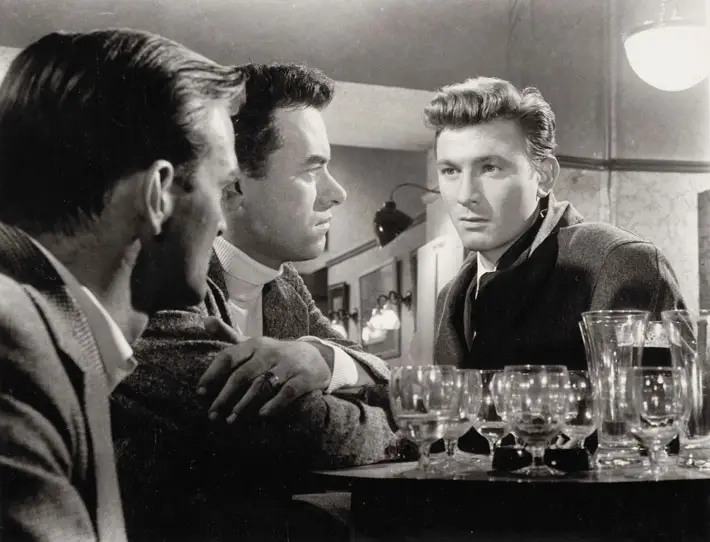 "Gritty reality"
Rave is the kind of character Harvey was seemingly born to play; he's dashing, charming but tinged with menace. Ireland and Basehart are fine but have little to do other than look hurt and confused, while Baker delivers a fine performance as a likeable everyman caught up in matters out of his control.
Also among the supporting cast are reliable British stars such as Margaret Leighton (who plays Rave's cheated on wealthy wife; the two later married in real life), Joan Collins, Robert Morley and future Hi-De-Hi actor Leslie Dwyer.
The always reliable Gilbert makes the most of London's misty streets, railway stations, pubs, industrial areas and even a graveyard; some of them are clearly sets, but they nevertheless keep the story grounded in a gritty reality.
He makes an appearance among the special features, in a talk at the National Film Theatre recorded in the 1990s, and he proves to be an able raconteur. There are some other charming short films to enjoy, but The Good Die Young doesn't need any extras to entice viewers – it's wonderful, exciting and thrilling enough to stand on its own two feet.
Special features:
· Newly remastered by the BFI and presented in High Definition and Standard Definition
· The Good Die Young (export version) (1953, 101 mins, Blu-ray only): made available here for the first time, this extended overseas-only version of the film contains anti-establishment sentiments considered too strong for British audiences of the day
· When Giants Fought (1926, 31 mins): a contentious but historic boxing match of 1810 is vividly revisited in this power-packed silent drama, with a newly commissioned musical score by Mordecai Smyth
· Midnight Taxi (1946, 17 mins): a London cabby uncovers the city's secret nightlife in this surprising plug for post-war National Savings
· Under Night Streets (1958, 20 mins): after the last tube has gone, an army of underground workers get busy down below
· Not Like Any Other Director: Lewis Gilbert (1995, 31 mins): Michael Caine introduces the director of The Good Die Young in this excerpt from an onstage interview at London's National Film Theatre
· Image gallery
The Good Die Young is released on Blu-ray by BFI, £19.99