Cosh Boy (1953) – Film Review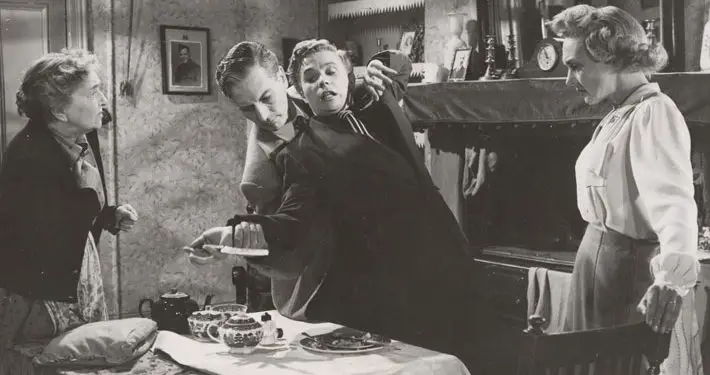 Director: Lewis Gilbert
Cast: James Kenney, Joan Collins
Certificate: 12
by Sarah Morgan
If this bleak drama was made today, it would probably be named Hoodies and feature a knife-toting gang wreaking havoc on the streets of London.
Apart from the weapon of choice – and a foul-mouthed update on some of the rather quaint language – you imagine there wouldn't be much difference between the central characters; certainly all are disaffected working-class youths growing up in difficult circumstances. In the case of Cosh Boy, it's post-war Britain, where every street seemed to have a bomb site and lads were raised by struggling widowed mothers.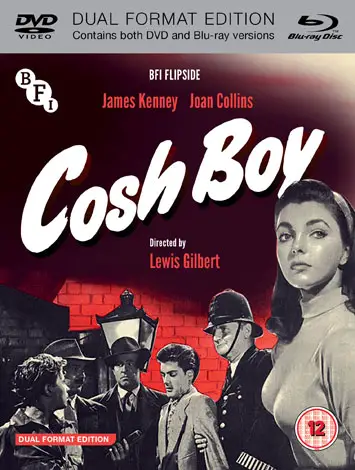 James Kenney takes the lead role of Roy, a brash teenage thug who treats his family, his mother in particular, with disdain. He isn't much kinder to his friends – why any of them want to hang out with him is a mystery; they all seem as if they'd be decent lads if they weren't under his influence.
"Modernised remake could actually work"
Roy bullies them into carrying out various crimes; their speciality is coshing (hence the title) vulnerable women over the head and stealing their money.
But as the film progresses, Roy's life begins to spiral out of control. He gets his girlfriend (played by Joan Collins) pregnant and a prospective new stepfather arrives on the scene, determined to instil some much-needed discipline; matters come to a head when Roy's latest scheme ends in tragedy.
Based on a hit play, you can imagine Cosh Boy shocking cinemagoers on its release, and while some of Roy's antics are still rather horrible, on the whole it seems rather tame in comparison to, say, Kidulthood and its copycats. Nevertheless, a modernised remake could actually work.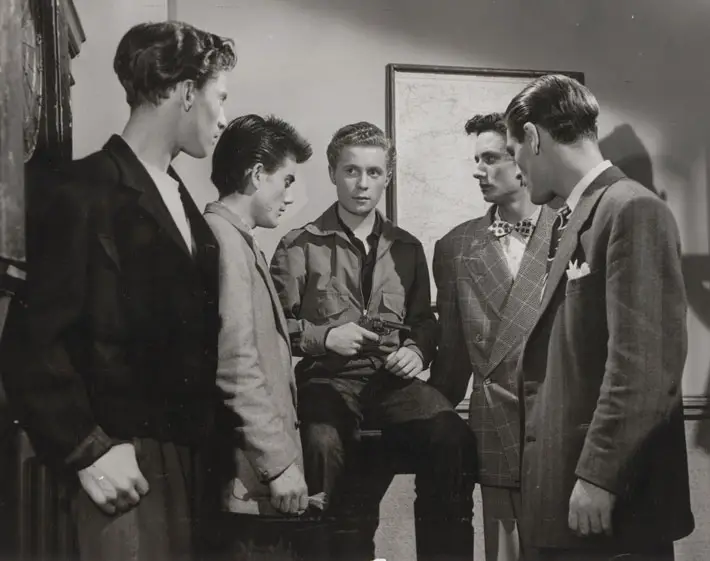 "Array of special features"
The film was an early project for Lewis Gilbert, who went on to become one of British cinema's directorial giants with three Bond films as well as Alfie and Educating Rita on his impressive CV.
Among the array of special features is his first production, 'The Ten Year Plan', an information film about post-war prefab housing starring Charles Hawtrey, as well as Gilbert's charming Children's Film Foundation entry Johnny on the Run and a bizarre musical comedy short entitled 'Harmony Lane'.
But perhaps the pick of the bunch are two films about London in the 1950s and 1960s – 'Teddy Boys' profiles a member of the tribe trying to persuade his interviewer he's just an ordinary lad, while 'Stranger In the City' offers an intriguing look at Soho life.
· Presented in High Definition and Standard Definition
· US title sequence: The Slasher (1953, 3 mins): extended title sequence from the renamed US release
· The Ten Year Plan (1945, 17 mins): film by Lewis Gilbert featuring Charles Hawtrey
· Johnny on the Run (1953, 68 mins): Lewis Gilbert's production for the Children's Film Foundation starring Sydney Tafler (Carve Her Name with Pride) and featuring an appearance by Dad's Army actor John Laurie
· Harmony Lane (1954, 24 mins): musical comedy directed by Lewis Gilbert
· Teddy Boys (1956, 8 mins): rare television footage of a London Teddy boy out on the town
· Stranger in the City (1961, 22 mins): short film by Robert Hartford-Davis about Soho in the 1960s
· Ian Whittaker: From Master Crook to Cosh Boy (2019, 9 mins): short interview with one of the stars of Cosh Boy
· Image gallery
· Illustrated booklet (***first pressing only***) with new essays by Matthew Coniam, Jenny Hammerton, Richard Falcon and Tony Kinsey; notes on the special features and full film credits
Cosh Boy is released on Blu-ray by BFI, £19.99