Moonraker (1979) – Film Review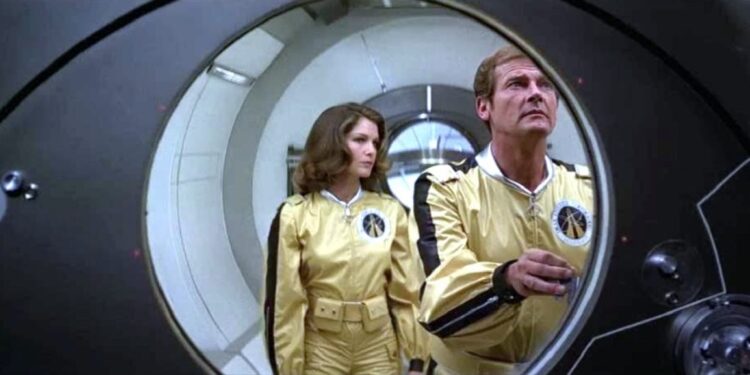 Director: Lewis Gilbert
Cast: Roger Moore, Lois Chiles, Michael Lonsdale
Certificate: PG
by @Roger Crow
Many James Bond fans will laugh at the thought of Moonraker being the best of the saga. They might say it's got little to do with Ian Fleming's novel, or it ignores the idea of Bond completely. That's fine; each to their own. But made after the first Star Wars, it was inevitable that Eon productions would attempt to cash in on its success with a space adventure. After all, 007 usually jumped on any bandwagon during the seventies, whether it was blaxploitation or Kung Fu.
So the thought of Cubby Broccoli doing anything but a sci-fi influenced Bond in 1979 was unlikely.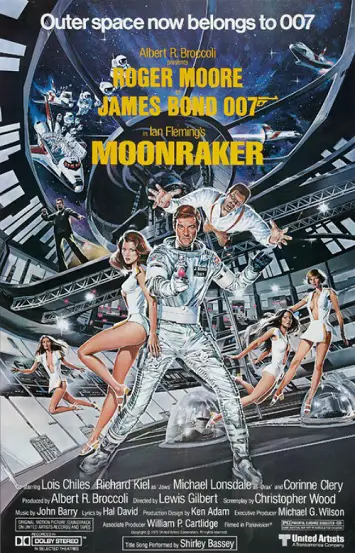 And what a movie. That perfect mix of travelogue, spy capers, danger, and death-defying stunts is like a balanced meal. The starter involving a terrific mid-air space shuttle hijack followed by 007's own free-fall mid-air parachute hijack gets things going nicely, and at a mere six minutes is just the right length. Great Maurice Binder opening titles; terrific Shirley Bassey vocals, and the usual exposition and gadget delivery in one go.
"Note-perfect"
This was the last Bond of the seventies and Bernard Lee's final performance as M, so it's rather poignant.
The main course is a feast of thrills and spills as Bond tracks down industrialist Hugo Drax at his chateau in the 'States' (though it's obviously France).
Michael Lonsdale gives a note-perfect performance as the bad guy. He's sinister, dry-witted, a touch scathing, and he actually does stuff, unlike predecessor Stromberg who mopes around his watery lair. Drax did get a hand-me-down henchman in the form of Jaws (Richard Kiel), who, after being the terrifying, steel-toothed killer of The Spy Who Loved Me, is now a comic foil. Watch him try to fly when his parachute doesn't open. Hilarious? Well, when you're 11, yes.
And here's my theory. If you're a Bond fan, a 007 offering you see around that age will stick with you a lifetime. It's like a footprint in the wet cement of your mind. That impression is hard to avoid as you get older.
Jaws also gets a girlfriend, in the form of diminutive Dolly (Blanche Ravalec). The beauty and the beast thing is obvious, and utterly nuts, but strangely works. (All Jaws needed was the love of a good woman, and suddenly that desire to kill went out the window. Ah, how I bet he regrets biting folks in the neck now).
Bond's exploits at the Iguassu Falls on the Argentine/Brazilian border remain one of my favourite set pieces, partly because I was lucky enough to visit there in 2002, but mainly because it's the scene where I first started watching the movie. This was back in the days when you could walk in half way through a film; watch half and stay for the next performance without being kicked out.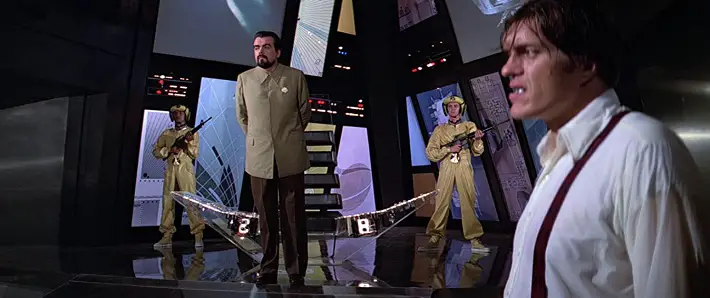 "Never takes itself too seriously"
John Barry's score is easily one of his best, from the Samba-inflected version of the main theme to the dreamy 'Bond Lured to Pyramid', and phenomenal later stuff in space.
Though the sacrificial pawn, Corinne Dufour (Corinne Clery) is stunning but a tad weak, at least the heroine, Holly Goodhead makes up for it. Lois Chiles (who was cast after sitting next to the director on a plane) is that perfect mix of glamour and grit, as was Jill St John in Diamonds Are Forever.
With some gloriously over-the-top set pieces in Venice, including that gadget-laden gondola and a double-taking pigeon, Moonraker never takes itself too seriously. There's even a Sergio Leone homage with Bond as a gaucho.
Drax's plan to take over the world by killing all the people and repopulating it from his orbiting "stud farm" is monumentally sinister. In fact it's probably one of the darkest, and most ambitious plans of all the 007 villains, but obviously one man attempts to stop him.
The 'dessert course' in my tortured analogy begins as Bond and Goodhead manage to steal one of a Drax's shuttles and blast off to his secret space station.
Derek Meddings' model work and effects are out of this world, and were achieved by a painstaking process of exposing separate elements to the same strip of film. By the time they were complete, that celluloid was almost at breaking point, but melded with Barry's 'Flight Into Space', they remain one of my favourite scenes in any movie.
One shot of a shuttle emerging from shadow after the line "Let's try docking," is phenomenal.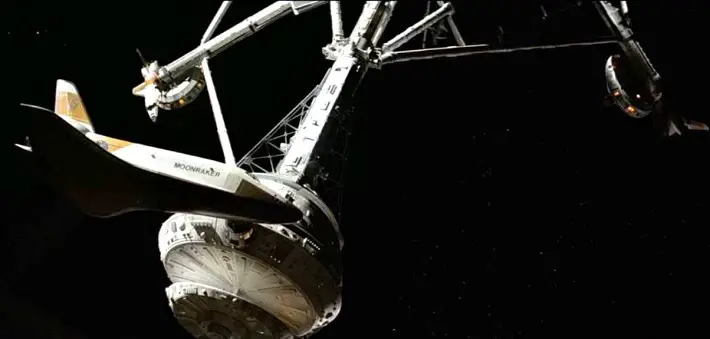 "Most outrageous"
As this was production designer Ken Adam's final Bond movie, he also went out on a high with some outstanding sets, including Drax's mission control, and that space station interior, which takes my breath away every time I see it.
While the mix of Barry, Meddings, Adam and director Lewis Gilbert is superb, it's obviously Roger Moore that keeps things grounded where needs be. This was his 007 at the height of his powers, charismatic as ever, and a terrific leading man. Obviously he made three more Bond offerings after this, but I wished he'd gone out on this all-time high.
It even features one of the franchise's greatest double entendres, courtesy of Q (Desmond Llewelyn) in the final minutes. "I think he's attempting re-entry sir". You'd never guess screenwriter Christopher Wood previously worked on the 'Confessions' films. Or maybe you would.
The seventies gave us some of the best loved and most outrageous Bond epics in the series. And five of them! How lucky we were. So no prizes for guessing which is my favourite, even though you'll probably disagree. As a side note, this was the most lucrative of all the Bond films until GoldenEye in 1995, so I'm guessing a few others liked it too.
Like 007's diamonds that started the decade, Moonraker is forever. Yes, even with that double-taking pigeon.
Moonraker is currently streaming on Amazon Prime