Brannigan (1975) – Film Review
Director: Douglas Hickox
Cast: John Wayne, Richard Attenborough, Judy Geeson
Certificate: 15
By Sarah Morgan
Detective Brannigan is in London – God save the Queen!
So reads the tagline on the poster for this 1975 movie, one of the few to cast John Wayne as a cop and one of the Duke's final films. He would go on to make only Rooster Cogburn and The Shootist before succumbing to cancer in 1979.
He was 67 when he shot Brannigan, but looks way older. To paraphrase Michael Caine in Get Carter, he's a big man but he's out of shape. He's also wearing the most obvious and ridiculous toupee – he must have looked better without it than with it on. It's really quite distracting, but according to his hairdresser who is interviewed in the Blu-ray's special features, Wayne loved the wigs so much he took 12 of them home with him.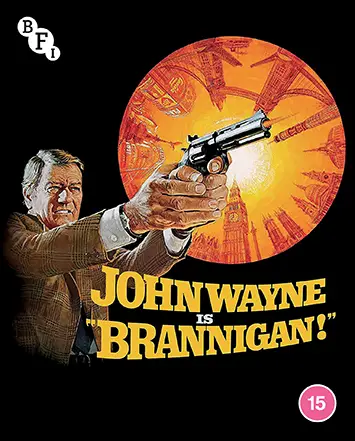 It's perhaps unfair to criticise him too much. I've never been a Wayne fan, but there's no doubting he was an extraordinary screen presence, and he dominates every scene he's in. He was also already in poor health, but according to those who worked on the film, he was professional, courteous and, according to some, the nicest guy in the world, treating everyone the same, whether you were a co-star or the lowest member of the crew.
"Maverick cop thriller"
A few years earlier, Wayne turned down the chance to star in Dirty Harry so, when it became a massive hit, he jumped at the chance to make Brannigan, another maverick cop thriller more obviously tailored to his screen identity. It also gave him a chance to work on location in London for the first time, and some of the shots look as if they're from a travelogue advertising the capital's attractions rather than a hardboiled actioner.
The plot sees Chicago cop Jim Brannigan travel to the UK to extradite US criminal Ben Larkin (played by John Vernon who, incidentally, appears in Dirty Harry). However, after Larkin is kidnapped, Brannigan goes on a manhunt across the city, helped by local police officer Jennifer and hindered somewhat by clashes with Commander Swann, a by-the-book stuffed shirt who doesn't approve of the visitor's brash ways.
Wayne never steps out of his comfort zone to play the lead; he won't win any news fans via this performance, but those who are already enthusiasts will no doubt adore it. He has surprisingly good chemistry with Judy Geeson, who plays Jennifer; thankfully, the script stops short of turning them into lovers. It's more of a father-daughter relationship.
"Bonkers moments"
Richard Attenborough is clearly having the time of his life as Swann, although he rather overdoes the whole clipped English gent routine. The scene in which he socks Wayne on the jaw is quite hilarious – there must have been about a foot difference in height, so how Attenborough could have reached him is a mystery.
A few other memorable faces pop up too, including James Booth, Del Henney, Lesley-Anne Down, Mel Ferrer, Brian Glover and Tony Robinson. Doctor Who fans should look out for Stuart Bevan too; he made the film shortly after his memorable appearance as Jo Grant's boyfriend in The Green Death.
Director Douglas Hickox, fresh from his success with the wonderful horror movie Theatre of Blood, helms the action sequences with style – the leap in a Capri over an open Tower Bridge is a highlight – although those who know London well will quickly figure out he's played fast and loose with its geography; one scene has Wayne enter a flat in Little Italy, then look out through its blasted-out wall at the Albert Memorial.
Still, despite some bonkers moments and a leading man who's clearly far too old for the role, you can't help but be entertained by Brannigan. A wealth of extra material included in the release also brings the film's production vividly to life.
Special features:
Presented in High Definition
Audio commentary by Steve Mitchell and critic Nathaniel Thompson (2017)
A Duke Out of Water (2023, 37 mins): reminiscences from the people who made Brannigan
Frank Henson on Brannigan (2021, 4 mins): the veteran stuntman looks back on doubling the Duke
Take It to the Bridge (1905-1956, 23 mins): historical glimpses of the Thames, Tower Bridge and other Brannigan locations
A Policeman's Lot (1896-1973, 35 mins): a copper's clutch of films concerning crimefighters and crooks, proceeding from the very earliest days of cinema towards the Brannigan era
The Guardian Interview: Richard Attenborough (1983, 88 mins, audio only): the award-winning actor and director, and John Wayne's Brannigan co-star, reflects upon his illustrious career
An extensive selection of location photographs, featuring cast and crew
Original trailer
Brannigan is released on Blu-ray by the BFI, £19.99