All Night Long (1962) – Film Review
Cast: Patrick McGoohan, Richard Attenborough, Paul Harris
Director: Basil Dearden
Certificate: 15
by @Roger Crow
Hey daddyo. Did you hear the one about Will, the beatnick playwright from Stratford who walks into a cool sixties jazz club, but gets stopped at the door because the bouncer says: "You're Bard!"?
Probably not, and the idea of Shakespeare in a sixties jazz venue is ridiculous. Isn't it? Well, not really, because as we all know, Will's works can be adapted for absolutely everywhere, and any time.
However, going into All Night Long, I thankfully know nothing. My main hook is the fact it stars Patrick McGoohan in his pre-The Prisoner days, looking every bit as cool, enigmatic, slightly twitchy and intense as ever.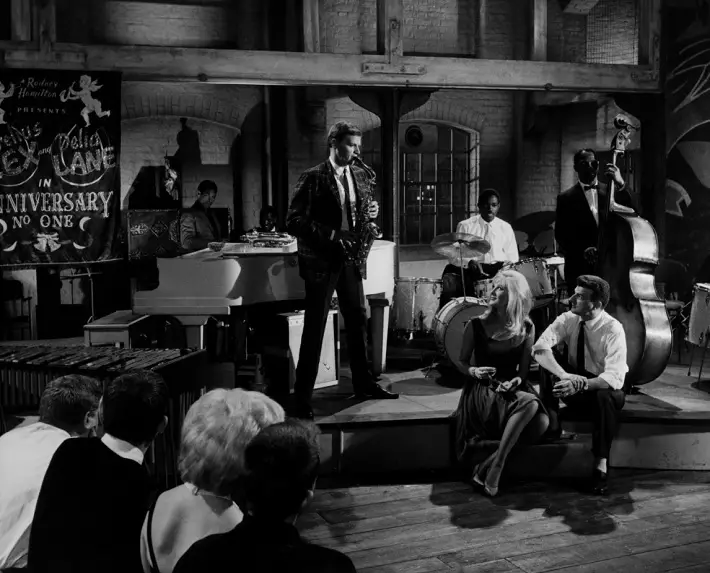 "Pace is brisk"
We begin with Rod Hamilton (dear Dickie Attenborough) opening his jazz club on a rainy night. The scene for nearly all of the drama. "This could have been a stage play" I think, oblivious to the fact it's a reworking of Othello until after the event. It's a curious beast. Half a showcase for jazz legends like Charles Mingus, Johnny Dankworth and Dave Brubeck, and half a soap opera-style love tryst as the tale unfolds and eventually erupts in violence. But it's so stylish, with its gorgeous monochrome shades, dramatic lighting, like a film noir made after the genre was in its prime.
Every other character is either American or talks with a strong transatlantic accent, which is fine, because selling a British film to the States in the sixties was crucial to keep the UK film industry alive. But at the heart of it is good old Dickie Attenborough, with his perfect delivery and though very British, fitting right in.
The pace is brisk and patter as sharp as the suits. There's a great energy to the piece, and though at times the jazz and drama doesn't dovetail as well as more recent smash La La Land, it's still a fascinating curio with a great cast.
And that includes the multi-talented Keith Michell, who later had a surprise chart smash with his 'Captain Beaky' novelty record.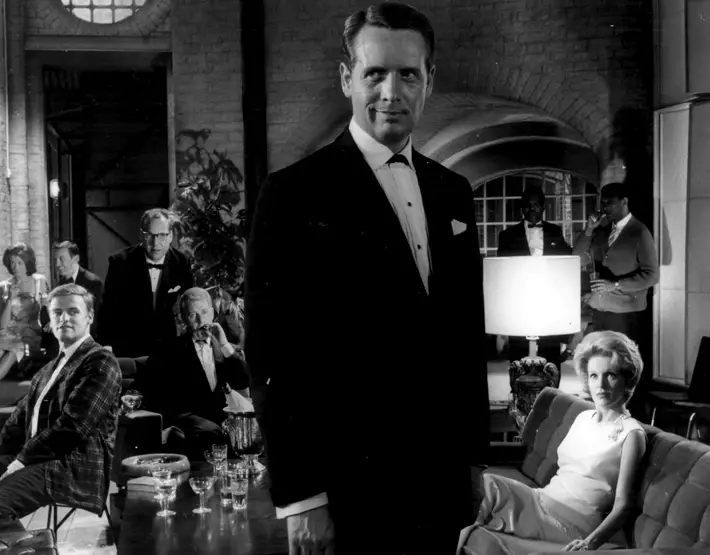 "Acting and music legends"
It's directed by Basil Dearden, the great film maker who went on to helm one of Roger Moore's best offerings, The Man Who Haunted Himself a few years later. Look out too for an uncredited Geoffrey Holder who later popped up in Live and Let Die, and sixties and seventies TV regular Bernard Braden.
Made a year after West Side Story, which obviously reworked Romeo and Juliet to fine effect, this might not have been as successful, but it's great to see some acting and music legends brought together for a classic tale, which is no doubt due another re-telling soon. We had two film versions in 2001 and nothing since. A movie of Northern Broadsides' stage smash with Lenny Henry reprising his role would be my choice.
An added bonus of this Network double bill (with the great Ray Charles' Ballad in Blue) are the movie trailers of the era. Highly recommended.
All Night Long is currently showing as a double bill with Ballad in Blue on Network on Air