Eurostar to Brussels – Travel Review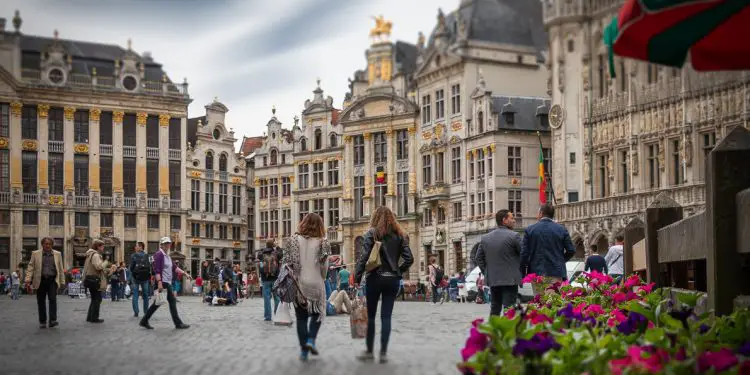 By Helen Johnston, February 2023
Anyone who has tried to travel by train in the north of England in recent months might be forgiven for thinking that the last thing they want to do is attempt to go abroad by rail.
Despite my own experiences trying to cross the Pennines regularly by train, with varying degrees of cancellations and chaos, I decided to give Eurostar a chance to take me to Brussels, as an eco-friendly alternative to flying.
And guess what? It got me there and back on time and in comfort. There were no "We're sorry to announce that…" messages over the tannoy, no phone app notifications telling me my train wasn't going to turn up, no being squashed in like sardines with standing room only.
In truth, there was one heart-sinking moment when we were told in the St Pancras departure lounge that the train would be leaving late (because of another train arriving late) but it only turned out to be nine minutes. That's considered on time by weary northerners used to trains not showing up at all. And the good news was that the driver made up those minutes and still had us pulling into Brussels Zuid/Midi station bang on time.
Getting to the departure lounge had been hassle-free. There was a queue, but it moved quickly through passport control and security where, unlike at airports, you can keep your liquids! My reusable cup of hot tea was safe. There isn't a lot to do while waiting for the train, unless you want to buy London souvenirs in the duty free, but you don't have to be there hours ahead like you do for flying, so the wait is much shorter.
"Crossed into Belgium"
I was lucky enough to be travelling in business premier going out, with loads of leg room and breakfast delivered to my seat on a tray by smartly dressed attendants. The journey was smooth and comfortable, the scenery passing by in a flash. I'd barely had time to register that we were going through the channel tunnel before we were emerging again in France, and then before long my phone pinged again to tell me we'd crossed into Belgium.
One of the best bits about travelling by Eurostar is that you only have to do one passport check, at the station of origin, so at Brussels it was simply a case of stepping off the train and heading off to explore. No waiting for bags at a carousel either, hoping they haven't been lost en route, because you have your luggage with you on the train.
Brussels Zuid/Midi puts you straight into Belgium's capital city, also the capital of the Flanders region, and some might say the capital of Europe. It's home to three of the EU's most important institutions – the parliament, the commission and the council. Indeed, 'Brussels' was often used as a derogatory term for the EU by sections of the British Press keen for us to 'take back control', with headlines like 'bonkers Brussels bureaucrats'. A certain Boris Johnson was very fond of Brussels-bashing in his time as EU correspondent for the Daily Telegraph.
I'm sure the people of Brussels aren't much bothered about this, especially when they see us queueing in the longer non-EU line now whenever we attempt to take any form of transport abroad. Their position on the continent has put them at the heart of many a European dispute over the centuries and it was Brussels' geographical position between Germany and France which made the city an ideal location for EU institutions.
"Wonderfully ornate"
Brussels is also very much part of British history for more poignant reasons too. In the city's Cathedral of St Michael and St Gudula, there is a plaque bearing witness to this which reads: "To the glory of God and to the memory of one million dead of the British Empire who fell in the Great War 1914-1918, many of whom rest in Belgium". It's a sobering reminder that "Flanders' fields" and the poppies growing there will forever be synonymous with Remembrance.
Michael and Gudula are both patron saints of Brussels and the cathedral named in their honour is a medieval Roman Catholic church dating back to 1519. Its Gothic architecture and striking white limestone help it to stand out among the secular buildings which surround it, and a bust of Baudouin, the last King of Belgium stands on a plinth in the square in front of the cathedral, which has wide steps leading up to its front doors. He took the oath in 1951 and was king until he died of heart failure in 1993. He also had the rather dubious distinction of being the last Belgian king to be sovereign of the Congo.
The cathedral is worth a look inside (there's no charge) to see the wonderfully ornate stonework and the huge carved wooden pulpit complete with gruesome skeleton. There are steps leading down to the archaeological remains of the Romanesque church which you can visit for a small charge. Purely by chance, I walked into the cathedral shortly after Sunday mass had begun so I stayed to listen. The organ music and the soaring voice of a solo singer were a joy to hear, filling the vast space and sending praises heavenwards. There wasn't a huge congregation, but it's thought-provoking to consider how this kind of worships has been taking place here for centuries.
"Notable treasures"
Brussels is a compact city centre and from the cathedral it's easy enough to walk to the old town which has as its centrepiece the Grand Place, a world heritage site with the King's House (Maison du Roi) on one side and the city hall on the other. It's instantly noticeable that the city council employees occupy a building far grander than even the King's House. It's a beautiful gothic-style building with a central spire on top of which a gleaming metal statue of St Michael stands.
The King's House, once home to the Dukes of Brabant, is now the City Museum and has the original St Michael statue in it. The museum is well worth a visit, taking you on a romp through centuries of Belgian history and revealing notable treasures, such as the truly amazing tapestry depicting St Paul's execution. Referred to as a cartoon it was made in 1530 and is now kept in a darkened room after being painstakingly restored. The artist was Peter Coecke and the main characters are virtually life size in the scene set outside the centre of Rome. The amount of detail in this huge work of art, inspired by the Renaissance style, has to be seen to be believed.
There is also a room devoted to what is possibly Brussels' greatest claim to fame – the Manneken Pis. More commonly known in polite English as the wee-ing boy, he is destined forever to be going to the toilet in a fountain. It was smaller than I thought (I'm referring to the statue) and it would be fairly easy to miss the fountain altogether if it weren't for the excited throng of people around it taking photos. The wee-ing boy is naked, except for when he's wearing one of the many hundreds of outfits donated to him over the years. There are several from the UK, including a John Bull outfit given in 1972. I bet he hasn't worn that since Brexit.
"Gourmet delights"
There is even an official calendar of outfits for him and on my first day in Brussels he was dressed as the head of the Meyboom brass band in dark trousers, red jacket, gold trimmed cap and carrying some sort of brass instrument. The next day he was naked again.
The bronze statue, around 55cm high, was designed by the Brabantine sculptor Jerome Duquesnoy the Elder in the 17th century, and the original is in the City Museum, along with outfits from his extensive wardrobe. The statue has been damaged or stolen many times over the centuries, the first theft being by the English in 1745 apparently. The statue on display today dates from the mid-1960s.
This lovely pedestrianised part of Brussels old town, with its narrow cobbled streets and shops is a tourist trap, but no less lovely for that. In January it was busy, but not overwhelmingly so, and it offered up some traditional gourmet delights. I joined a short queue for a cone of frites, smothered in mayonnaise and some kind of squeezy cheese for €4.50, which wasn't the healthiest lunch I've ever eaten but hit the spot on a cold day.
And you can't visit Brussels without trying a waffle, mouth-watering examples of which are staring out at you from virtually every café window in the vicinity. I indulged in one smothered in Belgian chocolate and whipped cream (also €4.50), brought to me on an enormous rectangular plate. It was a case of woman versus food, and food very nearly won, but I managed to finish it in the end. I don't know what they do with their waffles but if I lived in Brussels I'd end up being the size of a house.
"Aphrodisiacal qualities"
Talking of chocolate, which you have to do by law in Belgium, leads me nicely on to the Chocolate Museum, which is worth a visit for all sorts of reasons but mainly because you get to taste a freshly made praline after watching a demonstration of how they're created. The praline was invented in Brussels, giving them an extra claim to chocolate fame.
The museum takes visitors on a fun and informative journey from cocoa beans to boxes of chocolate. It was interesting to learn that chocolate – without sugar and milk – was first consumed as a drink by the European elites. There is a splendid display of china chocolate pots complete with wooden tools to whisk up some froth on the rich liquid before drinking it from an equally splendid cup. It reminded me a bit of the fuss some people go to over making coffee today. Chocolate was held in such high esteem that Voltaire apparently drank it while he was writing, and Casanova swore by its aphrodisiacal qualities.
If you're looking for something a bit more highbrow, head for the Museum of Fine Arts (Beaux Arts), which is enormous and features Magritte, as well as a temporary exhibition by Picasso. This April will mark the 50th anniversary of his death and the Spanish artist's relationship with abstraction is traced through more than 140 of his works, so give yourself plenty of time if you're a fan and want to take it all in. The exhibition is on until 12 February 2023.
"Striking paintings"
In truth, I'm not that enamoured by Picasso and found I enjoyed the René Magritte section more. The Belgian artist has an instantly recognisable style and 230 of his works and archives are displayed, so this needs more than one visit to take it all in. I didn't have time to view everything the museum has to offer but I did manage to see some of the Fin de Siècle works from the 19th century when Brussels was the capital of art nouveau. These striking paintings emit a real poignancy, particularly those of poverty-stricken families and hordes of emigrants.
When I arrived at the museum's main entrance a queue had already formed, people wrapped in hats and scarves in the cold. It was possible to see the employee with the key standing inside in the warm, looking out at us and checking his watch. A couple of minutes before the official 11am opening time he came towards the door and there was a murmur as everyone prepared for him to open up. But he looked at his watch again and paused. It was clear he wasn't going to open it even a second early. Could be seen as a bit bureaucratic that.
Brussels is easy to get around by public transport, with an underground Metro and overground tram systems with stops at all the locations you're likely to want to visit. I used the Brussels Card which gave me access to all museums and free use of public transport. Prices for the card start at €29 and it's good value if you're into history, art, chocolate, or anything else likely to be found in one of the many museums.
"Greener than flying"
All too soon my whistlestop tour was over and I was back at Brussels Zuid-Midi (where I spotted a stack of full price Prince Harry books being ignored by shop customers), ready for my Eurostar back to London. The security and passport controls went smoothly and soon I was on board, in standard this time, being sped homewards. There wasn't the same amount of leg room and no free food, of course, but it was still comfortable, clean and with plenty of luggage space. We left on time, made a brief stop at Lille, and arrived at St Pancras on time.
When railways work, you really can't beat train travel. It's greener than flying and you get to see the places you're travelling through, giving more enjoyment than simply looking out on a bank of white cloud from a tiny aeroplane window. If you don't fancy Brussels, Eurostar can whisk you off to other destinations in Belgium, France, and the Netherlands.
Eurostar got me from St Pancras to Brussels in under two hours, on time and in comfort. If only I could travel between Sheffield and Manchester as easily.
Eurostar operates 8 trains a day from London St Pancras International to Brussels with one-way fares starting from £39 (based on a return journey)
Fastest London-Brussels journey time is 1hr 53 minutes
Eurostar tickets can be booked 330 days prior to the departure date
Tickets are available from eurostar.com or 03432 186 186
For more information about what to do and where to stay in Brussels go to visit.brussels
Train versus plane
• Seamless city centre to city centre travel, stations located in the heart of the destinations
• No need for expensive, lengthy airport journeys
• Sustainable travel
• Carbon footprint from one flight is the same as making 13 Eurostar journeys
• 93% less CO2 per passenger than flying
• Extra baggage allowance
• Eurostar offers each person 2 suitcases and 1 piece of hand luggage with no weight restrictions and at no extra charge
• Fast and convenient check-in
• Passengers check-in only 30 minutes before departure or 10 minutes if travelling Business Premier
• Comfort and space on board to work or unwind
• No queues or baggage reclaim upon arrival – simply take your bag with you on board