Run, Man, Run (1968) – Film Review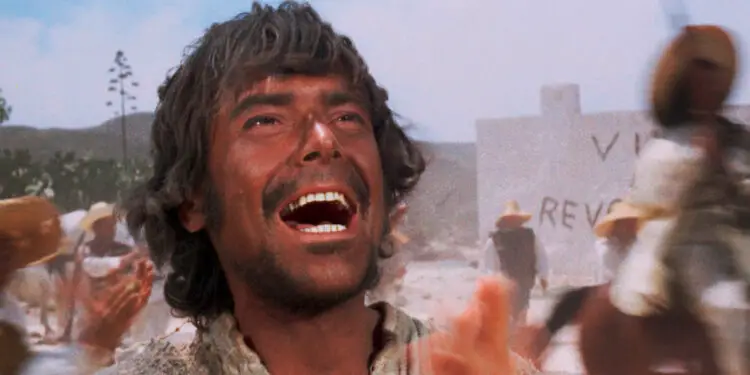 Director: Sergio Sollima
Cast: Tomas Milian, Donal O'Brien, Linda Veras
Certificate: 12
By Sarah Morgan
If you've only watched Sergio Leone's Dollar trilogy, you may think you're familiar with the spaghetti western genre, but you'd be wrong.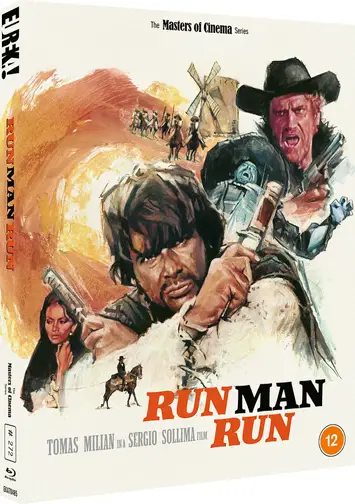 It often feels as if there's an almost inexhaustible number of titles to delight, horrify or entertain viewers, many of which are only being discovered by British audiences now courtesy of the home media market.
"Stash of hidden gold"
The latest is Run, Man, Run, which is actually described as a Zapata western, an offshoot from the genre in which an American hero is paired with a revolutionary Mexican bandit. In this case, Donal O'Brien plays US gunslinger Cassidy, with Tomas Milian as the charismatic desperado Cuchillo. It's a role Milian had previously played in The Big Gundown, released two years earlier in 1966.
Both films were directed by Sergio Sollima, with Run, Man, Run being the final chapter in a trilogy which also includes 1967's Face to Face; it was also the last western made by the film-maker, who then switched to violent crime thrillers.
Here, the cunning Cuchillo aids the escape of a fellow prisoner from jail, and is rewarded by being given the location of a stash of hidden gold. The loot is supposed to be used to fund the Mexican revolution, but it seems that everyone wants to get their hands on it, including mercenaries, corrupt officials, bandits and even Cuchillo's own fiancee – although she merely hopes that once the fortune is found, her lover will settle down and marry her.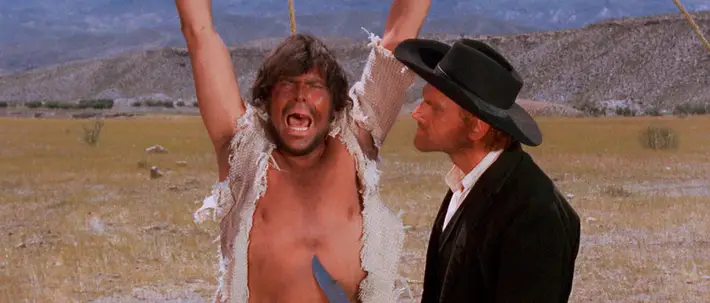 "Cracks in the plot"
Whether he's capable of living a quiet life remains to be seen, but whatever the case, Cuchillo will have to have all his wits about him if he's going to survive.
The fully uncut and theatrical versions of the film are available via this release from Eureka; the action comes thick and fast in both of them with Sollima barely giving viewers a moment to draw breath between each set piece, which helps paper over any cracks in the plot.
Run, Man, Run isn't the greatest spaghetti western ever made, and it probably won't live long in the memory. But as is often the case, the special features alone are worth the price of the disc – among the highlights are an interview with film scholar Stephen Thrower and an audio commentary from genre experts Barry Forshaw and Kim Newman. If nothing else, both are sure to expand the cinematic knowledge of the average viewer.
TWO DISC BLU-RAY SPECIAL FEATURES:
● O-card Slipcase featuring new artwork by Tony Stella
● Reversible Poster
● Reversible Sleeve
● A Collector's Booklet featuring two new essays by Howard Hughes, covering both the film and the "Zapata Western" sub-genre.
DISC ONE:
● 1080p presentation on Blu-ray from a definitive 4K restoration of the original uncut version of the film, with additional colour grading completed exclusively for this release
● Optional English subtitles, newly translated for this release
● Brand new audio commentary with writers Barry Forshaw and Kim Newman (Uncut Version)
● Brand new interview with film scholar Stephen Thrower
● Alternate opening credits
● Theatrical Trailer
EXCLUSIVE BONUS DISC:
● Run, Man, Run – The Theatrical Cut (85 mins) – the original theatrical release version of the film, presented in 1080p from a 4K restoration with additional colour grading completed exclusively for this release
● Brand new audio commentary with author Howard Hughes and filmmaker Richard Knew (Theatrical Version)
Run, Man, Run
is released on Blu-ray by Eureka, £27.99