Ilkley Lido – Yorkshire's Al Fresco Plunge Pool
By Cath Muldowney
Whilst the idea of an open air swimming pool in a Yorkshire town may seem strange, this has to be one of the most glorious settings for a lido in the whole of the UK.
Flanked by Ilkley moor, rising up beyond the town on one side, and the Nidderdale area of outstanding natural beauty on the other, this beautiful outdoor pool, changing rooms and café, were built in the 1930s, reflecting the glamour of that era. The lido is open from May to September each year, but you might be relieved to learn that there's also an indoor pool available all year round. Attracting up to 150,000 visitors annually, and 4,000 on a hot summer's day, this is a great British institution that shows no sign of waning popularity.
"Encourage beginners"
The unusually shaped pool resembles the cross-section of a mushroom, with the circular area stretching to 46 metres in diameter, and the narrower stalk forming the deep end. A large shallow area was designed for children and to encourage beginners, with the added benefit that it would heat up more quickly in the sun.
Originally, facilities included a 14' 6" diving board and a small baby chute, but the powers that be later deemed these unsafe, and they have been removed – presumably to the dismay of parents and babies alike. The original unscreened fountain remains, with the lido itself one of only 27 remaining in the country.
There are changing rooms and showers attached to the indoor pool, disabled access, and a cafeteria. Picnic tables are provided should you prefer to bring your own food, although alcohol is not allowed. Other facilities include putting, tennis and bowls, for the non-aquatic family members.
The water temperature ranges from 14 to 24 Celsius, so it's perfectly acceptable to wear a triathlon or wet suit, unless of course you're a 'dyed in the wool' wild water swimmer, with a penchant for pale blue skin and excellent temperature tolerance.
Address: Denton Road, Ilkley, LS29 0BZ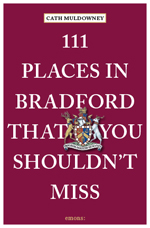 www.ilkleylido.co.uk
Getting there: Multiple buses and trains from Bradford to Ilkley; by car, take the New Brook Street turn off the A 65; Denton Road is on your right
Hours: Apr–Sep; check website for times
Tip: The stretch of the River Wharfe that runs alongside Denton Road was the first to be awarded a 'bathing water designation' in December 2020, adding to Ilkley's swimming site prowess.
Article taken from '111 Places in Bradford That You Shouldn't Miss' by Cath Muldowney
images: Cath Muldowney/Emons Verlag