Audi TT Roadster – Review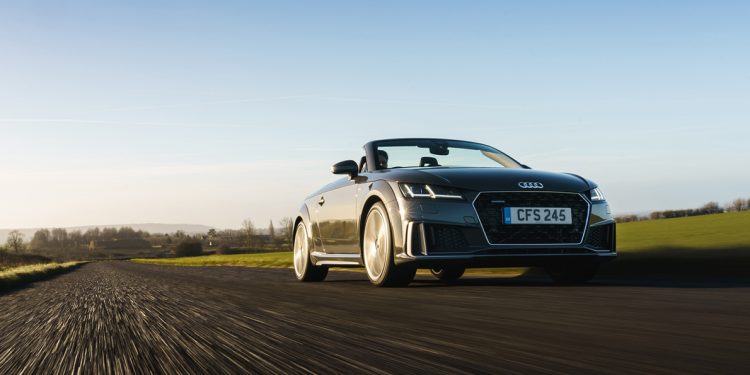 By Liam Bird
We begin this page with some sad news: Audi have announced that are no longer going to make the TT. After 25 years of continuous production, their now near iconic little 2+2 coupe, and its soft-top sister car, are to be no longer. Customer deliveries of the highly specified Final Edition series cars began in April of this year. Be quick if you fancy one, you never know, there might still be one left; Audi are apparently only bringing 11 of the 100 Final Edition TTs to the UK, and they're asking an eye-popping £87,650 for them! Believe it or not, a mechanically identical TT RS can be had for a whopping £26,775 less. You pay your money…
Now I know, over the years, the TT hasn't quite captured the die-hard sports car enthusiast's imagination in quite the way Audi had perhaps originally hoped. It was after all, essentially, just a Golf GTi wearing a slinkier suit; front wheel-drive, and a four-cylinder engine – in some cases a four-cylinder diesel engine – were hardly the stuff to set petrolhead pulses racing. In fact, the TT was initially criticised by car journalists for its inert steering and chassis – the fact was it was never going to deliver the thrills or the purity of either the more expensive Porsche Boxster, or Mazda's much cheaper but sweeter to drive MX-5.  The styling on the other hand…
"Smoother shape"
The original Peter Schreyer designed, Bauhaus inspired lines of the first generation TT echoed Porsche's 356 and 550, not to mention the VW beetle, (surely the car that inspired them all), and clever styling cues such as flush bumpers and protruding wheelarches which interrupted the shut-line of the bonnet – all the kind of stuff we take for granted these days – really did break the mould when the TT was released in 1998. Later TTs got a more fluid, smoother shape, but in the right colour and on the right wheels, even now, after we've become very accustomed to seeing them, they're still capable of turning heads.
The TT's interior too, set new standards.  Again, it was essentially made-up from items borrowed from parent-company Volkswagen's parts bin; indicator and wiper stalks, headlamp switches and other smaller switchgear were very much MK IV Golf. Nevertheless, the leather was thick – early cars could even be had with baseball glove-like stitching – the dials were lit with red and white LEDs and thus brilliantly clear and legible, the detailing was superb, and everything you touched, or opened or shut, felt totally bombproof. New standards were set.
"Visibility"
Threading yourself into an Audi TT for the first time, the first thing you noticed was just how spacious, in the front at least, a TT's cabin was. The large glass area meant visibility was good nearly in all directions (those thick C pillars causes quite the blind spot) and despite its compact dimensions there was more shoulder room than expected. However, it was no used thinking a TT would seat four, the rear bench might've looked big enough to sit on, but head and leg room back there was virtually non-existent; Audi even fitted a warning label to help prevent any over ambitious passengers inadvertently bumping their heads on the rear hatch.
Fold the rear backrests though and the TT became surprisingly practical. Even the soft-top had a "proper" boot.
Which in an all-too roundabout way perhaps, brings me (clumsily?) around to attempting to describe how a brand new TT convertible feels like to live with today.
As previously mentioned, you might just still be able to obtain a five-cylinder, four-wheel drive, near 400bhp TT should you want one, however for a week's more genteel and no less enjoyable touring, you might be better off in a more modestly-specced car.
Even with its roof stowed the Audi TT convertible still offers enough luggage space to swallow two large suitcases and associated sundries; there's even a good sized glovebox for your sunglasses, and I suppose, any gloves you might need. An automatic gearbox, just 197bhp, and front-wheel drive only  might not seem the most exciting of propositions, but the TT 40 TFSi I was kindly lent by Audi's press office never once felt underpowered – the 7-speed S-tronic gearbox plays a hand in that – and low 40s mpg at motorway speeds is never to be sniffed at.
"Clean lines"
It is true that the TT doesn't feel as sharp as its mid-engined or rear-wheel drive competition, but it's no less precise. And one could argue that because its character is less demanding, it's actually the easier, some might say nicer, car to drive for longer distances. It's still very enjoyable, albeit perhaps in a different way. You can drop the roof electrically at speeds of up to 30mph in just 10 seconds and still remain surprising draught and buffeting free. Alternatively, with the roof raised the TT feels as tight as a drum.
And of course, there's that lovely interior. Clean lines are the order of the day. Granted, some the tech now feels a little bit last-generation, but Audi's 12.3 inch virtual cockpit puts all the information directly in front of the driver, rather than on a remote screen that looks as if it was grafted on to the dash-top in a hurry. You also get to control everything with wonderfully tactile knurled aluminium knobs – so much easier than hopelessly scrolling, swiping, and poking at a touchscreen. The sports seats are supportive, the ride taut, the driving positon snug, and spot-on. Spending time in an Audi TT is still a pleasure.
"Classics"
I'll admit, in the past I've sometimes been a bit sniffy about the TT, but more recently I've found myself searching the used car listings to see what might fit my budget; soon enough good early cars will be considered classics.
When, alas, the time came, I was genuinely reluctant to hand the keys to "my" car back. I bid the TT the fondest of farewells.
Audi TT Roadster 40 TFSI S-tronic 145 kW
Engine: 1,984cc 16V turbo-charged 4-cylinder petrol
Transmission: 7-speed S-tronic auto with manual mode. Front-wheel drive
Power:  197 bhp @ 4,400 – 6,000 rpm
Torque: 236 lbft @ 1,500 – 4,300 rpm
0-62MPH: 6.9 Sec
Max Speed: 151 mph
CO2: 158g/km
MPG: 40.9 (WLTP combined)
Price: From £43,995 (Car Driven £49,875)