Audi e-tron 55 Quattro – Review
By Liam Bird
If I was to tell you that Audi's new, near-£90k, SUV was, in certain circumstances, capable of just 4 miles per hour I doubt you'd be impressed. You'd probably just dismiss it as yet another ostentatious gas-guzzler; something that's powered by a huge, carbon-belching engine, driven by those who show absolutely no concern for the environment, and little more than an ego-booster on extra-large alloy wheels. I may even have said something similar about something similar myself somewhere.
But what if I was to tell you that Audi's new near-£90k SUV was an electric car? In fact, it's Audi's first fully electric production car. The e-tron is Ingolstadt's vision of the future, and in certain automotive circles it's already been called the most important Audi of the modern era.
Perhaps then, I'd better explain those opening lines.
The e-tron is indeed Audi's first fully electric production car (the short-lived, limited production, and hugely expensive, electric R8 notwithstanding), and, as you can see from the pictures it is very-much an SUV. It even gets all-wheel drive and the all-important accompanying quattro badge – you can select an off-road mode and raise it up on its air-suspension to give it, and yourself, an extra 35mm of ground clearance.
It sits on what is essentially a heavily modified version of Audi's MLB platform, the same as can be found under the recently announced, sleeker, e-tron Sportback and is fitted with not one, but two electric motors: one on the front axle, and a slightly more powerful one further aft – hence the four-wheel drive.
Despite being similar in both size and appearance to the Audi Q7 – a deliberate styling act one suspects, so as not to look too futuristic and thus put-off the four-ringed faithful – there is no seven-seat option. The e-tron therefore is a five-seater only; those big batteries had to go somewhere. The upshot however, is that the boot is huge.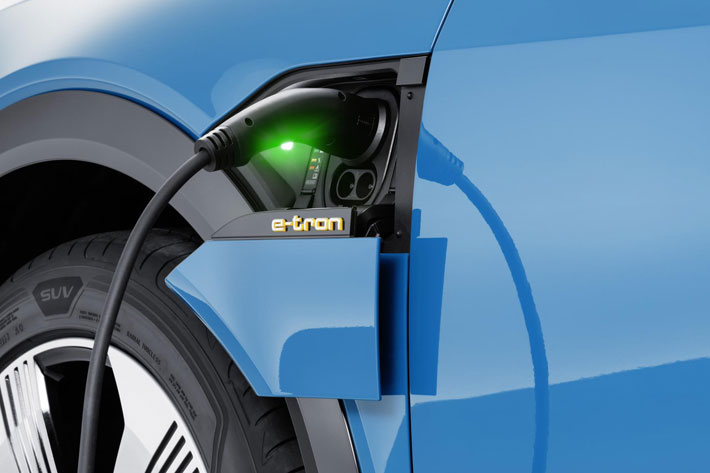 "Velocity in abundance"
It's also available in three different versions. The e-tron 55 as driven here, the cheaper e-tron 50, which gets less power, a smaller battery, and a lesser range on a full-charge, and a wait for it… a tri-motor e-tron S, said to have the equivalent of 496bhp. Quite what that equates to in kilowatts, I'm not really sure. I beginning to realize I should have paid far more attention to my physics teacher.
What I do remember from physics however is velocity is equal to mass, multiplied by speed. Even my dodgy maths therefore can figure-out that etron has velocity in abundance.
It's perhaps not the speed – although with a 0-62 mph time of 6.6s seconds the e-tron could hardly be considered a slouch – but rather the mass that adds to the equation. Before you add passengers and luggage (there's no added weight a result of topping-up a fuel tank, remember?) Audi's new electric flagship tips the scale at a hefty 2490kg. Batteries, clearly, are not light.
In a straight line that's actually no problem at all. On a motorway the e-tron is the consummate, and near silent cruiser, a flex of your right foot is all that's need to effortlessly dispatch the dawdlers. When required to change direction quickly however…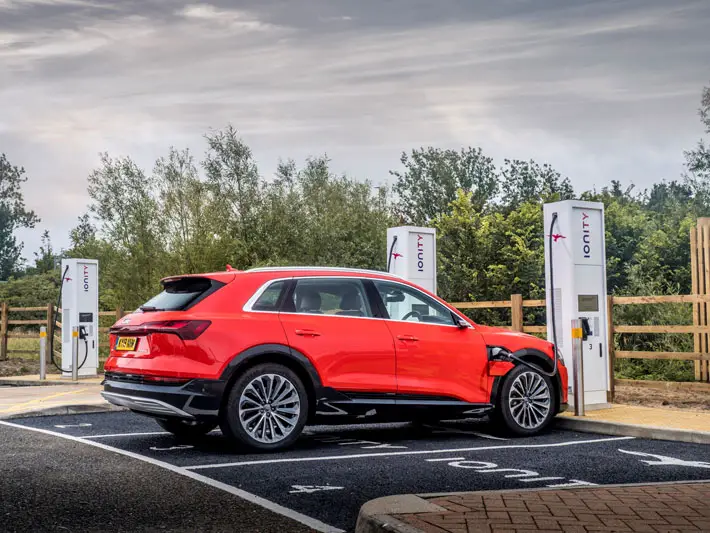 There's simply no hiding those extra kilos. It might say quattro on the boot-lid, but this certainly isn't a sports car. There is little, if anything, in the way of feedback or communication through either the steering, or the brakes. The paddle-shifters are there only to control the amount of energy you can recover whilst slowing down. And, let's not forget there's no engine noise either. Exciting it isn't. Our e-tron even came with rearview cameras rather than door mirrors; they served only to make the driving experience feel even more artificial. Apparently, (thankfully) they're optional, and there to help reduce drag. I for one certainly wouldn't be ticking that particular box come spec time.
Still, at least the e-tron's cabin is a lovely place to be, the driving position is brilliantly judged, the seats – heated of course – are wonderfully comfortable, and as you'd expect from Audi, build quality – from indicator stalk to Virtual Cockpit display feels bomb-proof.
So, what about range? This is an electric car, so you were bound to ask.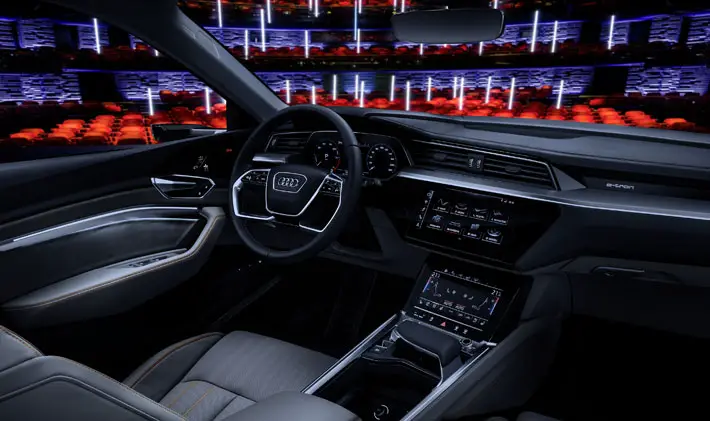 "Not exactly the stuff of grand tours"
Fully charged, it's a certified 188 miles. Find a suitable public charger say Audi, and best-case you'll get 80 per cent of that in 30 minutes. That's about 150 miles – enough perhaps for a day or two's driving. Not exactly the stuff of grand tours though is it? And did you notice the words suitable public charger?
If you've a 7KW charger at home it might just deliver a full charge overnight, but again, that's only 188 miles. Call me old fashioned but I'd want a five seat SUV costing this much to be able to take me to Scotland before it needed a refuelling stop; from here, the e-tron would need at least two, and then another two to get back.
And, what if you can't find a 7kw charger? Well, you can charge the e-tron, using either of its charging sockets – there's one in each of its front wings – from a regular household 3-pin socket. Perfect. If you have the time that is.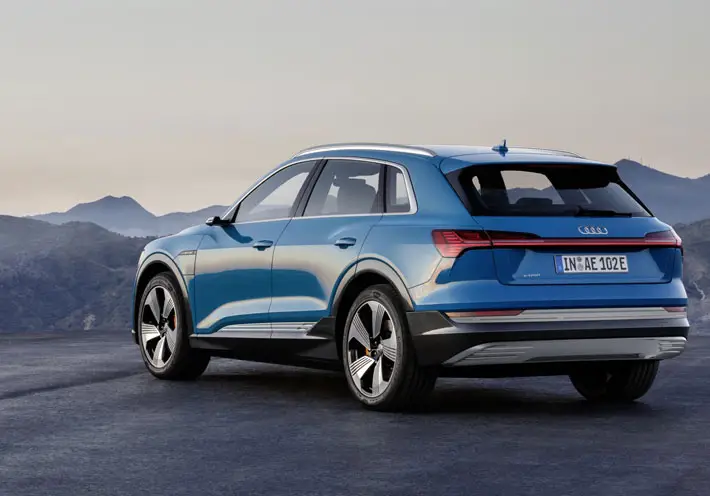 I did exactly that the other day. I plugged the e-tron in at 9am, and unplugged it again at 4pm, just to see how much further a working day's 13amp charge would get me. I got an increase in range of 28 miles. That's 4 miles an hour.
As a piece of engineering I genuinely find it hard not to appreciate what Audi have done with the e-tron. It's beautifully built, and as long as you can live with its limited range it's almost as easy to live with as anything else they currently make – it even looks the same as virtually everything else they make. Nevertheless, I still don't want to be in a position where I have to tell someone "I'm sorry I can't make this evening, I have to charge my car."
It's unfair perhaps to blame the car, as it's almost entirely dependent on the current fast-charger infrastructure. Nevertheless, as undeniably impressive as the e-tron is undoubtedly is, I won't be making the switch just yet.
Audi e-tron 55 quattro 300kW Launch Edition
Engine: Twin asynchronous electric motors.
Transmission: Two-stage planetary gearbox with single gear. All-wheel drive.
Battery Type: Lithium Ion
Peak Electrical Output: 265kW
Electrical Torque: 413 lbft
0-62MPH: 6.6 Sec
Max Speed: 124 mph
CO2: 0 g/km
WLTP Electric consumption: 242 Wh/km
Range: 188 miles (certified)
Weight: 2490 kg
Price: From £85,185 (car driven £88,125)