By Liam Bird
The sporting saloon car is, these days, very much a dying breed. Where once suburbia echoed to the exhaust notes of the likes of Ford's RS 2000, Triumph's Dolomite Sprint (I had one of those), Fiat's 131, the odd SAAB 99, and the now near-iconic E21 shaped BMW 323 and 325, driveways today are awash with hatchbacks, SUVs, and plug-in something-or-others.. The Mondeo is no more, Vauxhall's Insignia has been axed, and the traditional three-box – that's engine compartment, passenger compartment, and separate boot – Volkswagen Passat has also been consigned to the history books.
Skoda make the Octavia VRS and very nice it is too, but despite its profile it's actually a hatchback. Therefore, the only makers of swift saloons I can think of are Mazda (6), Peugeot (508), Jaguar (XE), and Alfa Romeo (Giulia). Oh, and the Germans of course – now, they really do like a family car that's fleet of foot.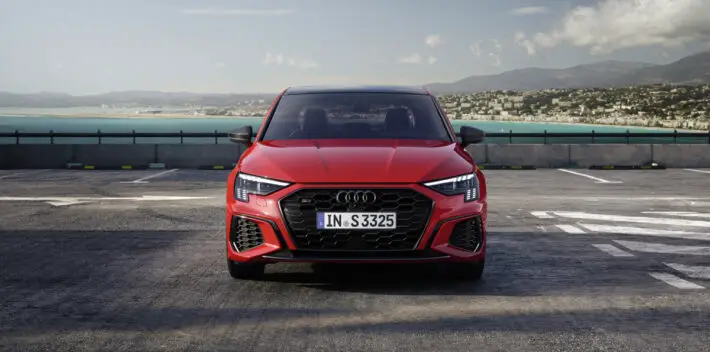 "Sense of menace"
Which brings me nicely around to the Audi S3 Saloon. A proper four-door saloon car; separate boot at the rear, not a hatch. It packs just enough room for five people (larger backseat passengers may refute that statement), plus four-wheel drive, 306bhp, and the ability to hit 62 mph from a standing start in 4.8 seconds. Surely that ticks all the right sport boxes for a sports saloon? Its top speed is electronically limited too apparently, to 155mph. Good to see some responsibility being applied, especially-so when it comes to family motoring.
If you're thinking that the S3 saloon looks a lot like an S3 hatchback, but with a two extra doors and a traditional boot, then you'd be right; to all-intents-and-purposes, that's exactly what it is. You could also consider it a Volkswagen Golf R only in a sharper suit.
The Saloon, in my humble opinion, is the much better looking car. There's a certain sense of menace about it neither hatch can quite muster. A deep black front grille and slim LED headlamps, black sill extensions, 19 inch alloys, a neat boot-spoiler, and a rear diffuser that wraps itself around quad exhaust pipes, all add up to give the S3 Saloon real presence.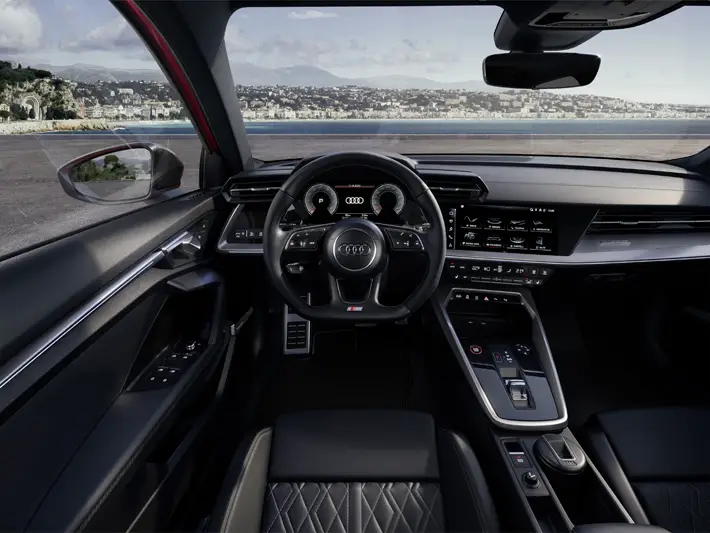 "Superbly comfy"
Inside, there are deep bolstered sports seats complete with embossed S3 logos and diamond stitching. Believe it or not, they use recycled PET plastic bottles in the upholstery. The seats are superbly comfy though, and the driving position can be set just-so – how typically Teutonic. That said, the fixed headrest may cause a few grumbles from those sat behind.
Elsewhere it's Audi interior business as usual; clear, multi-configurable digital dials, piano black trim, a Bang and Olufsen sound system, and a 10.1-inch high-resolution touchscreen that controls most of the major functions. Fortunately Audi opted to fit proper dials and switches for the climate control rather than the dreaded touch-type ones. It's the small things sometimes that make all the difference… Which brings me on to the rest of the cabin materials and plastics: they're sadly not quite up to the usual Audi high standards. In places they feel quite hollow.
You might be willing to forgive whomever it was that cut the fixtures and fittings budget however, once you press the starter button.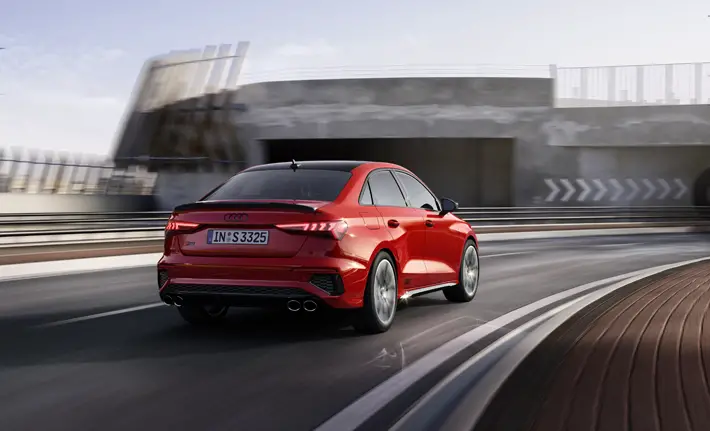 "Broad ranging talents"
Needless to say the S3 can play the sports role very well indeed. It is deceptively quick, and it grips the tarmac like the proverbial does a wooly blanket. Its fruity exhaust note, near effortless acceleration, nicely weighted steering, and lack of any discernable body roll are all perfect accompaniments to a twisty B-road blast. And yet it feels equally content to play the family car role too.
The 7-speed auto 'box's changes are virtually imperceptible and if you dial the driving mode back to its comfort setting, the suspension irons out all but the worst of the bumps. Granted, in these times of near £9 a gallon unleaded the S3's promised average of 35.3mpg combined isn't exactly what you could call frugal – drive enthusiastically and that will drop, dramatically. However, I'm willing to say that its s a price worth paying in order to enjoy something with such broad ranging talents.
I know, you could buy many a hot-hatch or SUV for the S3's £45,945 before options asking price, but everyone's got a hot hatch or an SUV. The S3 is a welcome deviation from the new norm, and it's good to know that within it the sports saloon is very much still alive and kicking.
Audi S3 Saloon Vorsprung TFSi S tronic
Engine: 1,984cc 4 cylinder, 16Valve, turbocharged, petrol
Transmission: 7 speed S-tronic auto with manual option, all-wheel drive
Power: 306 bhp @ 5,450 – 6,500 rpm
Torque: 295 lbft @ 2,000 – 5,450 rpm
0-62MPH: 4.8 Sec
Max Speed: 155 mph (electronically limited)
CO2: 181g/km
MPG: 35.3 (combined)
Price: From £45,945 (car driven £46,770)