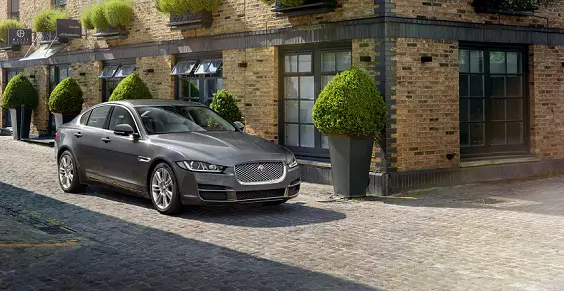 By Liam Bird
A friend of mine rang the other day to tell me he'd borrowed an Audi saloon for a few days while his car was being repaired. "Which one is it?" I enquired.
"I'm not actually sure," he replied, "But it's definitely a diesel."
To be fair, he could have been talking about many a German executive saloon, but Audi saloons these days do tend to be a bit amorphous. But be honest, can you tell a BMW 318 from a BMW 435, especially under the cover of darkness? Can you spot a Mercedes CLS among an office car park full of C-Classes? No? Well the truth is, I struggle too. An automotive business suit is still an automotive business suit regardless of whether or not it's got alloy wheels and twin-exhausts. Nevertheless they are big, big business.
It's into this very conservative and yet hugely competitive arena that Jaguar launched their all-new XE last year – and by all-new they really mean all-new. The platform the XE sits on – the same one upon which their F-Pace SUV sits – the Ingenium 2-litre diesel engine and the plant that it's being built in, and the XE's predominantly aluminium structure are all brand new. Everything about the XE really has been built to take on the establishment, and of course those that would like to be considered in the same vein, namely Volvo and Lexus, too.
"Truly distinctive"
In range-topping V6 S spec (as tested here) the XE really is a handsome looking thing. It's muscular without being bulky, and stylish without being showy. It is a little generic perhaps when viewed from the rear, even the F-type rear lights fail to make it truly distinctive from behind, but upfront or when viewed in a rear-view mirror it's instantly and unquestionably recognisable as a Jag; it couldn't be anything else.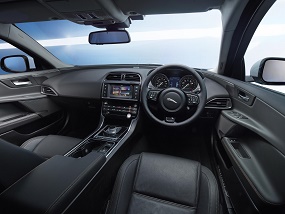 Inside it's a similar story. The dials, thick-rimmed steering wheel, and rising capstan-like gear selector are familiar to anyone who's driven any of Jaguar's modern offerings. Standard equipment includes, an 8-inch touchscreen sat-nav (and very good it is too!), DAB, cruise control, key-less entry and start, traffic sign recognition, and a liberal dose of sparkly bits and neon mood lighting.
On the whole it's a pretty classy interior, especially when it's been treated, as per "our car" to options such as carbon fibre veneers (£1000), a panoramic sunroof (also £1000) and heated, and cooled, seats (£1035). Some of the plastics may not quite be of the quality you might have been expecting, and XF devotees will miss the pirouetting air vents upon thumbing the pulsating start button, but a least the Jet/Red leather interior trim comes at no extra cost – if that's what floats your boat of course.
"Comfortable and refined"
Interior hues and plastics not withstanding what you instantly notice is just how comfortable and refined the XE feels. Even when riding on 20" rims (optional: £800) the XE seems to flow down the road. The electric steering feels beautifully weighted and direct – especially so in dynamic mode. It offers the kind of commutation and feedback an Audi A4 could only dream of. There's little in the way of body roll. On almost all surfaces the XE rides, or should I say glides, like you expect a Jaguar should.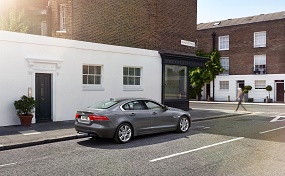 It doesn't growl though. The Jaguar XE S shares the same supercharged 3.0 litre V6 engine as the entry level F-type and although it's smooth, especially when coupled to the 8-speed auto 'box, it doesn't serve up the aural pleasures of the 2-seater. There are no gratuitous blips and burbles, no cackles either when you change down. Somehow the drama and the theatre are missing.
But perhaps that's what the modern executive wants; to arrive in style and comfort and without the fuss. If that's the case the XE really does fit the bill. It could be considered a tad expensive in certain specs – especially so if you plunder the options list – but the same could easily be said of its rivals. When all said and done the levels of refinement and range of talents offered by the Jaguar XE add up to make it one of the best, and possibly the most charming, in the business.
Jaguar XE S 3.0 V6
Engine: 2,995cc V6 Supercharged Petrol
Transmission: 8 speed automatic, rear-wheel drive.
Power: 340bhp @ 6,500rpm
Torque: 332 lbft @ 4,500rpm
0-62MPH: 5.1 Sec
Max Speed: 155 mph
CO2: 194 g/km
MPG: 34.9 combined
Price: from £44,865 (car driven £55,163)