Introducing: The Chessmen
Sixties-licked psychedelic garage madness with added fuzz, fizz and attack, from Leeds…
YOUR NAME: Ryan Walker.
BAND NAME: The Chessmen.
WHAT DO YOU DO/PLAY? Bass.
HOW LONG HAVE YOU BEEN TOGETHER AS A BAND/PLAYING MUSIC? 5-7 months.
GIVE US 3 REASONS WHY WE SHOULD TRACK DOWN, LISTEN AND DISCOVER YOUR MUSIC?
I have the bias of saying our music is good music. If you like loud, sharp and seductive rock 'n' roll garage psychedelic fuzz pop then it's worth a listen. Tons of catchiness, melodic, powerful and punchy. The other two reasons are meaningless. We're not a religious experience and we're not a drug. If we were… then God help you in the church and in rehab baby.
WHAT WAS YOUR FIRST…
RECORD? Morrissey: Swords or New Order's Technique.
CD? REM: Automatic for the People, Editors: The Back Room, Echo and the Bunnymen: Songs to Learn and Sing, Gorillaz: Demon Days, Manics: The Holy Bible.
DOWNLOAD? Very rarely remember downloading. Think it was Discovery by Daft Punk or #Reverend and the Makers by Reverend and the Makers.
SO, WHEN IT ALL GOES RIGHT AND YOU'VE GOT A MANSION AND A SUPERMODEL GIRL/BOYFRIEND, WHAT WILL BE YOUR BIGGEST MUSICAL INDULGENCE?
Open a bar and build a swimming pool shaped like The Velvet Underground banana or a massive smiley face, and at night it glows bright yellow. That and an archery target range with every judge on every modern day pop star making show… Britain's Got (no) Talent, X-Factor. Throw in Made in Chelsea and the other one and we have world peace. Simples.
SO, WHEN IT ALL GOES WRONG AND YOU'VE ACRIMONIOUSLY BROKEN UP CITING HUGE MUSICAL DIFFERENCES, WHAT DO YOU FALL BACK ON?
The bed.
PLEASE CITE SOME INTER-BAND MUSICAL DIFFERENCES…
Scott our drummer is into Jake Bugg. Me and Luke our vocalist and guitar wizard despise him. Me and Luke like trance music, Scott despises it. It's not like we bring those influences into the band. I like Britpop and punk rock, Luke likes fuzzy, garage rock 'n' roll and hard-hitting Motown, Scott likes whatever Scott likes. It works.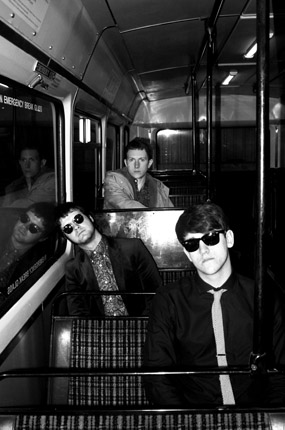 WHO ARE YORKSHIRE'S FINEST IN CULTURE, SPORT AND MUSIC?
The Yorkshire Rats.
NAME YOUR SUPERGROUP – WHO'S PLAYING WHAT AND WHO'S ON VOCALS?
Vocals: Michael Stipe or John Lydon. Guitar: Lou Reed. Guitar: Paul Weller. Bass: Peter Hook or Paul Simonon. Keyboards: Damon Albarn. Drums: Jack White.
GO SEE THIS FILM: Under the Skin/Trainspotting/Breathless/Made In Britain/Despicable Me/Spirited Away/Ponyo/A Clockwork Orange/Pinocchio.
GO READ THIS BOOK: Porno/Glue by Irvine Welsh. Anything by William Burroughs.
GREAT LOST BAND/ARTIST: 10,000 Things.
WOULDN'T BE CAUGHT DEAD SUPPORTING: Shorts, sandals, snapback (SSS)
LONDON, L.A OR LEEDS?
Leeds. It's compact and cool, not too many hipsters walking about the place, good mod scene… 'mod' rather. I suppose all the well-known cities have their own thing going on, and that's fine. Leeds just feels like home, whereas London feels like it's always on fast-forward and LA is still hooked on having the best tan and a dog that can do somersaults. London's not a city, it's another planet. LA is pretty much one big gym isn't it. Everyone has really tight leather pants, oily skin, sinister white teeth and a slight weight problem. Nightmarish? Dogs roller-skating and people doing yoga on the beach at six in the morning. Not my thing. Be good to record there. Maybe go for two weeks and see if the sunshine works with the music. Sign us.
AND FINALLY … AS YOU LEAVE THE STAGE, WHAT ARE YOUR PARTING WORDS.
Biff, Bang, POW.
For more info visit: twitter.com/thechessmenuk