Introducing: Jumbo Chords
Tuneful indie melancholy, from Leeds…
YOUR NAME: Andy.
BAND NAME: Jumbo Chords.
WHAT DO YOU DO/PLAY? Sing / Guitar / Organ.
HOW LONG HAVE YOU BEEN TOGETHER AS A BAND/PLAYING MUSIC? 3 years – kind of formed around lockdown.
GIVE US 3 REASONS WHY WE SHOULD TRACK DOWN, LISTEN AND DISCOVER YOUR MUSIC?
We are quite a classic indie rock band and we are musically interesting – we care about making great songs that have melody, harmonies, lyrics, interesting arrangements.
WHERE DO YOU SOUND BEST – FESTIVAL, CLUB, BEDROOM – OR SOMEWHERE ELSE?
We enjoy playing at Northern Guitars where we always get a great sound. We tend to struggle at crap venues where the PA system is just turned up to ELEVEN!
WHAT WAS YOUR FIRST…
RECORD? It was an embarrassing Paul McCartney single in the 80s. I was already a Beatles fan as I inherited all my parents' vinyl and I was probably the youngest Beatles fan in my village (Garforth).
CD? Strangeways Here We Come by The Smiths –It sounded so good! It was mesmerising that first CD.
DOWNLOAD? I can't remember – downloads are not usually memorable and I have kept a lot of vinyl and CDs despite having downloads.
SO, WHEN IT ALL GOES RIGHT AND YOU'VE GOT A HUGE QUEUE OF HANGERS-ON AND A RIDICULOUS MANSION, WHAT WILL BE YOUR BIGGEST INDULGENCE, MUSICAL OR OTHERWISE?
I will buy a house next door to a stepsister I dislike and just pay friends have noisy parties there.
SO, WHEN IT ALL GOES WRONG AND YOU'VE ACRIMONIOUSLY BROKEN UP CITING HUGE MUSICAL DIFFERENCES, WHAT DO YOU FALL BACK ON?
I've started a pirate novel.
CITE SOME INTER-BAND MUSICAL DIFFERENCES…
The band all have eclectic tastes, for example northern soul, but I kind of hate most music apart from quite mainstream rock and roll in its various forms. I can't get enthusiastic about a simple groove or predictable songs and most songs become very predictable very quickly. Also I hate clichéd lyrics.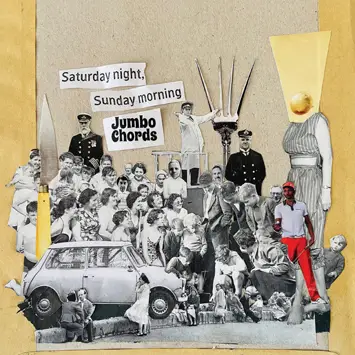 WHO ARE YORKSHIRE'S FINEST IN CULTURE, SPORT AND MUSIC?
Culture – Ted Hughes.
Sport – Jessica Ennis-Hill.
MUSIC – Pulp.
NAME YOUR SUPERGROUP – WHO'S PLAYING WHAT, WHO'S ON VOCALS AND WHO'S YOUR BEZ?
Hmmm, I would have Bjork and Thom Yorke on vocals, Johnny Marr on guitar, Gilmore Grayson (NZ) on piano, Mani from Stone Roses on bass, Ross Jarman from The Cribs on Drums. Jarvis Cocker would be Bez.
GO SEE THIS FILM: Everything, Everywhere, All At Once.
GO READ THIS BOOK: Literature and the Gods by Roberto Calasso.
GREAT LOST BAND/ARTIST: Lost? – Elliott Smith or John Lennon.
WOULDN'T BE CAUGHT DEAD SUPPORTING: I'd support anyone – even Ed Sheeran. We want new listeners.
LONDON, L.A OR LEEDS?: LA – better weather and drug scene.
AND FINALLY… AS YOU LEAVE THE STAGE, WHAT ARE YOUR PARTING WORDS?
"You're all a bunch of f$%*ing slaves!"
For more info visit: jumbochords.com