Fear and Loathing in Las Vegas (1998) – Film Review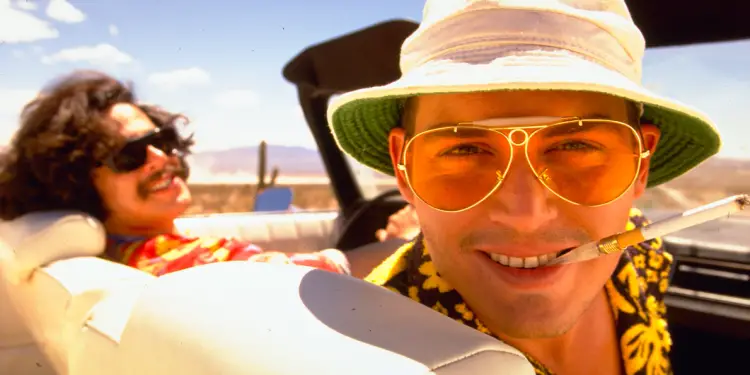 Director: Terry Gilliam
Cast: Johnny Depp, Benicio Del Toro, Tobey Maguire
Certificate: 18
By Sarah Morgan
Star Johnny Depp and director Terry Gilliam team up to make an adaptation of a much-admired novel – what could possibly go wrong?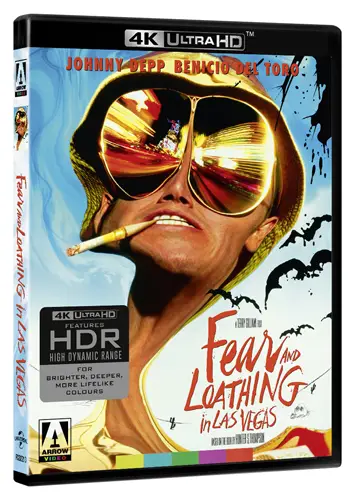 Well, lots as it transpired. The fruits of their labours, Fear and Loathing in Las Vegas, based on Hunter S Thompson's book of the same name, was not well received by some critics on its release, and despite being made on a shoestring budget, was a financial flop at the box office.
"Channelling the author"
Nevertheless, in the decades since, it's found an audience and is regarded as a cult classic – and now it's heading our way in a new 4K UHD edition, which makes it look even better than ever.
And that's some compliment because, as cineasts will already be aware, if there's one thing that binds Gilliam's films together – from the very best to the worst – it's their strong visual style.
That's at the very forefront of Fear and Loathing too, and I suspect that being forced to deal with a relatively meagre budget worked in his favour – his trademark flights of fancy can be seen, but they're perhaps more inventive and therefore more interesting to the senses.
It feels as if Depp, who befriended Thompson while researching the role, is almost channelling the author, the founder of gonzo journalism, in which the writer becomes the centre of the story rather than viewing it objectively.
Fear and Loathing in Las Vegas, originally serialised in Rolling Stone magazine in 1971, remains Thompson's best-known work. It charts a trip to the titular city made by journalist Raoul Duke and his attorney, Doctor Gonzo. Fuelled by various drug concoctions, they're going in search of the American dream, but end up ruminating on the failure of the 1960s counterculture revolution.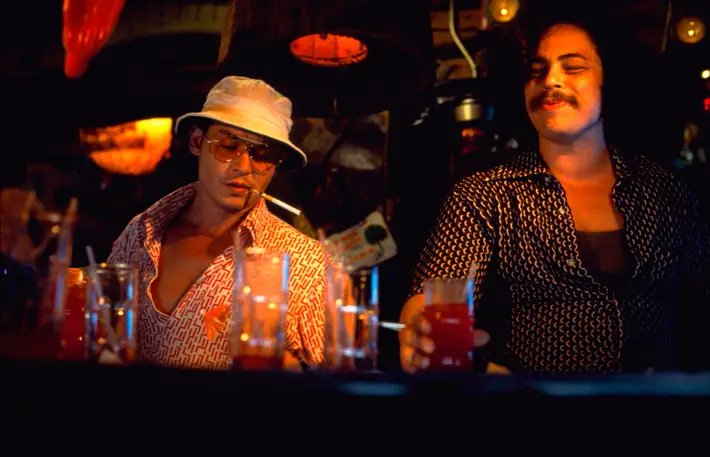 "Deserves the reappraisal"
The story was inspired by two visits to Las Vegas made by Thompson and his friend, lawyer and activist Oscar Acosta. Benecio del Toro delivers the performance of his career as Gonzo/Acosta – he can also be seen in a new interview among the special features, during which he describes how proud he is of the film.
He's right to feel that pride too – although many critics failed to get their heads around it, the film is one of Gilliam's best and deserves the reappraisal it's received. It's true it does have its confusing moments and the pace is so frantic you can hardly draw breath, but if that wasn't the case, it wouldn't capture the spirit of the novel, or the feelings of two main protagonists who are as high as kites throughout. Thompson apparently loved it, and you can't receive higher praise than that.
The disc is also packed with special features, including some revealing chats with those involved with making the film; as well as del Toro there are revealing discussions with producer Lisa Nabulsi, as well as other members of the crew whose stories are almost as enthralling as the movie itself.
4K ULTRA HD BLU-RAY LIMITED EDITION CONTENTS:
• 4K restoration by Arrow Films from the original negative supervised by Terry Gilliam
• 4K (2160p) UHD Blu-rayTM presentation in Dolby Vision (HDR10 compatible)
• Original 5.1 & 2.0 DTS-HD Master Audio
• Optional subtitles for the deaf and hard of hearing
• New commentary by Terry Gilliam, moderated by Phil Stubbs
• Savage: Finding The American Nightmare, an appreciation by film historian Ian Christie
• The Gonzo Papers, an interview with producer Laila Nabulsi
• Grim Memories & Bad Flashbacks, an interview with star Benicio del Toro
• Ignore This Terrible Drug: The Art and Style of Fear and Loathing in Las Vegas, a featurette including interviews with cinematographer Nicola Pecorini, production designer Alex McDowall, costume designer Julie Weiss and editor Lesley Walker
• Four deleted scenes with new optional commentary by Gilliam, including the excised prologue A Dress Pattern
• Spotlight on Location, an original promotional featurette featuring interviews with Gilliam, Depp and del Toro
• Behind the scenes 'B-roll' footage and additional EPK interviews with Gilliam, Depp and del Toro
• Theatrical trailers and TV spots
• Extensive image galleries, including original production designs, storyboards and production stills
• Extensive image galleries
• Limited Edition slipcover featuring Ralph Steadman's classic illustration Bats Over Barstow
• Illustrated collector's booklet featuring writing on the film by Andrew Keen
Fear and Loathing in Las Vegas is released on 4k by Arrow, £29.99