Waiting for the Barbarians (2019) – Film Review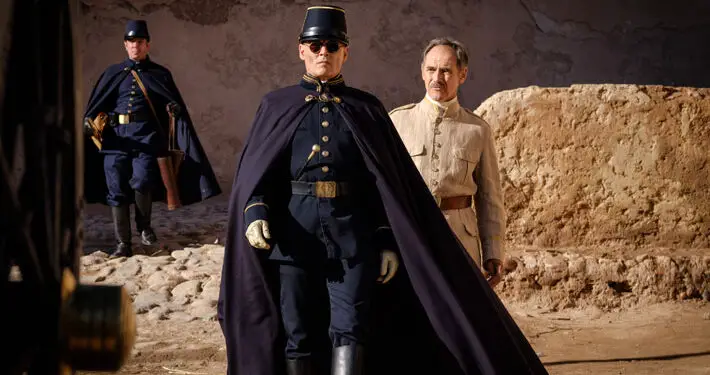 Director: Ciro Guerra
Cast: Mark Rylance, Johnny Depp, Robert Pattinson
Certificate: 15
by Roger Crow / @RogerCrow
Ah 2020. A time when many big screen epics were denied a release, so lavish offerings pop up on download and feel like second hand cars left on the forecourt.
I knew nothing of this period drama, but when a film has Mark Rylance in it, I'm sold. His turn in Bridge of Spies was one of my favourites of the past decade, so watching him in this is a joy.
Equally mesmerising is Johnny Depp as Joll, a shady official whose steampunk shades hide all manner of sins. His minimalist performance, with maximum creepiness is compelling from the off, and the whole thing looks incredible thanks to Chris Menges. The cinematographer who honed his craft on The Empire Strikes Back, before winning acclaim with The Killing Fields and The Mission, ensures every frame looks amazing.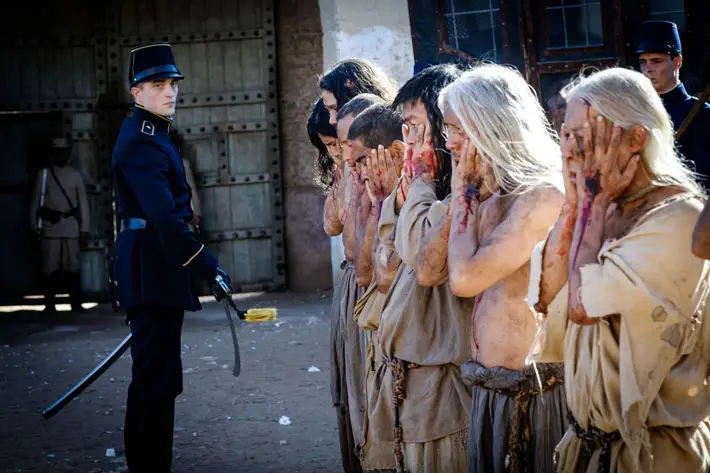 "Slow burner"
We also have Robert Pattinson giving a fine turn, and the story is pretty interesting. It centres on the Magistrate (Rylance), administrator of an isolated frontier settlement on the border of an unnamed empire. He looks forward to an easy retirement until the arrival of Colonel Joll, whose task it is to report on the activities of the 'barbarians' and on the security situation on the border.
Joll conducts a series of ruthless interrogations. The treatment of the 'barbarians' at the hands of the Colonel and the torture of a young 'barbarian' woman combine to lead the Magistrate to a crisis of conscience and a quixotic act of rebellion.
It's such a slow burner, I grew pretty impatient half way through. However, the cast, as mentioned, are fabulous, and the textures are so vivid, whether it's the costumes or the sets, that it feels like you become part of that world.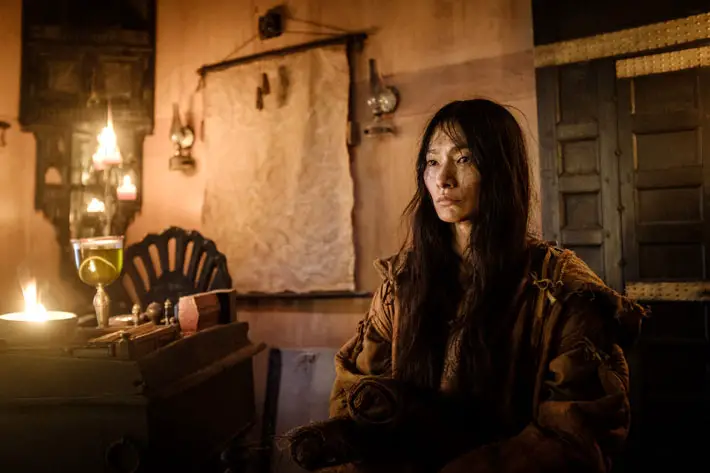 "Glorious misfire"
I like films that take their time, but this feels like it's going nowhere slowly. Yes, the study of compassion is touching, and one speech in Pulp Fiction will pop into your head as the seasoned hero tends to a woman's wounds.
Well worth at least one look, preferably on a huge screen. Just a shame Depp's shades weren't available as this summer's must-have merch. He'd probably shift more of those than he would of his pretentious Sauvage. And when you think more about peripheral stuff like that than you do of the film, safe to say WFTB is a glorious misfire. A very high quality offering, but watch Paths of Glory to see a finer take on a similar story.
Waiting for the Barbarians is on Digital Download from 7th September