Time Bandits (1981) – Film Review
Director: Terry Gilliam
Cast: Sean Connery, Shelley Duvall, John Cleese
Certificate: PG
By Sarah Morgan
Here's a scary fact for you – Craig Warnock, who played Kevin, the little boy at the centre of Time Bandits, is now 53 years of age.
Unlike Craig, the film he starred in remains timeless (no pun intended). It looks as fresh as it did to me when I first saw it on video back in the early 1980s. Perhaps that's due in part to the fact I've just watched it in Ultra HD, but it's mostly because it's still a wonderful film whose lo-fi special effects and wonderful plot still stand up today.
The story came from director Terry Gilliam, who asked his Monty Python co-member Michael Palin to work on the script with him; during an interview among the special features, Gilliam admits that although it was he who came up with the bare bones of the story, it was 'Mike' who added the details and characterisation that really make it click.
"A naturalness"
Palin and another Python, John Cleese, also appear in the film, but it's Warnock and a group of dwarf actors who take centre stage.
The dwarves are, of course, the Time Bandits of the title, a group of thieves travelling through time, plundering treasure wherever they go, and taking Kevin along with them for the ride.
Incredibly, Warnock, who hadn't much in the way of acting experience beforehand, spent his first day on set in Morocco sharing scenes with Sean Connery as King Agamemnon – what a way to start your working life! Connery was the original choice for the role, but nobody expected him to do it for so little money, and yet he agreed (he reportedly received a share of the profits too).
Although I'm a James Bond fan, I think this is my favourite performance from the Scottish superstar; there's a naturalness about his approach to the character that you don't often see.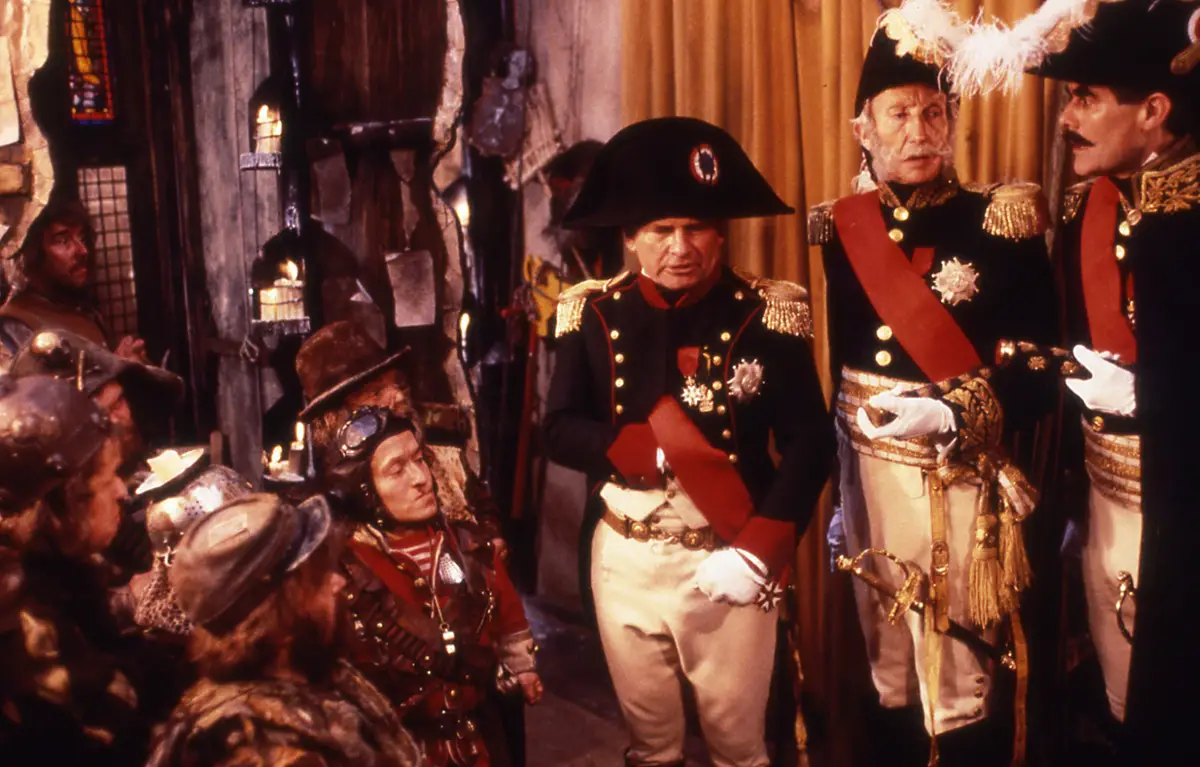 "Inexplicably ferocious"
Other adventures see Kevin and co come face-to-face with Napoleon, Robin Hood, Evil and the Supreme Being, all played by wonderful actors – Ian Holm, the aforementioned Cleese, David Warner and Ralph Richardson respectively – all at the peak of their powers. Warner and Richardson are particularly delightful; I don't think I will ever tire of seeing them in action. The critic Kenneth Tynan once described Richardson as godlike, "should you imagine the Almighty to be a whimsical, enigmatic magician, capable of fearful blunders, sometimes inexplicably ferocious, at other times dazzling in his innocence and benignity." Perhaps Gilliam was aware of this when casting him, because it's those qualities he brings to his performance.
Look out too for Peter Vaughan, Shelley Duvall, Katherine Helmond, Jim Broadbent and David Daker in supporting roles.
I have a two-year-old niece and another due imminently. I can't wait for them to be old enough to see the film; even in 10 years or so, I imagine the Time Bandits will still keep children of all ages – and the young at heart – entertained and enthralled.
Apple TV+ have made a series inspired by the film and created by Taika Waititi, Jermaine Clement and Iain Morris. It will be interesting to see whether it can capture the original's spirit.
4K ULTRA HD BLU-RAY LIMITED EDITION CONTENTS:
• 4K (2160p) UHD Blu-rayTM presentation in Dolby Vision (HDR10 compatible)
• Original uncompressed Stereo 2.0 PCM and 5.1 DTS-HD Master Audio options
• Optional English subtitles for the deaf and hard of hearing
• Chasing Time Bandits – an interview with Terry Gilliam
• Writing the Film that Dares Not Speak Its Name – an interview in which Michael Palin discusses co-writing and acting in Time Bandits
• The Effects of Time Bandits – an interview in which Kent Houston, founder of the Peerless Camera Company, discusses Time Bandits' optical effects
• Playing Evil – an interview in which actor David Warner remembers producer George Harrison and playing Evil in Time Bandits
• The Costumes of Time Bandits – an interview with costume designer James Acheson
• The Look of Time Bandits – an interview with production designer Milly Burns
• From Script to Screen – an animated featurette in which Milly Burns takes us through her production notebooks, location photographs and storyboards revealing how twentieth century Morocco was transformed into ancient Greece
• Original Trailerv • Double-sided fold-out poster featuring original theatrical artwork and a recreation of the map seen in the film
• Illustrated collector's booklet featuring writing on the film by critic James Oliver
Time Bandits
is released on4k Ultra HD Blu-ray by
Arrow
, £29.99