Long Day's Journey Into Night (1962) – Film Review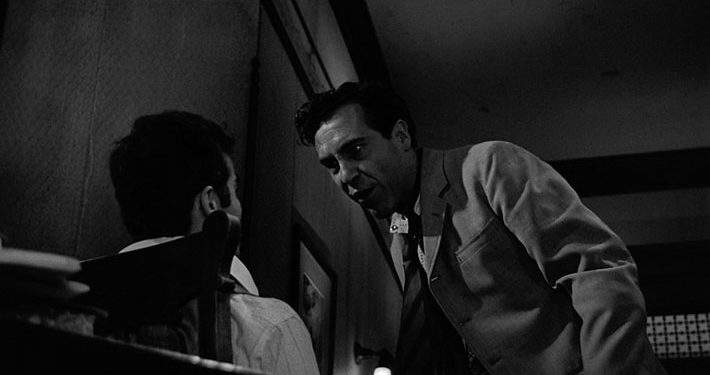 Director: Sidney Lumet
Cast: Katharine Hepburn, Ralph Richardson, Jason Robards Jr
Certificate: PG
by Sarah Morgan
Eugene O'Neill's much-admired, Pulitzer Prize-winning semi-autobiographical play was written in the early 1940s but not performed until three years after his death; it premiered on Broadway in November 1956, eventually winning the Tony Award for Best Play.
Sidney Lumet had already directed a version of O'Neill's The Iceman Cometh for US TV when he was invited to turn Long Day's Journey Into Night into a film. He assembled a cast to die for – Ralph Richardson, Katharine Hepburn, Jason Robards Jr (who appeared in the original Broadway production) and Dean Stockwell.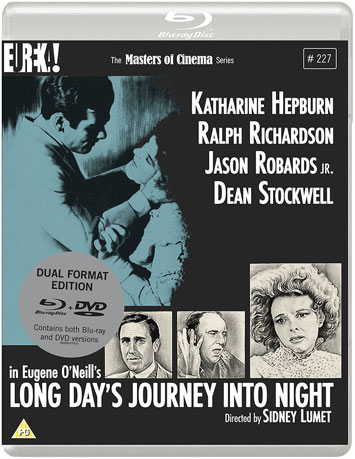 They play members of the dysfunctional Tyrone family, headed by James Sr, a successful actor ridiculed for his miserliness by his sons, fellow thespian and alcoholic womaniser James Jr and the desperately ill Edmund, who is about to be confined to a sanatorium with TB.
"Slightly unhinged"
All three Tyrone men are horrified and concerned by the mental state of matriarch Mary, a once famous beauty now struggling with morphine addiction.
The story takes place over the course of one emotional day in August 1912 at the family's seaside Connecticut home, where various recriminations and resentments rise to the surface between  midnight and the early hours of the morning.
The film was released in 1962, when Richardson and Hepburn were acting powerhouses. The latter once criticised Meryl Streep's skills, calling her "my least favourite modern actress," claiming she could see the wheels turning inside her head. I felt a little like that about Hepburn's performance here; it's far too mannered and doesn't appear realistic, as if she hasn't researched the role, preferring to use her imagination. As a result, Mary is basically a slightly unhinged version of Hepburn, complete with little ticks and mannerisms familiar from many other performances.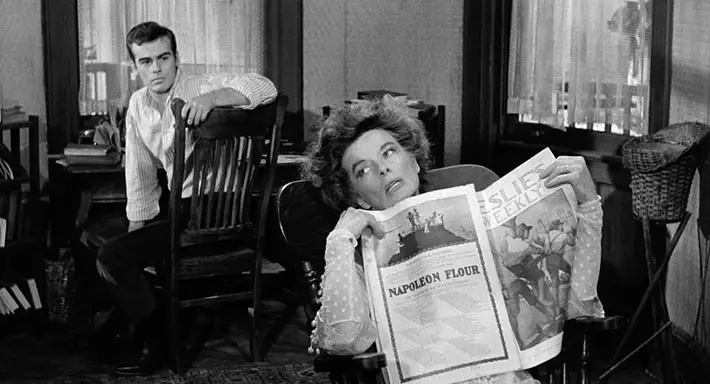 "Superbly delivered"
Richardson, on the other hand, is simply brilliant. Tyrone Sr is far from perfect, but in Richardson's hands, he's somehow the most sympathetic member of the family, a rounded, real person in need of love and consideration as much as the rest of them. All the principal members of the cast won awards at Cannes following the film's release; only Hepburn didn't deserve one.
The movie itself is compelling; it never feels as if it's outstaying its welcome, despite being almost three hours in length. The ending is superbly delivered, a claustrophobic rendering of a family you sense will always be trapped together.
Special features include a video essay from Lee Gambin, who delivers it at such a breakneck speed that it's almost impossible to follow. A shame, because he probably makes some fascinating points about the production.
1080p presentation of the film on Blu-ray, from a high-definition digital transfer
Progressive encode on DVD
Optional English subtitles
Brand new feature-length audio commentary by author Scott Harrison
Brand new and exclusive video essay by Lee Gambin
Trailer
PLUS: a collector's booklet featuring new writing on the film by Alexandra Heller-Nicholas and Philip Kemp
Long Day's Journey Into Night is released on Blu-ray bu Eureka, £19.99