The African Queen (1951) – Film Review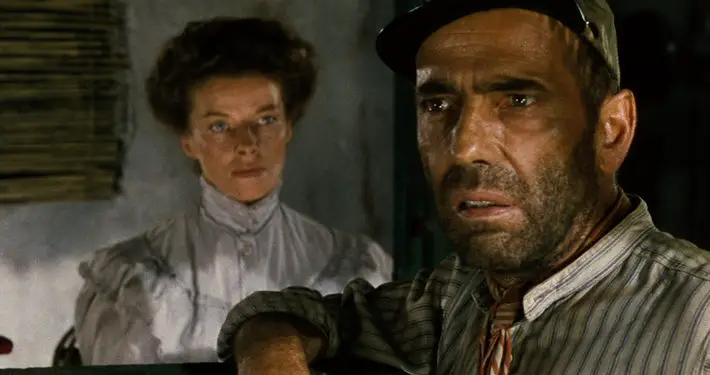 Director: John Huston
Cast: Humphrey Bogart, Katharine Hepburn, Robert Morley
Certificate: PG
by Sarah Morgan
It's a legendary movie, books have been written about its production and Clint Eastwood directed White Hunter, Black Heart, a movie inspired by the location shoot. But none of them are as entertaining and joy-inducing as the film itself.
Based on the novel by CS Forrester, it tells the story of Rose Sayer, a missionary's sister, and Charlie Allnut, a grisly Canadian mechanic. Although both are somewhat cast adrift in Africa, they appear to be chalk and cheese – she's a prim and proper teetoller, while he's hard-drinking and coarse.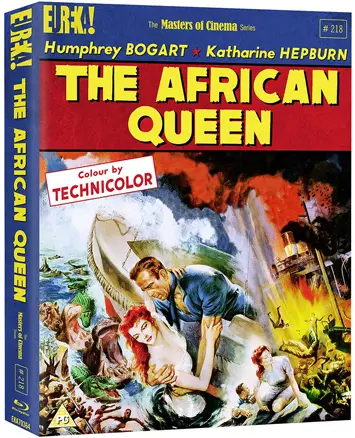 However, they're thrown together by circumstance – as the First World War breaks out, Germans raid the village where Rose lives. Her brother is so shocked by this turn of events, he loses his mind and eventually dies. Charlie, who previously had merely been tolerated by the Sayers, becomes her unlikely saviour, just as it seems she has been forsaken by her God.
"Against type"
He offers to take her to safety on his boat, The African Queen, but Rose has other ideas – she wants to use the dilapidated steam-driven vessel to strike back against the Germans. Charlie reluctantly agrees, and they set off to travel down a river to a lake where they hope to sink an enemy ship – if they don't fall foul of rapids, crocodiles and other soldiers lurking on the shore.
Along the way, the couple realise they are falling in love, and their passion for each other drives them on.
Humphrey Bogart won his only Oscar for his performance as Charlie, and deservedly so. So critics have since suggested that he was lucky, and that one of his competitors on the night – Marlon Brando, Montgomery Clift, Arthur Kennedy and Fredric March – should have picked up the famous golden figurine instead. However, Bogart plays completely against type here and displays a rather wonderful gift for comedy.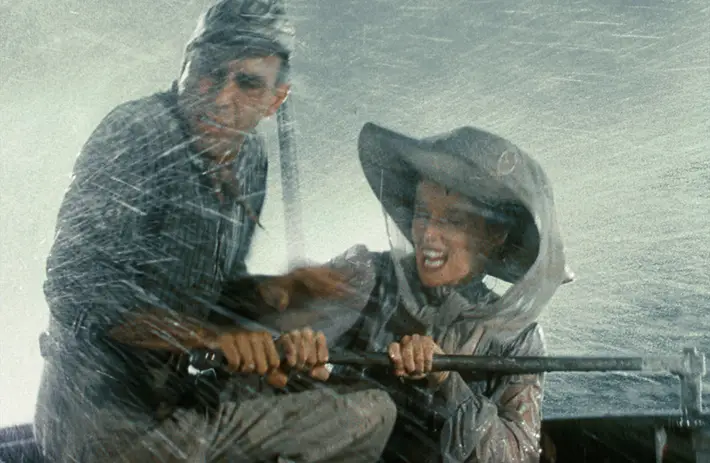 "Wonderful partnership"
He also forms a wonderful partnership with Katharine Hepburn as Rose, who suddenly develops a sense of adventure that transforms her life.
John Huston directed with his customary skill, while legendary cinematographer Jack Cardiff is at the top of his game here. Okay, so sometimes it's obvious that certain scenes are shot in a water tank in a London studio rather than on location in Africa, but who cares when the film as a whole is as entertaining as this?
Special features include video essays by critics Neil Sinyard and Kim Newman, and a making-of documentary.
Hardbound Slipcase
PLUS: A LIMITED EDITION 60-PAGE Perfect Bound Collector's book featuring new and archival writing on the film
Presented in 1080p from Paramount's 4K restoration
Optional English subtitles for the deaf and hard-of-hearing
Uncompressed LPCM audio (original mono)
Isolated Music & Effects track
Audio Commentary by cinematographer Jack Cardiff
A brand new and exclusive interview with film critic and writer Kim Newman
Newly filmed interview with film historian Neil Sinyard
Embracing Chaos: Making The African Queen [59 mins] – a comprehensive documentary about the making of the film
Trailer
The African Queen is released on Blu-ray by Eureka, £25.99