DIY indie dance revival, from Hull…
YOUR NAME: Sam Campbell.
BAND NAME: RADARS.
WHAT DO YOU DO/PLAY?: Guitar.
HOW LONG HAVE YOU BEEN TOGETHER AS A BAND/PLAYING MUSIC?: RADARS has been going since mid-2019, but we've all been in various projects for the past few years.
GIVE US 3 REASONS WHY WE SHOULD TRACK DOWN, LISTEN AND DISCOVER YOUR MUSIC?:
1. We're always trying to keep making catchy indie-dance tracks which will be fun to listen to at home.
2. Our upcoming track 'Same Page' is our best yet!
3. We'd be really grateful to anyone who checks us out!
WHERE DO YOU SOUND BEST – FESTIVAL, CLUB, BEDROOM – OR SOMEWHERE ELSE?:
Glastonbury Main Stage obviously. Just kidding… For now it would be in a compact gig venue, but soon we'll look to expand our sound (and fan base).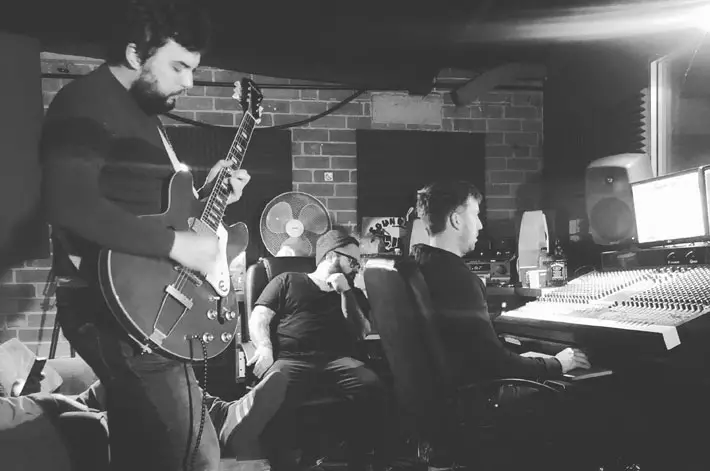 WHAT WAS YOUR FIRST…
RECORD?: The Beatles – Revolver. I had a big Beatles phase towards the end of school and decided to start collecting vinyl at the same time.
CD?: Green Day – American Idiot. An absolute classic that inspired me to start playing guitar.
DOWNLOAD?: Kings of Leon – 'Red Morning Light'. The first Limewire download I remember after I first heard it in the iconic FIFA 2004 opening video.
SO, WHEN IT ALL GOES RIGHT AND YOU'VE GOT A MANSION AND A SUPERMODEL GIRL/BOYFRIEND, WHAT WILL BE YOUR BIGGEST MUSICAL INDULGENCE?:
Depending on how rich I am, the minimum would be a 1959 Fender Jazzmaster, or I'd go wild and just build a studio in my mansion like Jay-Z.
SO, WHEN IT ALL GOES WRONG AND YOU'VE ACRIMONIOUSLY BROKEN UP CITING HUGE MUSICAL DIFFERENCES, WHAT DO YOU FALL BACK ON?:
Celebrity Big Brother or I'm a Celebrity Get Me Out Of Here would be my first choices.
CITE SOME INTER-BAND MUSICAL DIFFERENCES…
I think that we all have pretty different ideas on how the band would sound, for example, I love emo music, Joe is into blues-rock, Dave wants to write an acoustic album, Jack loves Foo Fighters, and Calvin is into all sort of alternative stuff. But we somehow combine it into a working indie-rock band.
WHO ARE YORKSHIRE'S FINEST IN CULTURE, SPORT AND MUSIC?
Easily the Chuckle Brothers, Dean Windass and Chumbawamba.
NAME YOUR SUPERGROUP – WHO'S PLAYING WHAT, WHO'S ON VOCALS AND WHO'S YOUR BEZ?
Drums – Sam Becht (Remo Drive).
Bass – Olugbenga Adelekan (Metronomy).
Guitar – Dylan Mattheisen (Tiny Moving Parts).
Guitar – Joe Reinhart (Algernon Cadwallader and Hop Along).
Vocals – Gareth David (Los Campesinos).
Bez – Barry Scott.
GO SEE THIS FILM: Fired Up. It looks like it'll be terrible but it's actually hilarious.
GO READ THIS BOOK: How Football (Nearly) Came Home, Adventures in Putin's World Cup – Barney Ronay. In case you want to feel sad about the 2018 World Cup again.
GREAT LOST BAND/ARTIST: Test Icicles. Great but short lived band before Dev Hynes went onto big things. RIP Sam Mehran.
WOULDN'T BE CAUGHT DEAD SUPPORTING: Leeds United. We all support teams in the band, but we're all unified in hating Leeds.
LONDON, L.A OR LEEDS?: London. Again, sorry Leeds.
AND FINALLY… AS YOU LEAVE THE STAGE, WHAT ARE YOUR PARTING WORDS?:
I'll leave all microphone duties to Jack, so I hope he'll have something pithy or charming to say.
RADARS' new single, 'Same Page' is released on April 10
For more info visit radarsband.com