Comes a Horseman (1978) – Film Review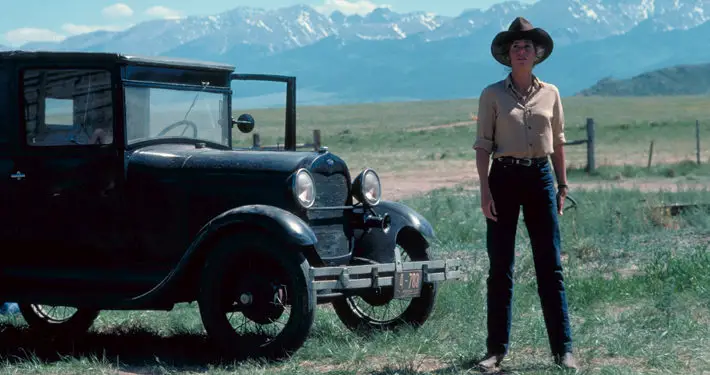 Director: Alan J. Pakula
Cast: James Caan, Jane Fonda, Jason Robards
Certificate: 15
by Sarah Morgan
The 1970s were an extraordinary time for American cinema. This was the era when independent film really took off, the summer blockbuster was in its infancy and intelligent storytelling was valued above special effects.
Two people at the very centre of it all were actor Jane Fonda and director Alan J Pakula. They teamed up in 1971 for Klute, for which Fonda won her first Oscar; it was the first of Pakula's so-called 'paranoia trilogy' which also includes The Parallax View and All the President's Men.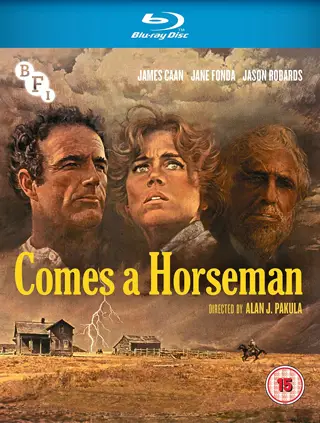 In between campaigning against the Vietnam war, Fonda made Julia, Coming Home, California Suite and The China Syndrome during an extraordinary three-year spell.
Comes A Horseman, perhaps the least celebrated of her films from this period, was also produced within that creative burst; it deserves to be far better known.
"Make ends meet"
Pakula is in charge again, delivering a compelling and unusual western set not during the 19th century, but in the mid-1940s, just as the Second World War is coming to an end.
Fonda plays Ella Connors, a strong, single-minded rancher determined to keep her land despite the attentions of local bigwig JW Ewing, who wants nothing more than to own the entire valley he can see from the windows of his impressive home.
She receives assistance from ageing ranch hand Dodger and, somewhat reluctantly, from fellow rancher Buck, a war veteran who, like Ella, is struggling to make ends meet.
JW may be a bully, but an oilman has designs on his property and thinks he has the tools to outsmart him – but as he, Ella and Buck are about to discover, JW will stop at nothing to preserve his legacy.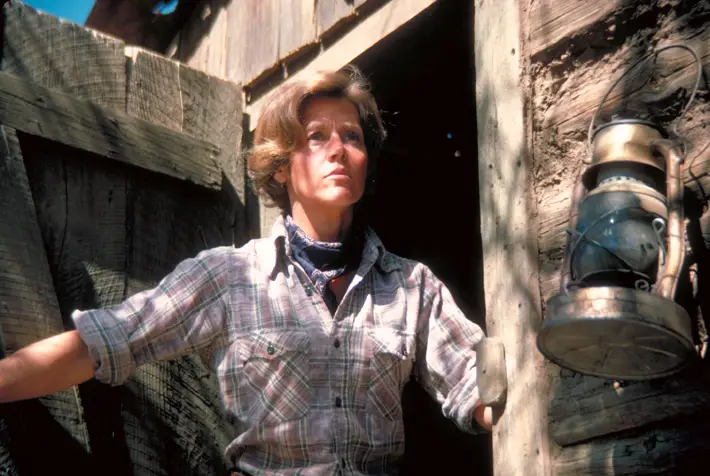 "Great extra features"
Joining Fonda in the cast are Jason Robards, who delivers a suitably moody performance as JW; he and Fonda had recently worked together on Julia. James Caan is unusually quiet and subtle as Buck.
But stealing the show from them all is Richard Farnsworth, the stuntman-turned-actor who received a Best Supporting Actor Oscar nomination for his performance as Dodger; he wouldn't get as meaty a role again until David Lynch cast him in the delightful Straight Story 21 years later.
Look out too for Jim Davis, who had previously worked with Pakula on The Parallax View and was about to become famous for his role mega-soap Dallas – in which he played a Ewing rather than a man working for one, as he does here.
The disc is packed with great extra features, including an interview with Fonda recorded last year. It's a shame host Samira Ahmed's research isn't too clever, but nevertheless, the star offers some amazing insights into her career.
Special features:
Newly commissioned feature-length audio commentary by novelist and scriptwriter Scott Harrison
The Guardian Interview: Alan J Pakula (1986, 95 mins, audio): the director in conversation with Quentin Falk, recorded at the National Film Theatre in 1986
Isolated music track
Jane Fonda in Conversation (2018, 71 mins): interviewed by Samira Ahmed at BFI Southbank in October 2018
Original theatrical trailer
Image gallery
Hereford Pedigree Cattle (1937, Mary Field, 10 mins): a subtly charming portrait of agricultural life in the west of England, featuring some fine pedigree cattle
The Grassy Shires (1944, Ralph Keene, 15 mins): a Ministry of Information film showing how cattle and dairy farms of the Midlands adapt to meet the demands of war
Illustrated booklet with new writing by Peter Tonguette, Brad Stevens and Peter Kramer and full film credits (NB. first pressing only)
'Comes a Horseman' is released on Blu-ray by BFI, £19.99