The Elephant Man (1980) – Film Review
Director: David Lynch
Cast: Anthony Hopkins, John Hurt, Anne Bancroft
Certificate: PG
By Sarah Morgan
Forget Citizen Kane, Vertigo, Battleship Potemkin, 2001: A Space Odyssey and all those other titles that regularly feature at the top of polls to find the greatest film of all time. As fine as they are, I wouldn't swap any of them for The Elephant Man.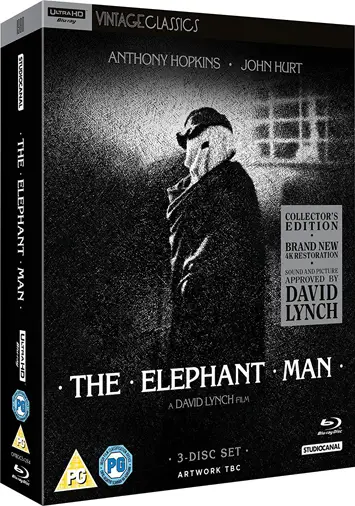 Quite simply, it's the best movie I've ever seen, my all-time favourite and one that I can watch repeatedly – it never fails to move me, and I can't imagine ever growing tired of it. So, despite already having two DVD copies of the film (one a UK release, the other American), when the opportunity to take a look at it on Blu-ray, I couldn't resist.
"Triumph of the human spirit"
What seems incredible to me is that The Elephant Man was only David Lynch's second feature-length project after the undeniably strange Eraserhead – it's such an assured, skilled piece of work. But that's not the only incredible fact about the film – despite his lack of experience, Lynch was given the thumbs-up to make it by Mel Brooks, whose company backed the production.
Brooks did, however, keep his name out of the opening credits to ensure that nobody would go to see it expecting a comedy.
There certainly aren't many laughs – if any – in the true-life tale of John Merrick, a Victorian sideshow performer notable for the disfiguring growths covering most of his body. Dubbed The Elephant Man, Merrick – at least in Lynch's version of the tale – is treated abominably by Bytes, his 'owner', but after various ups and downs, finds peace and fulfilment at the London Hospital, where he's cared for by the surgeon who uncovered his plight, Frederick Treves, and a team of dedicated professionals.
I've occasionally argued with people about the film – many see it as a tragedy, and while it's undoubtedly a tear-jerker, for me, it's an uplifting tale about the triumph of the human spirit, and how one man overcame terrible misfortune to live and die on his own terms.
John Hurt received one of the film's eight Oscar nominations (it didn't win any) for his stunning, sensitive portrayal of Merrick, but the supporting cast is equally impressive, including Anthony Hopkins as Treves, Hannah Gordon as his wife, with the likes of Wendy Hiller, Michael Elphick, John Gielgud and even Pauline Quirke popping up in small roles.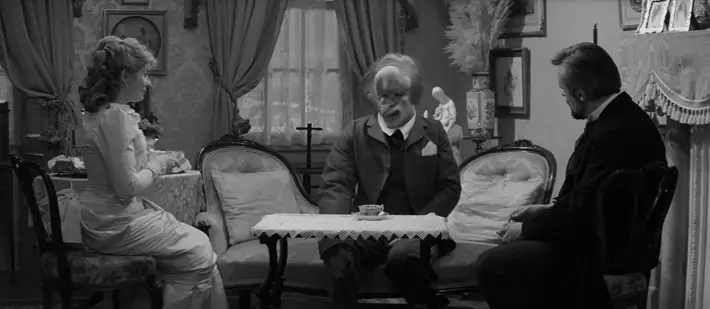 "Masterpiece"
But special mention must go to the unique talents of Freddie Jones, who almost steals the entire film as the vile Bytes (a young Dexter Fletcher plays his youthful sidekick). Lynch liked him so much, he later cast him in Dune, Wild at Heart and the short-lived sitcom On the Air.
StudioCanal Vintage Classics' restored version makes the film look better than ever. Freddie Francis' black and white photography is crisp and sharp, but retains the murky Victorian atmosphere he and Lynch worked hard to recreate on streets in London which have since been demolished and revamped.
There is also a plethora of special features to enjoy, including various interviews with Lynch and Hurt, which shed light on the production process – including the make-up ordeal the latter went through each day.
A masterpiece in every way, any opportunity to see the film should be grabbed, but this release delivers the best value for newcomers and connoisseurs alike.
EXTRAS:
● New BFI Q&A with Jonathan Sanger
● New Interview with stills photographer Frank Connor
● Interview with David Lynch
● Interview with John Hurt
● Mike Figgis interviews David Lynch
● The Air Is On Fire: Interview with David Lynch at Cartier Foundation
● Joseph Merrick, The Real Elephant Man
● The Terrible Elephant Man Revealed
● Behind The Scenes Stills Gallery
● English SDH
The Elephant Man is released on 4k Blu-ray by Vintage Classics by StudioCanal, £8.99