A Q&A with Truth & Tragedy
Post-hardcore quintet from Bamberg, Germany…
What's the title of your latest release, and what does it mean to you?
'Blood on Blood' is very close to our hearts because it centres around family. It explores the lightest and darkest aspects of family love, inspired by the happiest and most tragic events we have experienced – the birth of a son, and the attempted suicide of a brother.
What was the hardest part about putting this release together, and why?
This was actually one of our more straightforward releases to put together, simply because the theme was so focused! Freddy wanted to write a song for his new-born son Neo, and we came up with the idea to release the EP on Neo's first birthday in May this year, so we also had a definite timeline. So we wrote our track 'Neo', and Kai also wrote an amazing instrumental which we named 'Artery', and used it as an intro to set the tone of 'Blood on Blood'. The hardest track to put together was 'My Brother's Keeper', which is a hard-hitting message to a brother following his attempted suicide. Aaron already had some lyrics for this tucked away, which he had written some time ago – so when he was presented with the music for the track, it took a lot of reworking to get the lyrics to fit. He rewrote basically the whole song, but now when we listen to 'My Brother's Keeper', we can't imagine the song being any other way! But yeah, definitely the focus of this release made it the most straight-forward we've done, because its purpose cut out a lot of the usual indecision about what the theme is, which tracks to use, in which order, etc. We have a lot of tracks ready and waiting in the wings, so sometimes the hardest thing is deciding what to release and when!
Who produced the release – what did they bring to it?
Our guy Cotta produces all of our tracks, and he's a great guy to work with! He knows we like to keep a rawness to our tracks, and really preserves the organic, unproduced sound of our recordings. He also helped with the drums in our tracks for 'Blood on Blood', giving them more depth and a bigger sound. Besides that, he's also just a really nice dude!
What do you want the listener to take away from listening to your music?
Generally, our music is pretty raw and vulnerable, and deals with issues like alienation, substance abuse and PTSD, stemming from Aaron's own experiences serving in the US Army in Afghanistan – both during the war, and readjusting to civilian life afterwards. You can hear this in tracks like 'Helmand', 'The Depths' and 'Cope'. Aaron's really good at tackling these issues head-on, and we're humbled to hear that a lot of our fans can mrelate to these issues outside of a military context, and that our music has helped them in some way as they battle their own demons. Aside from this though, we like to have fun and experiment! We love turning our hand to other alternative genres such as hardrock and metalcore, with our particular favourite being pop-punk. All five of us remember being 15 and misunderstood, so our pop-punk-inspired tracks really have a nostalgic element to them which we love – and we hope our fans do too!
How does a track usually come together? Can you tell us something about the process?
We have a bit of an unusual set up when it comes to writing and recording, in that we're now a long-distance band! Our musicians all live in or around Bamberg, a small city in Bavaria, Germany – but Aaron now lives in County Durham, UK! With the exception of a few great tracks written by Kai, Freddy generally writes our music, and records the guitar parts, plus a basic score for the bass and drums. He's a great songwriter, and incorporates a lot of different moods and movements within the same track – so he really takes you on a journey with his writing! So while he, Kai, Vitali and Domi rehearse and record their parts, the basic score is sent to Aaron in the UK, where he writes and records his lyrics in his home studio. Once we've put everything together and made the necessary tweaks, we send all the stems to Cotta who polishes everything up. Then we start on the real donkey-work – album artwork, promo, merch, and setting a release schedule!
What bands/artists have influenced you the most since you started this project, and why?
We take a lot of inspiration in our music from bands like To Kill Achilles, Being As An Ocean and Casey – we love the vulnerability of their music and the rawness to their sound. Like in a lot of their music, we also defy the standard 'verse-chorus-verse' structure of songs, and prefer a more fluid, linear structure – almost like a poem. We're also huge fans of Bring Me The Horizon, because they've mastered every genre of metal they've turned their hand to, and aren't afraid to try out different styles. That's an attitude we've adopted at Truth & Tragedy – if we wake up one day and say hey, let's try writing a black-doom-pagan-slamcore number, you can bet we'll give it a go! (And if it's any good,you can bet you'll hear it too!)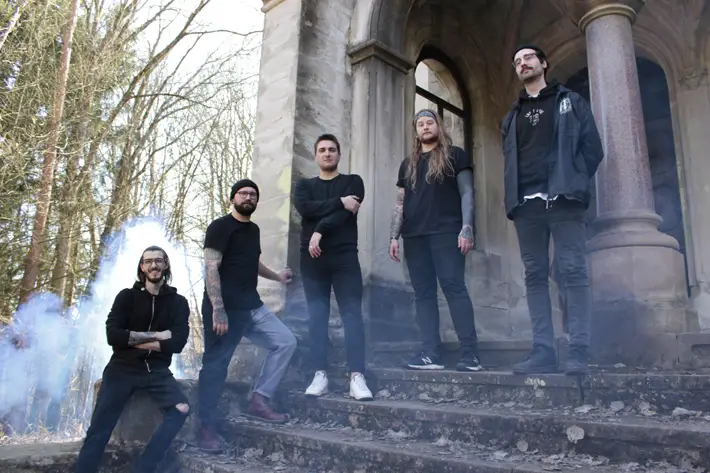 What countries would you like to tour? Are there any standout venues you'd like to play in?
We want to play anywhere and everywhere – which is exactly what we're doing in the next year! This September, we're setting off on our first EU Tour, with shows across Germany, Austria, Czech Republic, Hungary, Romania and Croatia, plus other shows in Italy and the Netherlands still to be announced! Then in February 2023, we'll be heading over the channel for our first ever UK Tour, and are already planning a second EU Tour shortly afterwards, aiming to pick up the EU countries we've missed this year! It's going to be a colourful mix of infamous stages and unknown underground clubs, and we can't wait to finally get on the road – keep an eye on our socials (@truth_and_tragedy) for announcements, and come hang out!
If you could pick one track for our readers to listen to in order to get a taste of your music, what would you pick and why?
Check out our new track 'My Brother's Keeper'! It encapsulates everything that Truth & Tragedy is about: raw, vulnerable and brutally from the heart.
What ambitions do you have for the band/your career?
Our dream is to tour as a band full time! Right now, we are investing as much time as we mcan to get on the road, but we all also have other life commitments, including jobs, whichm we rely on to make all this happen. We are still a young band (it's not even two years since we started!), so if we keep working at this pace, who knows what we can achieve in the years to come!
Finally, as you leave the stage, what are your parting words?
Just a big thank you for featuring us here at On: Magazine, and thanks to those who are reading this! If you want to support what we're doing, you can find Truth & Tragedy's music in all the usual spots, or you can head directly to truthandtragedy.com for all our latest music, videos, live dates and merch. And thank you, as always – it means a lot to us and helps us out hugely!
For more info visit: facebook.com/TruthandTragedy