Gregory's Girl (1980) – Film Review
Director: Bill Forsyth
Cast: John Gordon Sinclair, Dee Hepburn, Claire Grogan
Certificate: PG
By Sarah Morgan
It seems rather apt that a few weeks after England's Lionesses made it to the Women's World Cup final, Gregory's Girl is receiving a 4K Ultra HD release by the BFI. Actually, thinking about it, you'd imagine it would have hit shelves a wee bit sooner. Perhaps because it's set in Scotland, a team that didn't qualify for the competition, it was deemed insensitive to do so.
Whatever the reason, at least it's here now, although whether it needs such a high-quality restoration is a moot point – it isn't a special effects-laden tale that benefits from a sharper picture. Instead, the rough and ready nature of Bill Forsyth's movie actually adds something to it.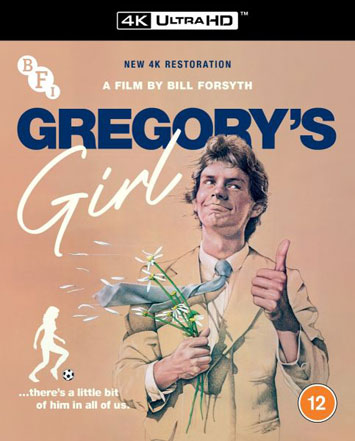 But I'm being picky. If the restoration persuades a new generation to watch it, then it can only be a good thing, because it really does deserve to continue being enjoyed by film-lovers.
"Somewhat quirky"
John Gordon Sinclair heads the cast as Gregory, a geeky, gangling, somewhat quirky teenager who, along with his hormone-enhanced friends, is developing an interest in the opposite sex. He and several of his pals also play football for the school's rather useless team, which is about to receive a major shake-up.
Coach Mr Menzies holds trials to find a new star striker, removing Gregory from the position and making him goalkeeper. What nobody expects is that a 'wee lassie' called Dorothy will replace him, dazzling Menzies and her prospective teammates with her fleet-footed skills. Gregory is instantly smitten and makes a play for her, in his typically haphazard manner. Initially she agrees to a date, but as he's about to find out, fate – and romance – have an odd way of working.
Although Gregory's journey is central to Gregory's Girl, it's the side-stories I always find most entertaining, such as his friends Andy and Charlie's efforts to hitch-hike to Caracas (a destination they can't spell) where they've heard that women outnumber men, and the sight of a child wandering the school corridors dressed as a penguin for no apparent reason.
"A delight to see"
Sinclair is perfectly cast as Gregory, while future pop star Clare Grogan displays early star quality as Susan, who holds a torch for his character. Dee Hepburn is fine as Dorothy, although her supposed amazing footballing skills are laughably bad – they even make Michael Caine's lacklustre efforts in Escape to Victory look good.
There are wonderful appearances by the likes of Jake D'Arcy, Chic Murray and Alex Norton too, although my particular favourite is Allison Forster, who plays Gregory's worldly 10-year-old sister Madeline; she's the real girl of the title and her chemistry with Sinclair is both touching and a delight to see.
As is often the case with BFI releases, the disc is packed with special features, including archive interviews with director Forsyth and a newly recorded audio commentary featuring supporting cast members Robert Buchanan, Douglas Sannachan and Caroline Guthrie.
Gregory's Girl may not be Forsyth's greatest achievement – that goes to the wondrous Local Hero – but it does remind us of what a fine filmmaker he is. What a shame his CV isn't longer.
Special features:
• UHD: 4K (2160p) UHD Blu-ray presentation in Dolby Vision (HDR10 compatible)
• Blu-ray: Newly restored and presented in High Definition
• Audio commentary with Bill Forsyth and Mark Kermode (2014)
• Newly recorded audio commentary with Robert Buchanan, Douglas Sannachan and Caroline Guthrie
• Gregory's Girl Q&A with John Gordon Sinclair, Clare Grogan and Dee Hepburn (2015, 30 mins): the stars of Gregory's Girl are interviewed on stage by Sue Harris to mark the film's 35th anniversary
• Bill Forsyth: The Early Years (2014, 21 mins): an archive interview with the director
• The Strathclyde Tapes: Bill Forsyth (1992, 38 mins): the writer and director discusses his career and film craft with an audience of schoolchildren in this rarely seen archive interview
• Clare Grogan: Gregory's Girl Memories (2014, 12 mins): an interview with the actor
• Soundtrack gallery (2023, 13 mins): alternative takes and unused music from Gregory's Girl, accompanied by a selection of stills from the BFI National Archive • Alternative US dialogue version
• US trailer
Gregory's Girl is released on UHD by the BFI, £19.99