Cork, Ireland – Travel Review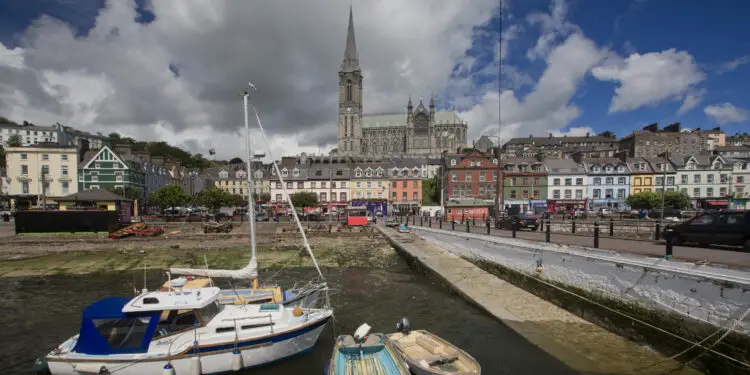 By Helen Johnston, May 2023
Don't take any notice of that episode of The Simpsons where they visit Ireland and kiss the Blarney Stone by simply kneeling in front of it.
I'm here to tell you that kissing the Blarney Stone involves hanging UPSIDE DOWN 85ft (26m) up a castle tower, clinging to two iron bars on the wall behind you. And if it sounds like you'd have to be a contortionist to achieve that position, you're right.
If it hadn't been for my fearless daughter making it look easy, I probably wouldn't have given it a go. But I decided I couldn't let it defeat me. So down I lay, chucked my head backwards, complained of feeling dizzy, puckered up to the stone, and was then hauled back up to sitting position by the two men whose job it is to make sure no one plunges earthwards.
I don't know about being granted the gift of eloquence, but I haven't stopped telling people of my amazing achievement ever since. Whether or not they're interested.
"Waiting for my wish"
This was my first visit to the Republic of Ireland, a land of myth and some might say tall tales. The legend of Blarney has it that the lord of the castle saved a witch from drowning and in return she promised that if he kissed the stone, his speech impediment would be corrected.
The stone is sanitised regularly post-Covid, and Paul from the castle said: "Strangely enough, since Covid it's more popular because people are reassured that it's being cleaned."
The witch is a recurring theme in the castle grounds, where there's a boulder said to resemble her face, and some stone wishing steps which, if you can walk down them with your eyes closed will make your wish come true. Apparently, it works better if you walk down them backwards, but it took me all my time to walk down forwards with my eyes closed. I also went back up for good measure. Still waiting for my wish to be granted.
We were lucky to be visiting Blarney Castle at the tail end of the Easter holidays, when the weather was mixed, and it was fairly quiet. We walked straight up to the castle and climbed the 128-step spiral staircase without any waiting time. We passed marker points on the path indicating a 60-minute wait and a 90-minute wait and when I asked about this in the café, we were told the long queues happen when a cruise ship is in.
"Knowledgeable tour guide"
Passengers get off the ship, on to a bus, are taken to the castle where they spend all their allotted time queuing before getting back on the bus. My advice, don't go on a cruise ship day.
The grounds, with a river running through, are lovely for a stroll and a picnic; there's a giant fern hollow in the woods, and a poison garden. It was fascinating to discover that rhubarb leaves are poisonous. Thank goodness the stems aren't because I'm partial to a bit of rhubarb crumble.
Blarney Castle is only a short drive from Cork, which is where we stayed. Known as the Rebel City, it featured prominently in the struggle for independence from Britain and this was highlighted on a Cork City Ramble led by our knowledgeable tour guide Noel Welch.
He pointed out the National Monument on Grand Parade which celebrates the rebellions of the 18th and 19th centuries in the 'Wars of Ireland' and the bid for sovereign independence. Ironically, it's not far from another monument remembering the Cork men who fell during the First World War, wearing British Army uniforms.
Politics and religion – the two things you're supposed to avoid in polite conversation – permeate Cork's history and indeed the rest of Ireland.
"Elements still of the French influence"
It's to my shame that I don't know more about the entwined history of our two countries. When Noel told us of the Protestant French Huguenots who sought refuge in Cork in the 18th century, I was puzzled about why they would come to a Catholic country. He reminded me that back then Ireland had a Protestant British government. "Oh yes, of course," I mumbled, trying to remember how long the British had been in charge.
There are elements still of the French influence, including the colourful Le Chateau Bar on St Patrick Street, known affectionately by the locals as the Chat and a popular meeting point. The city's only Wetherspoons also makes a nod to the past with its name of The Linen Weaver acknowledging the expertise of the French who lived and worked in the Paul Street area where it's located. There is even a Huguenot burial ground created in 1733.
Noel pointed out that Cork has also been a place of refuge for Lithuanian Jews and currently is sheltering 7,000 Ukrainian refugees. It's interesting to know that Ireland, which has seen so many of its people leave as economic migrants over the centuries, has also been a place for others to migrate to in times of adversity. Coincidentally, Cork woman Annie Moore, who set sail for America in 1891, achieved fame when she became the first immigrant to be processed at Ellis Island in New York City's harbour.
Noel is one of eight children, and four of his sisters emigrated to America. Despite his own desire as a young man to move to London and join the Met, his dad persuaded him to go for a job as a journalist on the Cork Echo, and he ended up working there for 42 years. As an entertainment reporter he became friends with Michael Flatley, of Riverdance fame, and was a guest at Flatley's wedding which was held in Cork and where he now owns a home and a stretch of river for salmon fishing.
"Lively feel"
There is a statue of an Echo Boy on St Patrick Street, where the evening Echo and morning Cork Examiner shared offices used to be. Shops now fill the space which once hummed with the noise of typewriters and presses printing thousands of copies a day to be sold on the street by the young boys, many of them barefoot. These days, with circulation numbers plummeting, the papers are printed outside the city and only one street seller remains, David Hogan, who has been doing the job for 44 years.
Cork city centre has suffered the same fate as so many towns and cities in recent years, as online shopping leads to the demise of many well-known stores. There is a disused Debenhams, and a To Let sign on the empty Savoy Cinema, it's Art Deco façade a symbol of past glories. The building where the red carpet used to be rolled out to welcome Hollywood stars to premieres, and where the Rolling Stones once played, is now being offered as a retail space.
Despite this, the city centre still has a lively feel to it, with plenty of people pounding the pavements which have the River Lee flowing beneath them. The main thoroughfare of St Patrick Street (nicknamed Pana by the locals) was designed by a Spaniard and is a clean, open pedestrianised space along the lines of Las Ramblas in Barcelona. Pavement cafes, first introduced during the pandemic, have remained and the Chat, for one, had plenty of people using its outdoor tables.
Apple has its European headquarters in Cork, attracted by low corporation tax, and employs around 7,000 people. Ireland probably has more claim to a special relationship with America than the UK, and Joe Biden's visit, which was happening at the same time we were there, was being reported very positively by the Irish media.
"Bird's eye view"
Some 23 US presidents claim Irish ancestry – no mean feat for a small country – and the first Irish Catholic president John F Kennedy was given a rapturous welcome when he visited Cork in 1963, just months before he was assassinated. He was made a Freeman of the city and Noel said: "It wasn't unusual to go into a Cork home back then and see two pictures hanging above the mantelpiece, one of the Pope and the other of JFK."
Cork is also known as the foodie capital of Ireland and the place is full of excellent eating establishments, with cosy cafes and pubs providing plenty of choice. The indoor English Market has a vast number of stalls selling everything from potatoes to poultry. There is also an astonishing array of herbs and spices, some of which I'd never heard of. Cat's Claw anyone?
The late Queen and Prince Philip visited the market on their historic tour of Ireland in 2011 – the first by a British Monarch in 100 years – and were presented with a Cork salmon from stall holder Pat O'Connell. In 2018 Charles and Camilla followed in their footsteps and also received presents. I wonder what the rebels would have made of that.
If you want a bird's eye view of the city it's worth walking uphill to the Shandon Bell Tower at St Anne's Church and then climbing the 135 steps up to the four clock faces, all telling a slightly different time and earning the tower the name of the four-faced liar. It was the largest four-faced clock tower in Europe until Big Ben was built in 1858. On the way up to admire the view, you can pause to play the eight bells, which is good fun. The ropes are numbered, and suggested tunes are on the wall, indicating which numbers to pull. My daughter played Somewhere Over the Rainbow and I did two rounds of Kumbaya. We were almost in tune as well.
"Striking"
St Anne's is a Protestant church and one of the oldest in Cork, built in 1722. Instead of having candles to light (which we did at the Catholic St Peter and St Paul's Church), visitors are invited to write a prayer request and add it to a board. It was full when we visited, probably an indication of how many people had been in the church over Easter.
Across the other side of the city is the 19th century Protestant St Fin Barre's Cathedral which was the first cathedral to be built in the British Isles since St Paul's in London. Work began in 1865 and finished in 1879. It was the first major commission for architect William Burges, who was 35 when he won the contract. He started with a £25,000 budget but, as is the way with building projects, quickly overspent, with an eventual bill of £100,000. Benefactors included the Duke of Devonshire and Earl of Carlisle, and the cathedral marked the formation of the Church of Ireland.
Enthusiastic cathedral guide Michael is a Catholic but doesn't let that stop him extolling the virtues of this striking church. He was particularly keen to point out the quirkiness of Burges, who was known for wearing 13th century clothing and was altogether a bit of a character. He had the foresight to have underfloor heating fitted, a blessing on a cold day, and included a sculpture of himself high up in the ceiling just inside the main door. From this lofty position in the heavens, he can look down on worshippers below, and his own handiwork.
In a painting high above the altar, Michael pointed out how God's face is partially obscured by a buttress. "When Burges was asked why that was, he said it was because God is there but often hard to see." On the outside a pillar by the main door has a blooming tree on one side, and a barren tree on the other, indicating birth and death. According to Protestant tradition, statues of Christ are not included, but Burges managed to sneak one in. Outside on the front wall is a depiction from the Bible of the bridegroom flanked by the wise and foolish virgins. "The bridegroom is Christ, so that was Burges's way of getting his statue in," said Michael.
"Moving collection"
He described the British rulers as "brilliantly vicious" in their treatment of Catholics. An example being that if a Catholic had six children and one of them converted to Protestantism, that one child would inherit all the parent's wealth. It would be interesting to know how many did.
The cathedral also boasts the largest organ in Ireland with 4,500 pipes. It's so big it goes down through the floor to the basement. The stained-glass windows also show the Burges touch. As you enter the church the stories they tell are read from one side to the other, rather than visitors walking down one side with their backs to the other side. Stained glass depictions were an important way for people to learn about Bible stories at a time when many were unable to read or write.
Works of art can also be seen for free at the Crawford Art Gallery in the city centre where the fig leaves on classical naked statues were finally removed in 2019. When the statues were first put on display in 1818 the fig leaves were added to protect people's sensibilities. Two hundred years later it was obviously felt the people of Cork could now cope with seeing the bits the leaves were covering up.
The gallery is named after its 19th century benefactor W. H. Crawford who was a brewer and also benefactor to St Fin Barre's Cathedral and Queen's College, the latter named after Queen Victoria but since re-named University College Cork. The gallery has more than 3,000 pieces, ranging from those statues to oil paintings and a video installation called The Power of Us. It's a moving collection of short video portraits of artists who work in Crawford Supported Studios and who show how important art is to express themselves.
"Natural harbour"
Cork's history also includes butter and yes, there's even a butter museum. County Cork is the largest and most southern county in Ireland and the lush green grass the cows munch on provides excellent quality butter. The Cork Butter Exchange was where farmers brought their firkins of butter to sell, which was then exported around the world.
The Exchange, now empty and looking a bit forlorn, is situated close to the Shandon Bell Tower and looks straight down the hill into the city and the harbour beyond where the ships exporting the butter would dock. According to the museum information boards, Cork harbour is the finest natural harbour in the northern hemisphere, leading it to become the most important transatlantic shipping port in Europe by 1800. The salted butter went all over the world, including to Australia and South America.
It was a gruelling journey for the dairy farmers transporting their wares to Cork. For instance, before a new road was built in 1827 the 55-mile journey from Killarney took two days, but after 1827 that was reduced to seven hours. Still a slog when you've got the return journey too.
Watching the video playing at the start was an eye-opener into butter making and the hard struggle of life on a farm for previous generations, when everything was done by hand. It was the creation of an Irish dairy board and some clever branding which really put Irish butter on the map. Kerrygold became the name for Irish butter and was advertised heavily as a quality natural product. Joining the European Economic Community (later the EU) also opened up new trading possibilities.
"Perfect for a wind-down"
After watching the close-ups of golden butter being spread on toast I had a sudden craving for it. So after our visit, it was off to a café to eat a fruit scone slathered with the stuff. The museum is missing a trick by not having its own café offering such delights.
We stayed at the modern River Lee Hotel, situated in walking distance of the heart of the city and right next to the fast-flowing river it takes its name from. Modern décor includes glass lifts on the outside of the building and jewel-coloured velvet furnishings in purple and yellow. There's also an indoor swimming pool, sauna, steam room and jacuzzi – which were perfect for a wind-down after a day's sightseeing – and a gym.
The breakfast room has floor-length windows looking out over the river and self-service tables groaning with good food, everything from cereal and pastries to banana bread, fruit, yoghurt and even fresh honeycombs.
Hot food is ordered from the table and I can recommend the warm pancakes, dripping with just the right amount of syrup and sprinkled with walnuts. My daughter said the eggs royale were equally good, the eggs poached to perfection. We decided to sample the dinner menu in the restaurant on our first night and I ate the best Dover sole I've ever tasted.
"Comforting quality"
Joe Biden was effusive in his praise of Ireland and its people ("You wonder why anyone would ever want to leave") and I can see the attraction. Everyone we met welcomed us warmly and the Cork accent is charming, with a comforting quality to it. The stereotype of everyone knowing everyone else was borne out by Noel who said as he started our ramble that he was bound to meet a member of his family on the way round. Sure enough, about half an hour later we were being introduced to his brother and partner.
Since returning home a few people have said to me that they'd like to visit Ireland but haven't yet got round to it. Maybe it's true what they say about overlooking good things on your own doorstep, because it's taken me all these years to get there too.
Next time you're thinking of booking a European break, don't automatically look east to the mainland. With cheap flights from a certain Irish budget airline making it a value-for-money destination, go west to Ireland instead.
You too could end up with the gift of the gab.
For more information about what to see and do in Cork go to failteireland.ie
Book a Cork City Ramble at titanic.ie
For bed and breakfast deals at the River Lee Hotel doylecollection.com
For information on individual attractions go to: Blarney Castle blarneycastle.ie; Shandon Bell Tower shandonbells.ie; St Finn Barre's corkcathedral.com; Crawford Art Gallery crawfordartgallery.ie; and the Butter Museum thebuttermuseum.com
All image: Fáilte Ireland, unless otherwise credited