By Liam Bird
If you're a regular reader of the motoring columns, you'll know that Ford recently ceased production of the Fiesta. Apologies if that news comes as a bit of shock, however, after 47 years and over 4.8 million units the Blue Oval pulled the plug on its bestselling, blue collar icon on July 7th, 2023. The Popular Plus, the Super Sport, the L, GL, GLS, the Ghia, the XR2, the XR2i, the ecoboost, and the ST; they've all have been consigned to the history books. What will the district nurse and the driving instructor do? (Many moons ago, I passed my test in a Fiesta).
And what are those of you who still want a compact fast Ford to do now that the Fiesta ST is no–longer? The car about which I once scribbled " If really you want your Fiesta to remind you of what is it that made to learn to drive in the first place, to deliver the very essence of what affordable driver involvement and enjoyment should be, then honestly, you should look no further than this". Praise indeed. And that's from someone who's never, ever, bought into the whole Fast Ford phenomenon.
Well, Ford think they may have come up with a solution to that particular conundrum, and in doing so, they've built, or more accurately, Ford Performance have built, a… well… it's actually… a… how does one quite put this? The truth is, in a bid to replace a hot-hatch, a staple Ford product of many a year, and one of the hottest of hatches you could buy – up until last July that is – Ford have built, a performance crossover.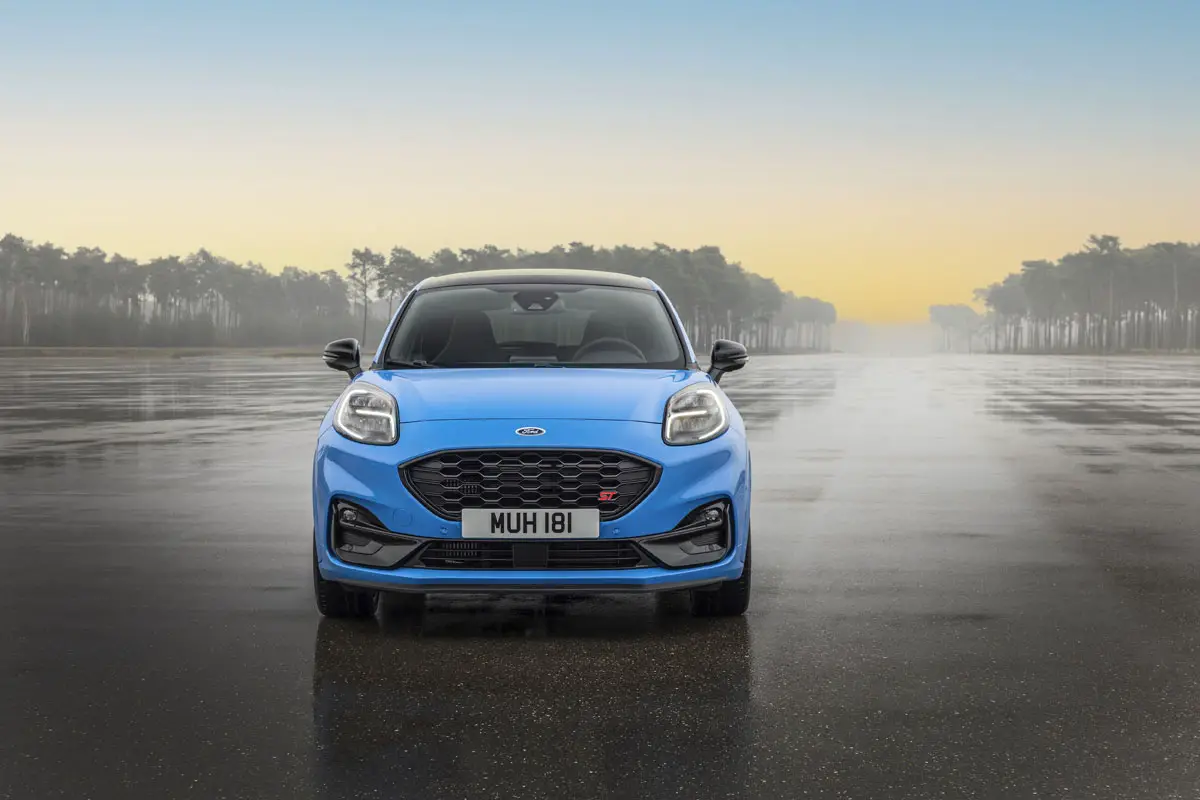 "Optimised"
Performance crossover. If ever there were two words to make petrol-heads the World over pull a face… But before you close the page, read on.
The Ford Puma ST is to all intents and purposes a Fiesta ST in all but body shell. The Puma's shape might be a bit more sensible – a bit more upright, there's five doors for a start – but underneath the bonnet there's still a 200PS 1.5 litre EcoBoost engine delivering 0 62mph acceleration in 6.7 seconds. Also, thanks to Ford Performance, an optimised chassis features bespoke twist-beam, anti-roll bar and damper configurations. Steering responses are 25 per cent faster than a lesser Puma, and the brakes 17 % larger. They've even fitted specially-developed Michelin Pilot Sport 4S tyres to help deliver, what Ford claim, is the most agile Ford SUV driving experience yet.
And that's not all. Add the performance pack (it's an extra £950, so why wouldn't you?) and you'll get a unique-in-segment limited-slip differential (LSD), launch control, and patented force vectoring springs. The Puma ST also features selectable Drive Modes including Sport mode and – for the first time on a Ford Performance vehicle – Eco mode. So there are options for everyone, and every situation. Never before has the school run had the potential to be so economical. Or should that've have said entertaining?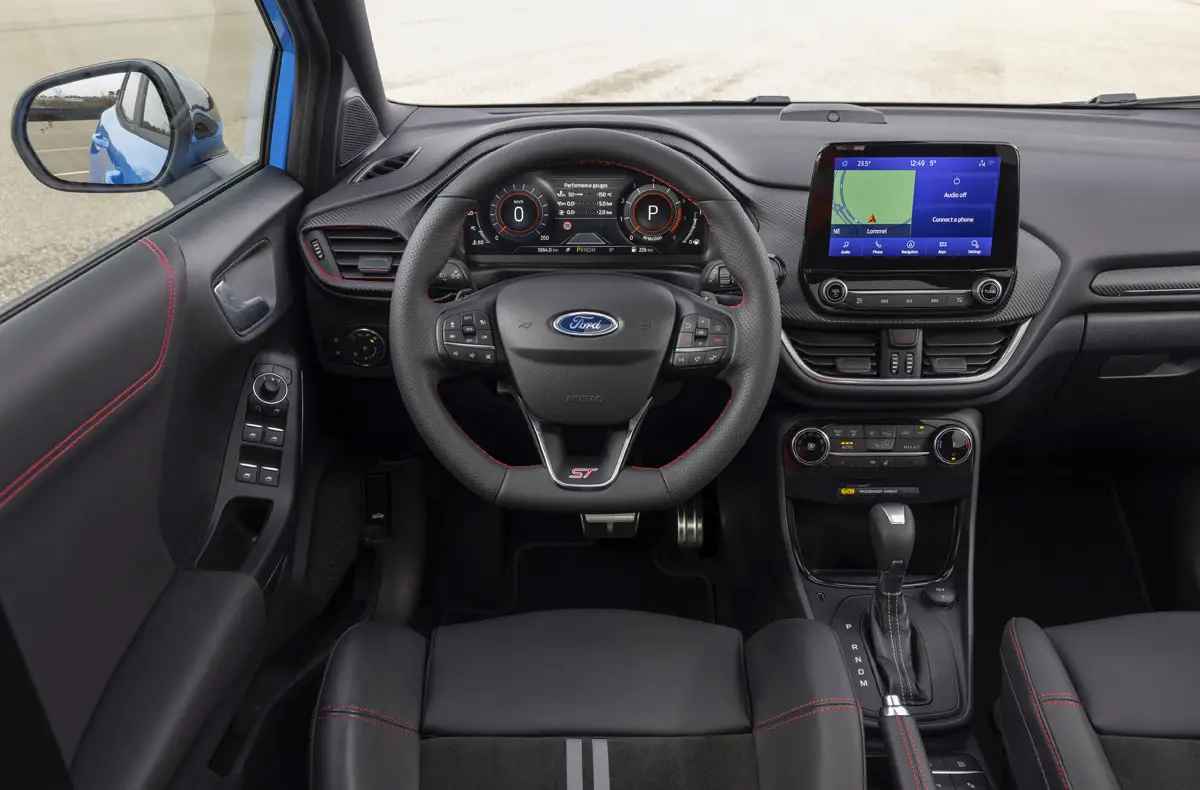 "Darts into corners"
The Puma ST also benefits from Local Hazard Information connected-car technology and… the Ford's MegaBox. Don't get excited, it's fundamentally a large, washable bin-like space that provides an extra 80 litres of storage beneath the boot floor for, say Ford, "everyday practicality". I'd have preferred it if said MegaBox (which little bright "marketing executive" thought that name up?) provided storage for a spare wheel and its associated tools. Perhaps I'm being too practical.
But perhaps the ST is not the Puma you take on the tip run but rather the one in which to seek out your favourite roads instead – purely for the hell of it. On smooth tarmac and ensconced within its supremely huggy and heated Recaro seats, you can cover ground incredibly quickly. Its darts into corners, changing direction like a spring rabbit chased by its foe. The 3-pot engine burbles, and pops on the over-run. It makes you feel like a tarmac-rally pro.
Or at least it does when you're in the right mood for it. On bumpy B-road surfaces the ride is just a tad too hard. There's too much road rumble to ever fully relax, and that engine noise – some of which is actually synthetic and piped through the B&O speakers – can become tiresome. A quick blast is a delight whereas a late night run back from the airport would be a chore. I never manged more than 34 mpg either, despite Ford's claims of over 40.
"Niggles"
And herein lies the conclusion. If you liked your hot-hatches to play the ultimate all-rounder role, the extra space and practicality offered by the Puma ST might well be right up your street. But, after living with it for a little while, will you begin to think it's too focused on trying to offer the best driving experience at the cost of comfort, and everyday usability? The interior, despite being a vast improvement on Fords of old, is still a tad bargain-basement in places too – and why does everything, ambient lighting, dashboard etc. have to be Ford blue?
Regardless of such niggles, when all is said and done, the fact remains the Ford Fiesta ST is no more. If you've really set your mind on a small fast Ford hatch, the reality is, the Puma ST is the best you're going to get.
Ford Puma ST (with Performance Pack) 1.5T Ecoboost 6-Speed Manual
Engine: 1,497cc, 3-Cylinder, Petrol, turbo.
Power: 197 bhp @ 5,000rpm
Torque: 236 lbft @ 2,500rpm
Transmission: 6-speed manual, Front-wheel drive
Performance: 0-62mph in 6.7 sec
Max Speed: 137 mph
MPG: 41.5 (WLTP Combined).
CO2: 153g/km
Price: From £32,410.00 (As driven, £34,985)